Hey there, Darling Things!
How are you? I hope so much your week is going well and that Christ is continuing to reveal Himself as your sufficiency. He is simply never more obvious to us than when we need Him desperately. I've needed Him desperately a few times lately and I bet you have, too. Life's just like that.
For the last couple of months I've been trying to take the Tuesday following an event off. (Don't know how much I can keep that up once I get into full fledged writing but it's a joy and a relief for now.) On these two Tuesdays a month, I sleep in a bit longer and sip my coffee a little slower. It's a beautiful thing.
I didn't get dressed today until about 10:30 then my man and I headed half way across town to a cool little breakfast and lunch place called La Peep. We mostly just threaten to eat over there but never really make it. Today we followed through. They whip up about the best Belgian waffle in town: crispy edges, soft inside, sweet enough to eat without the syrup but you don't and served with hot, melted butter in a tiny container to drizzle on the top and you do. It was so good, you could tear up about it. After nearly licking our plates, Keith dropped me off and went to run errands and I sat at home and stared at stuff in a daze. Star kept dropping her tennis ball at my feet so I finally shook off the sugar, got up off the couch and played fetch with her. She really is the best dog on earth. A Border Collie is a LOT to manage the first year but by the second year you begin to have the pet of your life. This is where you can usually find Star. Right in front of yours truly.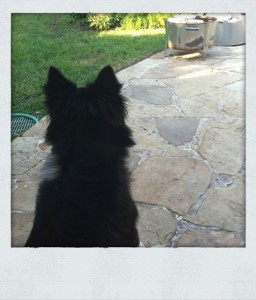 Don't feel too sorry for Keith's bird dog. She is spoiled rotten. This is how we found her a few evenings ago. No, we did not arrange the pillows under her. She did all that herself.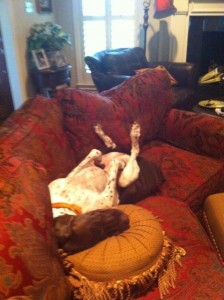 Where was I before I got side tracked on those ridiculous dogs?? Oh, yeah. My day off. After I threw the ball a few times for Star, I headed over to Amanda's, picked her up, and we rode together to get Jackson and Annabeth at Mother's Day Out. Amanda and Curtis somehow managed to have two of the greatest kids a pair of new grandparents could ever picture. They see us constantly but, every single time, act like it's the biggest thrill since Barnum and Bailey. They do the same thing with Curtis's parents. They're just wonderful kids. They were delighted I'd come with Mommy today and had a hunch a treat was in order. They were right about that and we made a bee line over to Fresh Berry for frozen yogurt and toppings. Our nearly twenty month-old Annabeth is appropriately trying a little independence and wanted to have her own cup and eat out of it with her own spoon. You can imagine that all four of us had been well baptized in vanilla swirl by the time we left. Star keeps licking my right arm so my one lone wet-wipe may not have done the trick. She's just as glad.
When we got back to Amanda's, Jackson had a big surprise for me. It was THIS!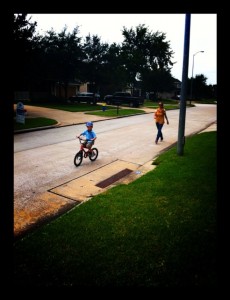 That boy can ride his bike like nobody's business! I was just squealing from the sidewalk (while also trying to balance AB on Jackson's old trike because she would not be left out). It was ten times the sweeter because I was watching my own firstborn run behind hers. It was just yesterday that I flew behind my two as they took off on wheels for the first time. And then they just kept going. This is the consolation prize: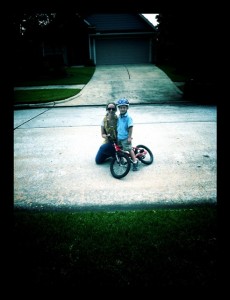 These are exciting days for Jackson because he's just started soccer. He's had two team practices so far. He is so cute in his royal blue uniform with his shin guards on that I can hardly stand it. AB didn't care for soccer practice last week (I think because they weren't selling concessions yet) and hardly let her parents watch her brother so this week I kept her at my house while sports took full sway. Something awkward happened just before hand that has caused some mild amusement in the Moore house. Amanda very gingerly said to me, "Now, Mom, if you'd rather  come to soccer practice and help us with Annabeth there on the sidelines, you can." She knew I was bursting at the seams to come but her speech was suspiciously tentative. After hem hawing around a spell, she picked up with this: "But I just want to let you know that Curtis and I really aren't cheering loudly yet or anything. You know, they're not really playing any games yet. It's just practice and it's really not the best place for a lot of…"
Translation? "Mom, please come if you want to but if just maybe you could refrain at first from cheering as enthusiastically as you did for me and Melissa when we played sports, well then, that would probably be good."
Just take a moment to imagine what I was like. Don't judge Amanda on this. Feel sorry for her.
I told Melissa about it the next day and we got so tickled we nearly spit our coffee all over our concordances.
Oh, what my girls have been through. I wasn't the angry, negative parent in the stands but I have been known on occasion to look for something good to say when a play was bad. It was not unusual for me to yell, "You look so cute in your outfit! That uniform is just your color!"
When I was at the airport in Chicago about to board the flight home, I saw a fellow family enthusiast waiting for her plane. I felt like she wouldn't mind if I, with admiration, clipped a quick pic, texted it to Amanda and told her not to worry about a thing. I'd limit myself to this for now.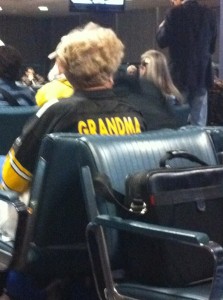 Well, Keith wants me to get off of here and watch Duck Commander with him so duty calls. One last thing! I don't want to wear anybody out any further about the simulcast but the ministry is getting a lot of requests for the commissioning we did in pairs at the end. My hardworking staff said it would be so much simpler if I could just post it on the blog so here it is!
My Dear Sister,
Your God has called you
To use that mouth of yours
For His great glory.
Don't just add to the noise.
Become a real woman
Who opens her mouth with wisdom.
God wants the Law of Kindness
On your tongue
And the love of Christ
In your heart.
Never forget:
Kindness is not a weakness!
When you're wearing down
Head to Christ and His people
And let them build you back up.
Always remember:
His yoke is KIND.
Make sure
It's the only yoke you wear.
It's time to go our separate ways
But we'll all meet up again
At the glorious epiphany of our Lord Jesus Christ.
Until then,
Let the One who led you here
Lead you on with cords of kindness.
Now, get out there
And build a welcoming fire
In a cold world.
Live by the Law of Kindness!
I love you guys. I really do.