Happy Friday, everyone!
It has been a great work week, but oh my word, my brain is utterly fried.  I am tired.  I have absolutely nothing of any sort of substance to share with you.  Just some very random pictures coupled with commentary in like fashion.  I was going through the camera roll on my iphone today and decided I would share some of them.  I love to scroll through the pictures my friends take with their phones.  I think you can learn something new about someone by looking at the little things they like to capture throughout their day.  So the following jumbled mess is a string of some pictures or moments that I have captured over the past few months.
Eatin' breakfast across from my love.
A perfect mid-morning, continued.
One of my favorite areas in Atlanta: West Midtown.  It is raw and industrial; it provides all kinds of inspiration.
Piedmont Park, midtown Atlanta.  One of the many Atlanta parks I frequent weekly.
A good friend of mine recently made approximately one hundred individual origami butterflies and strategically arranged them on the wall one at a time. The pattern is brilliant.  I'm in love.
But not quite as in love as I am with the real thing. This butterfly was showing off for me. If I were a butterfly, I would want to spend my afternoon perched near these flowers, too.  Little kaleidoscopes of colors bursting with oranges, pinks, and yellows.
My **favorite** sandwich from Alon's.  Roasted eggplant, roasted red peppers, sliced tomato, cold chunks of fresh mozzarella, and homemade basil pesto all held together with whole wheat bread. Insane, I tell you.
Columbia Seminary's Library . . . One of my happy places.
One benefit of having the window seat. "The heavens are telling of the glory of God; And their expanse is declaring the work of His hands." Psalm 19.1
The moon testifies, too. One beautiful night I slipped out for a walk and the moon was so bright, one could nearly have mistaken it for the sun. "Oh give thanks to the LORD, for he is good, for his steadfast love endures forever . . . who by understanding made the heavens, for his steadfast love endures forever . . . the moon and stars to rule over the night, for his steadfast love endures forever"(Psalm 136.1, 5, 9).
Tomato Juice?  I warned you that this was going to be random.  I don't even like tomato juice but for but for some odd reason I have a fierce loyalty to it when I'm on the airplane.  Maybe the recycled air changes its chemical composition or something. Also, I really wish they would go back to serving peanuts.  The one meager little package of tiny pretzel sticks leaves a lot to be desired.
My nephew and a Stetson box.
Now you see him.
And now you don't.
Sort of?
My little niece.  This may seem like a random picture to you but it thrills me to no end because she looks so much like Amanda here. Her lips and eye shape are identical.  I keep praying her eyes are going to turn sea green like Amanda's.  Okay, you caught me, I haven't actually been praying about it. But, I've been hoping.
Dear Chicken and Fluffy Biscuits, I could eat you every night of the week.  I was Colin's hero when I made this dish.
A few evenings ago I was running in my neighborhood and I was struck by the way the light was plummeting down through this tree like a lightning bolt.  The leaves were so illuminated that it was nearly impossible to discern their color.  A few of them looked like brilliant white snowflakes.
My crazy Dad and his portable but sizable hunting blinds. This was my first glimpse of my parent's house upon my arrival into Houston a few weeks ago. Needless to say, it felt good to be home. Never a dull moment in the Moore house.
Um. Yes, please do.  This might be the most profound graffiti I have ever seen in a bathroom stall.
A pretty church in our neighborhood. I love the rose window. Makes me feel like I got off at the wrong Marta stop and magically ended up in Europe.
Our local bagel shop, Belly General Store.  They make the BEST olive oil and garlic bagels EVER. Also, the style and design in this little shop are out of this world.
The side of Belly General Store, equally as aesthetically fabulous.
Typical Melissa and Colin.
Mom, Annabeth, and me in Houston. This picture was originally taken with a DSLR camera but I decided to throw it in the mix because I saw it today and it made me smile.
Working in the Living Proof Office in Houston. And, sipping on coffee, of course.  The coffee that we were guzzling that particular day is called Stumptown Coffee.  Stumptown Coffee is Kelly Minter's favorite coffee roaster.  Evidently it makes her long for the New Jerusalem.  She has got some good taste.  We were licking our coffee cups when we weren't busy taking turns running laps around the office in a caffeine frenzy.  Apparently, according to several Siestas from the Northwest, Stumptown Coffee is from Portland, Oregon, but it also has locations in Seattle.
Today I went to run an errand and when I went to pay the parking meter (downside to intown living), I noticed a little note.
It blessed my heart that someone took the time to write out this little message for a stranger.  But I did wonder where he or she got the scotch tape.  I don't typically carry scotch tape around with me but maybe I'll think twice about it next time.  Anyway, after I saw the little note, I went to look at my parking spot and lo and behold, I had parking spot 601.  Gotta love it.
I will end this late night tangent with a picture my Mom just texted me from Chicago. If you look super closely, you can see the sky-line in the distance. You can definitely see the Sears tower (or Willis tower?) to the right. Also, you can tell the leaves are going to turn for fall soon. Oh be still my heart. I wish I were going to be at the event tomorrow! Not to mention, Chicago is my favorite city in the world.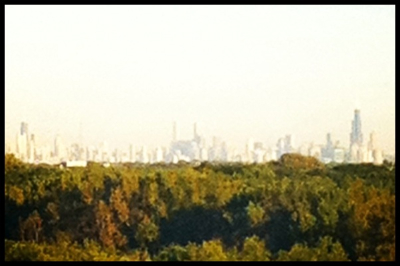 Have a wonderful weekend, Siestas. Whether you are busy with work, church, high school football games, or just hanging out at home, I hope this weekend brings each of you peace and restoration and that whatever you are up to, you are supremely blessed by God in the midst of it.