*** Hey ladies, this is Melissa . . . I added a couple of additional pictures to the bottom of this post.  My favorite is obviously the one where the entire Living Proof Staff is throwing up gang signs . . . I mean, A.A.V. (All About Vangie) Signs. Classic LPM ***
Hey, Siestaville! How are all of you? We have had quite the whirlwind weekend! Hawk (Michelle) and I had the great joy of serving at the Desperate For Jesus women's conference at Dr. Tony Evan's fine church in Dallas alongside speaker Tara Jenkins. (Oh my word, I loved getting to know her. God is raising up such wonderful and powerful young women to serve this and the next generation. We're in good hands, Sisters.) My dear friend, Priscilla Shirer (Dr. Tony and Dr. Lois Evan's daughter and one of our favorite Bible study teachers/writers on earth) emceed the event and I love any time I get to spend with her. I had a blast with the women who attended just like I knew I would. They don't just listen to the Word around Oak Cliff. They participate in the Word. Groups don't get better than that one.
I finished my second session late Saturday morning, threw the baton into Tara's able hands and took a run for the airport. Hawk and I had a huge event to attend back in Houston and we'd make it by the skin of our teeth. Even the least weather delay would have caused us to miss it. When we got to DFW, the Houston flight prior to ours was delayed and the one after ours was canceled but we sailed out of there on the everlasting arms of God and made it to the church on time.
Since you got to meet my dear friend and coworker, Evangeline Harris, a few weeks ago on our second SSBS video greeting and knew we had a wedding on the horizon, I thought it was only fair to let you know that our Vangie is now (drum roll please) Mrs. Darren Williams. (I think I heard trumpets in the distance just then.) The wedding was BEAUTIFUL! Our bride was an absolute vision and her groom was so handsome. The chapel was full of family and friends who cheered them on to the altar after a courtship fit for a Lifetime movie. Both of them have long histories with God and each loves Jesus more than anything on earth. Isn't that the ultimate? It was truly the culmination of two great stories into one fabulous book.
Evangeline has nine – count them, NINE – brothers and sisters and, yes, all from the same set of (courageous…and maybe tired) parents. She honored me so much by asking if I'd take part in the ceremony. As I addressed them both during the service, I told Darren that he had no idea what all he'd inherit when he fell in love with Vangie. Not only did he instantly have 11 in-laws and all their spouses. He had all of us at LPM who are as thick as blood with his new wife. I told him he'd just inherited 15 lily white women, some of whom attempt to take the edge off with self-tanner. But I'll not say who. Let me just say I was among the tanner ones at the wedding. Thank you, L'Oreal.
Needless to say, the LPM staff was there with few exceptions and in rare form. (Curtis graciously babysat so Amanda could come without a preschooler and a toddler who would have added considerable color and volume to the whole affair). Both Diane and Kimberly on our staff were bridesmaids alongside other close loved ones of Vangie's. Both of them bawled their heads off during the ceremony. It was emotional for all of us because we've all been on hand every single day of this sweet romance since their Sunday school teacher, Lisa Weir (also a good friend of ours),  introduced them at our church last year. Our Vangie had held out for the right man for 20 years of adulthood and I don't mind saying it paid off.
Nancy, another of our LPM sisters and my close friend of 20 years, did a Scripture reading so she was sitting on the pew beside me, right by the piano. (Do you guys like these kinds of details?? Sorry if you don't. You can proceed right to the pictures if you're rocking back and forth with frustration.) Right before I went onto the platform to speak over the couple, Nancy leaned over to me and said, "We've done a lot of things together at LPM but this one may have to be at the very top."
I looked at her and said, "Yes, indeed." This was the first time we had actually ever married someone off. Michelle (AKA Hawk) better run for her life before we start thinking we're on a roll. I told you several weeks ago in the greeting where I introduced the bride that we made up hand motions to "All About Vangie." And, yes, we did them 100 times at the wedding. That morning, all of us traded texts that had just three letters in them: "AAV!" I don't think it would be all that hard to change the hand motions from AAV to AAM. Be afraid, Michelle. Be very, very afraid.
OK, OK, I'll shut up and let you see some pictures Amanda snapped at the wedding for our LPM photo library. She didn't take many so she wouldn't impose on the professional photographer but I think you'll enjoy the ones we have.
I'm thinking she must have taken this one before the ceremony while everybody was waiting and I was already in the Greenroom with Vangie. This is my man and our Bible study/event coordinator Jennifer Hamm's man, respectively Keith and Chad. Yes, Keith has on Wranglers. He wore Wranglers to Melissa's reception, too. Vangie didn't care. She loves that Keith Moore.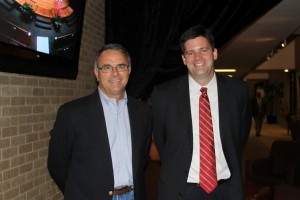 This was one of the best wedding cakes I've ever tasted. I didn't get a chance to ask Vangie who baked it. She was pretty busy.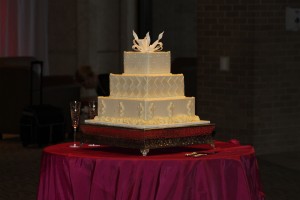 The foyer at our church had been transformed for the reception into Vintage Vangie. Her good taste was everywhere. Honestly, I've never seen the foyer more beautiful. Everything was either white, black or hot pink. Here are some goodies: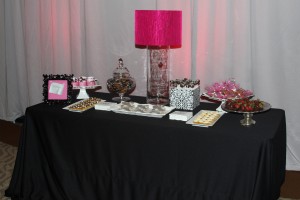 A little wider shot so you can get the idea: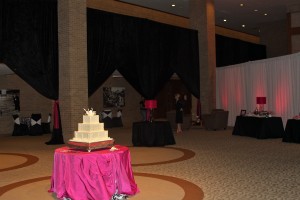 Yours truly with the bride and groom! I love them both so much. (That's a side clip of sorts if you're wondering what's going on with my hair. I tried something new. Not sure it works out of the context. Maybe not even in it. If you weren't wondering, forget that I brought that up. It was otherwise a very Spiritual evening.)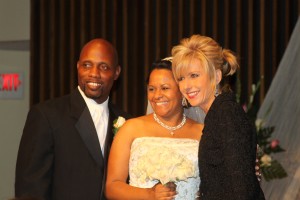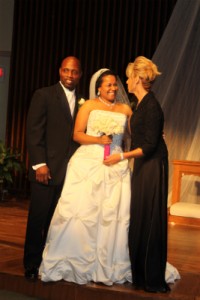 The B and G cutting that gorgeous cake: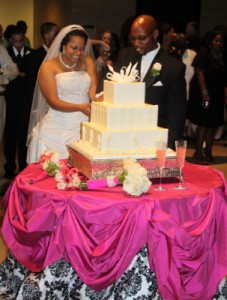 Vangie and Lisa Weir.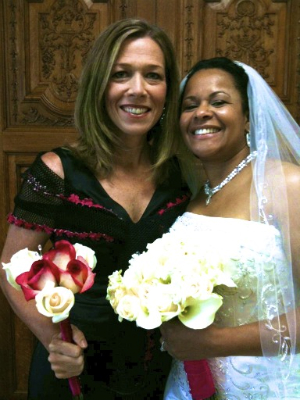 Stunning Bride.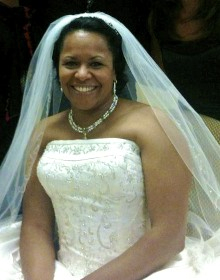 Living Proof Staff with the Bride.  Again.  It's ALL. ABOUT. VANGIE.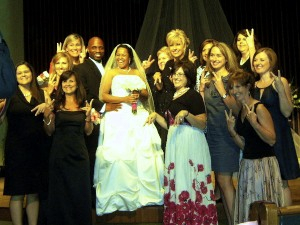 Vangie and Darren are off on their honeymoon in San Diego for the week. You can imagine how abuzz LPM will be when she gets back to us. She only had one request of us when she left: "Don't talk about anything fun till I get back!"
Oh, Vangie. We talked about something fun today all right. We talked about YOU. We just can't help ourselves. We're AAV.