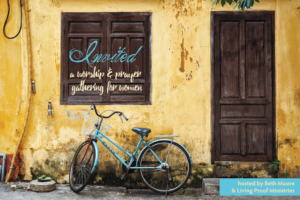 ***UPDATE: Because there has been such great interest in Invited, and due to limited seating, we have decided to open registration! Book your seat here!
Hey girls! Lots of new and exciting things are stirring at Living Proof in 2018 and we are especially thrilled to share this one with you! Starting Wednesday evening, January 17th, we will be hosting a monthly ministry night for women who'd like to participate. I've longed for some local hands-on ministry where the Holy Spirit is invited to create an environment for effective, fervent prayer and for building up our faith in God and His Word. By His grace and goodness, this prayerful longing is resulting in a new once-a-month gathering we're calling Invited. It will differ a bit from what I have the privilege and passion to do the rest of the time. If you've been to our other events like local Bible studies here in Houston and Living Proof Live events around the country, you know that our usual approach is a half hour of uninterrupted praise and worship followed by a 60-75 minute Bible lesson complete with points on the screen, Greek or Hebrew word definitions, quotes, commentary excerpts and concepts developed into what I always pray will be a comprehensive theme. This is my favorite method and will continue to be my absolute priority.
But I also have a deep yearning to be part of a night each month that creates more space for prayer. We are each and all in desperate need of  prayer and, for many of us who genuinely love God and His Word, it is our weakest muscle. We were promised that we would receive power when we received the Holy Spirit and, if we're in Christ, indeed we have but often faith-filled prayer is what God uses to activate that supernatural unction in us. We aren't meant to barely eek by. We're meant to abound. Yes, we'll always have difficulties and sufferings but we can still flourish in our faith and either see God move mountains or climb them to get a better view of Him.
I'm convinced based on the authority of God's Word that He is still willing to perform miracles and, yes, often in our circumstances, but always in our hearts and, if we're willing, also on the battlefield of our minds. Invited will be an atmosphere…
…where I can bring a word I've sought from God and prepared but one that is deliberately shorter, free of handouts, power point slides and minutely-detailed scripting.
…where prayer and worship and the Word of God are not as segmented as most of our services (and often appropriately so) but integrated more spontaneously throughout the gathering.
…where there won't be any snacks. Or kids*, though we love them so. Or coffee, though we love it so. 🙂 Just a water fountain in the hall. And, I pray, Living Water in the sanctuary. (*I wish we could provide childcare but it's just impossible to figure out for this kind of thing.)
It's just bare bones. The kind of bones we pray God will raise back to life.
A mega sanctuary is a fabulous place for Bible study but not as conducive to the environment we're hoping God will appoint for this event. Bayou City Fellowship, my home church, has welcomed us to hold Invited in their sanctuary and it will be the perfect size. We will move the event into our new Bayou City Fellowship Spring Branch location for the sake of inside-the-city-proximity as soon as it's finished by Summer but we're going to meet at our Cypress campus until then. You'll find the address at the conclusion of this post.
If you're familiar with the term "seeker-friendly," I can't necessarily tell you that Invited will be the best environment to spring on a lost loved one, neighbor or friend but she is certainly invited, especially if she is desperate for prayer. It will be a place where people will be free to go to their knees or their faces in prayer if God so leads and where we might be directed to turn to several people around us and pray for one another or for our city or for the lost or grieved or broken. You get the idea. This event will not be designed for spectators. This one is for participants but, as long as you're willing to participate, you don't have to have an iota of experience. If you're brand new to this whole faith-thing and want to come, by all means, do! I just want you to have an idea what you're walking into. 🙂 At Invited, our goal will be to seek the One who is ever-seeking us. It won't be slick. It won't be Tweety. Instagrammy. Or Snap Chatty. But I pray it will be real and worth somebody's time. I long for it and, if you do, too, let's see what God might do.
So, our first gathering is Wednesday, January 17th 7-8:30 PM. And we have included dates for the next six months below. Invited will always be in the middle of the month on a Tuesday or Wednesday evening. (FYI for BCF women, this will not replace RISE. It will be in addition to.) Thank you for letting me share this new (interdenominational and nondenominational) vision with you. At Invited, we're going to be putting up our phones and raising up our empty hands and I, for one, can't wait.  Here's the address:
Bayou City Fellowship Cypress Campus
12715 Telge Road
Cypress, Texas 77429
January 17  |  February 13  |  March 13  |  April 17  |   May 15  |  June 12
You guys are wonderful. Please pray for this event even if it's not possible to attend or not really up your alley. I'm deeply grateful for the privilege to serve you! Tons of love to you.
Beth