An update from Beth on tonight's event! As mentioned in previous posts, due to limited seating you must have a reservation to attend Invited. If you have a reservation, please fill out this form to let us know if you will be attending. Only "yes" replies are requested. Thank you for your help!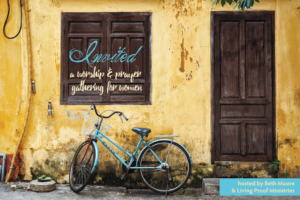 My beloved sisters, what crazy weather is this???? We know that you are all wondering about Invited. Needless to say, we have been extremely prayerful and I have been in close touch with the pastor of the church where we are scheduled to meet.
Here is where we are right now. God willing, I will be at that church at 7 o'clock to meet with only those who live in the closest possible proximity to the church and with dry, safe roads. Everyone else, please refrain, so that we do not put you at risk in any way. We love you so much and, not only will we see you next month if you desire to come, but we will pray for you tonight.
I am releasing both my staff and the worship team so I literally have no idea what our worship will look like for those of us who meet in that sanctuary tonight. But this I know: if we come and worship our God in Spirit and in truth and in the holy and gorgeous name of Jesus, God will be pleased with what we bring. Even if it is not pretty. Smiling. I think I forewarned you this was not going to be slick. I am wearing jeans and a sweatshirt and have no idea who else will be there but as authentically as we know how, those of us who meet will seek the Lord together and will seek him together for those unable to come tonight.
Please be extremely wise and go with this caution. Only those who live really close and can travel safe dry roads with no overpasses or bridges. If that is you and you still want to come, would you let us know please so that we will know whether or not to schedule security? It would help us tremendously if you would fill out this quick form and let us know if you will be there.
We love you dearly and want so much to serve you well.  Please check your email one more time around 6 o'clock to see if there has been any further change. If you do not have another email, we are still on under these restricted conditions. Dearest affections to you in the name of Jesus!
Beth