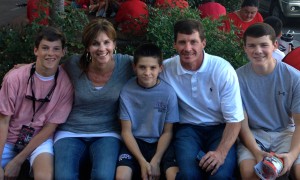 Hey sweet siestas!
How much fun is this? Can we all just stop for a minute and thank our beloved leader, Bible teacher and yes, friend, for spurring us on in this world of scripture memory? I fail every time on my own. We need our people to conquer this task, don't we? I'm good for a couple of months and then I flat out quit and blame it on something other than myself. But, I won't quit if I have y'all! I'm thankful for this community. I'm thankful for the accountability. Memorizing scripture has transformed my heart and mind…the Word is living, and we have the privilege to breathe it in when we open those sacred pages and be changed from the inside out.
Something that I have done as I have memorized scripture is to write a brief synopsis of why I chose the verse on the back of the index card. I also date it. At the end of the year, it's so powerful to go back and read a mini-journal of God's faithfulness and the journey you've taken together that particular year. Go back and do that if you haven't done it already. I'll bet it won't take you long to recall why you picked a particular verse. It will be a sweet gift to read through at the end of 2015.
Ok, my name is Fran Thomas and I've been married to Chip for 21 years! That's crazy to me! I swear I'm still 30-something. We have 3 teenage boys. That's another kind of crazy! Our oldest is 18. (Insert tears of high school graduation, starting college and hoping you can cook and do laundry on your own) It's nuts, y'all. Savor the moments, mommas. It flies.
We are living life in Jackson, TN, and I love our community of people here. I work at Union University, teach college girls on Sunday mornings, sing in the choir, and serve with our jail ministry at Englewood Baptist Church. I am also a partner in a non-profit ministry with my two best friends, Christy and Robyn, that we founded called "More than a Mission Trip." Our heart is missions in every form and fashion. Our heart is for the lost, the saved who are lost, God's precious people at the ends of the earth and those who are around the corner. Our desire is to encourage other women to serve God locally and globally…there is no better time than NOW to love, obey and serve Him with all we have! We can't question or delay what God clearly calls us to do.
So how appropriate for me to choose a verse that has me in a season of being scared to death of what God has called me to do. Would this be the Christian "pot calling the kettle black" or what? I like safe and comfy just like you do. It's predictable and doesn't make my stomach hurt. I know the scriptural promises from Him, but there is simply something terrifying about taking new steps with Him after a season of predictability. *sigh*
So, we press on, sisters. We believe Him and take Him at His word. I'm doing this even with the butterflies alive and churning about! Unfortunately, I think I have an unbelief issue right now, but I'm choosing to believe Him for this season because He is able! He is faithful… Me? Not so much. He never fails. NEVER.
"But when you ask, you must believe and not doubt, because the one who doubts is like a wave of the sea, blown and tossed by the wind." James 1:6
I don't want to doubt or be tossed around because of my unbelief. I want my feet to be steady and secure in Him, His voice, and His direction. I really want to believe Him and trust Him even with these butterflies during this new season. I don't just want to say, "Yes, Lord I believe you," but it only be a temporary belief or trust. We'll start strong and then fade, don't we?
Lord, help my unbelief.
It's easy to say, "Sure, I'll get out of the boat, and walk toward Jesus," but it's a whole other thing to actually put the feet into motion, isn't it? Let's not be tossed around, sisters. Let's walk by faith and take Him at His Word. Let's choose to believe Him girls!! Declare it even when we don't feel it. We'll begin to believe what we know and speak over that situation. Let's declare the Truth that we are hiding in our hearts.
Y'all are such a blast! Hang in there and march on strong and steady because we are MORE than conquerors! We CAN do this because He WILL show us the way! He will NOT leave us! He WILL show Himself faithful! He has good plans for this season! He will NOT harm us! And on and on and on the promises go. Declare them. Believe them.
It's such an honor to journey alongside you. I will be your biggest fan and cheer you on like nobody's business. Fix those pretty eyes on Jesus and let's run our race well. I'm praying for us all. I desperately need Jesus and His Word.
Love y'all,
Fran