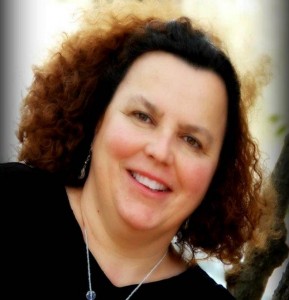 Hello Siestas!
I'm Adrienne, aka "Fuzzytop", writing to you from Jasper, Tennessee, a very small town about 25 miles west of Chattanooga. I'm a transplant to the South, having moved here from the Phoenix area in 2005.   My family consists of husband, Tom, Rachel (HS Senior), and James (HS Freshman). Along with the humans, our family includes six dogs and eight cats, and of those, only two were acquired deliberately; we have soft hearts for abandoned dogs and cats. We also have six cows, a donkey, and assorted chickens and live on 40 acres in a rural area, which is a huge change from the Phoenix suburbs.
So…..a little bit about myself.   I grew up overseas in Kuala Lumpur, Malaysia. We lived there until I was nine, and then immigrated to the United States, landing in Mesa, Arizona. Culture shock!!! After High School I attended Arizona State University, receiving a BS in Bioengineering and later, a MS in Quality Engineering and Applied Statistics. For many years I worked as an engineer and a project manager at Intel Corporation in AZ. Here in TN, I work in Quality Assurance for an engineering firm in Chattanooga. Work-wise, I seriously love data analysis and statistics. Away from work I enjoy reading, drawing, beading, gardening, and spending time with my family.   I also love Bible Studies, and have done every Siesta Summer Bible study with two dear friends, Linda and Sarah, whom I met through this blog.
As a child, I had very little exposure to Jesus and the gospel. In Kuala Lumpur, I attended a Catholic school, and I recall my class practicing for communion using slips of newspaper in place of the wafers. The nuns were very concerned that we not "mess up" our First Holy Communion, so it was a stressful event. I had no idea what it all meant. My parents were not Christians, so as a child we never went to church or read the Bible, but somehow I knew in my heart that God was real. During difficult times in my early years, I remember praying to God, and trusting that those prayers were heard.
During High School, I began attending church and youth group with some close friends, and began identifying myself as "a Christian", but I know now I had never truly given my heart and my life to Jesus and fully trusted in Him for salvation. My Christianity was nothing but a label. I became disillusioned when I found out those High School friends were no different from the non-Christian "bad" kids I knew. I dropped out of Youth Group and then church for many years.
During college I met my husband. He had been saved during his senior year of High School, and we spent many hours talking about God, and Jesus. After we married, we started attending church. One fateful Sunday I went alone, and during the invitation, I felt an overwhelming conviction that the invitation was for me. Honestly, I was stunned, having thought for many years that I was saved! I didn't respond to the invitation that day, but all the next week it was on my mind, and I prayed to really know what to do.   The following Sunday during the invitation I was again convicted in my heart that I needed to respond and this time, I went forward, prayed for Jesus to forgive me of my sins, and truly accepted him as Savior. Even today, almost 30 years later, I can remember the overwhelming flood of relief and joy.
Of my four siblings, parents, step-parents, in-laws, nieces and nephews, only a few are saved. I count many lost people among my extended family, and I believe it is an imperative that I pray for them. In Romans 10:1 Paul wrote, "Brothers, my heart's desire and prayer to God for the Israelites is that they may be saved," (emphasis mine). As C.H. Spurgeon once stated in a sermon:
Until the gate of hell is shut upon a man, we must not cease to pray for him. And if we see him hugging the very doorposts of damnation, we must go to the mercy seat and beseech the arm of grace to pluck him from his dangerous position. While there is life there is hope, and although the soul is almost smothered with despair, we must not despair for it, but rather arouse ourselves to awaken the Almighty arm.
There are days when I am frustrated with seemingly unanswered prayers regarding the salvation of people I love.   So the Scripture I'm choosing this time is 2 Pet 3:9, "The Lord is not slow in keeping his promise, as some understand slowness. He is patient with you, not wanting anyone to perish, but everyone to come to repentance" (NIV), which reminds me that these things are under His control and His timing, and that God desires salvation for every soul. If you have lost loved ones, like me, perhaps this verse will comfort you also.
I am so grateful for this blog, and SSMT. The friends I have met through this blog, the original Siesta Fiesta, and the SSMTC events are so precious to me.
Love in Christ,
Adrienne (Fuzzytop)