I've noticed this week as I've published some of your comments that you've given a little shout-out Happy Birthday to Beth! If you've done this, you must have super powers because you're correct.
This past Monday we shut down the ministry for a few hours to celebrate our beloved boss and friend. LPM birthdays are a blast in general, but we tend to go all out for her because, well, we love her, and if it wasn't for her and Jesus, this ministry wouldn't even exist. Grin.
I thought it would be fun to share a little birthday recap for you, our dear, faithful Siestas.
We started the day out at a little art studio called Painting With a Twist. Basically you decide on one portrait from hundreds of paintings for your particular class, and then for two hours an instructor walks you through the process of painting that portrait on a canvas yourself. I'm sure many of you have heard of this, and probably even have places like this near you.
Here is the birthday girl and a handful of The Village headed to Painting With a Twist.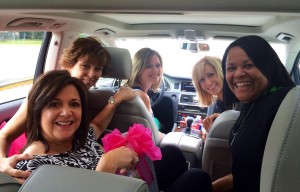 It's a kick because from the first stroke of paint, everyone's personality comes out. For instance, I myself am a perfectionist but don't consider myself an artist, so I immediately felt anxious. Can you say "stress"?. Others of us are carefree and calm and don't say a peep the whole time, but have near perfect paintings. Then you have those that scratch the entire process and create their own work of art, in which I thought was brilliant and was wishing I'd done myself. At one point we heard our beloved teacher exclaim that one of the stars on her flag resembled a flying squirrel, while another one of us ran out of room while writing (with a paint brush, mind you) "America the Beautiful" which turned out to be "America the Beauti". These are the things that stick with us.
Honestly, we had a complete blast and laughed our heads off. I promptly gave mine to my mom as a gift. Of course she told me how lovely mine was and that she loved it, but she's required to say things like that because she's my mom.
Here are a few pictures from our time at Painting with a Twist.
(Side note: I much prefer photographing to painting.)
(Also, I did really great taking pictures at first, and then I was too far into the process to even pick up my phone. It was intense.)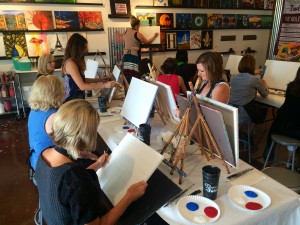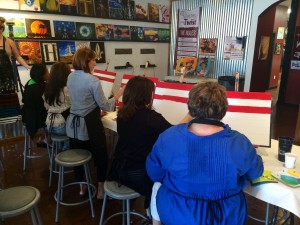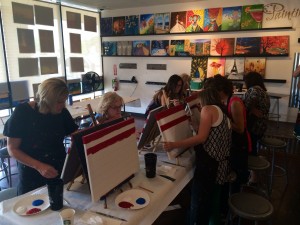 It was only appropriate that after each layer of painting, we had to blow dry our canvases. Beth wanted to know if anyone brought her root lifter.
Unfortunately, this was the only picture I got before the "final product". Imagine stars, and flags, and words, oh my! Also, please note ALL THE BLUE. It was really supposed to be in the top left hand corner.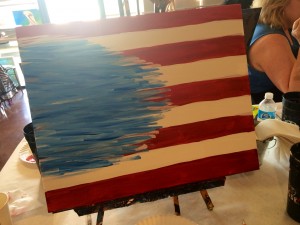 Victory! Here we are with our final paintings. Notice not one painting is even slightly like the other. So much fun!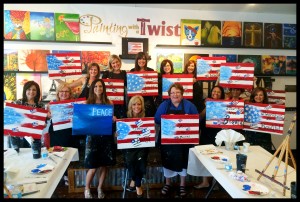 After painting we headed back to the office for some Mexican food and cupcakes! Oh, and some birthday gifts, as well. By 3:00 I think each of us preferred to be napping as opposed to sitting at our desks, but that's the sacrifice of a good celebration, right? It was the best day! We love you, Beth! Happy, happy birthday!
P.S. What's been one of your favorite birthdays and why? I love hearing unique ways to celebrate!