Stunned by God.
Seared by His grace and mercy.
Sent to proclaim who He is and what He's done.
Those are the three words Louie Giglio ended Passion 2014 with this past weekend and it was so appropriate. After 17 years of Passion conferences, I'm always stunned by the way Louie can wrap up the weekend and tie everything together. I think it's safe to say Houston was given a double portion of the Spirit this weekend. I am just one that is so grateful Passion 2014 landed here this year. Our city has so much darkness, and this weekend brought so much light. If you were anywhere near downtown Friday or Saturday there is no doubt you were overwhelmed by a sea of college students. I was always encouraged when I would hear from either the door holders (what Passion refers to as their volunteers) or the Toyota Center staff that this group was so easy to serve because they were kind and polite. Thank you, Jesus! Kindness goes so far and speaks volumes.
In all reality, it's really hard to sum up Passion in one blog post. In fact, I've been writing this particular post since Monday morning and I still can't seem to get my thoughts clear enough to write anything worthwhile. When you get the rare opportunity to sit under teachings like Louie Giglio, Francis Chan, Judah Smith and our personal favorite, Beth Moore and on top of that worship with Christy Nockels, Matt Redman, Hillsong, Chris Tomlin and many more you walk away a little slack jawed. But more importantly, when you get to sit in the presence of God and soak Him up, you are left speechless.
It all began Friday evening when the girls arrived at the hotel to get their room key and a little treat. (Did I mention Passion started on Valentine's Day? Perfect. Every girl needs a little something. So we did the best we could to deliver. Honestly, things like this make me so happy.)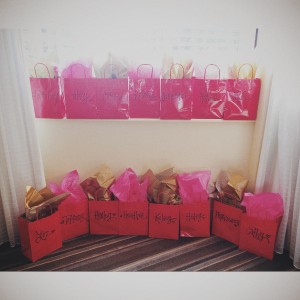 Once all the girls arrived we found a corner in the hotel to huddle at and scarf down pizza. That's when I learned that every girl we were taking had never been to Passion. This would be their first time and that made me both undeniably happy and anxious. (We all assume everyone would love Passion, but WHAT IN THE WORLD IF THEY DON'T?!)
Soon after that we hiked 12 miles (I may be exaggerating JUST a little) to the Toyota Center and promptly found our seats. (I have to give a shout out to Passion at this point for reserving us seats. Thank you doesn't cut it! We are so grateful and the caused our stress level to decrease majorly!) Once Passion began, though I was in the mood to worship, I couldn't pry my eyes off of our girls. I wanted to experience it for the first time all over again and I loved watching as each of them just stood there wided eyed and bushy tailed. If you've never been, the conference is the epitome of overstimulating, in the best way possible.
From that moment until 11:00 Saturday night we worshiped, sat and listened to the amazing speakers while taking notes, walked a million miles, asked the girls what they were thinking when we had two minutes of free time and slept all of eight hours all weekend. It was 24 hours of non-stop excitment. So much so that I woke up on Sunday morning feeling as if I'd run a marathon.
I think my favorite moment was getting to hear Hillsong lead Oceans. I get chill bumps just thinking about it because, y'all, oh my word. It was a sacred moment I won't soon forget. Not to mention hearing 17,000 students singing the lyrics, Spirit lead me where my trust is without borders, let me walk upon the waters, wherever you would call me. Take me deeper than my feet could ever wander and my faith would be made stronger, in the presence of my Savior! Yes and amen, Lord. Let that continue to be the cry of their hearts; of my heart.
Something that will be seared in my memory forever is that as we were walking back to our hotel Saturday night after Passion ended, I watched countless college students minister to the homeless. It was a beautiful sight. Food was being given, conversation casually taking place and prayers being offered. The love of God is what compels and if we're not getting that after something like Passion, then we are doing something wrong! I will never forget that.
Since I feel like I'm stumbling over my words and not making a ton of sense, I'll leave you with some pictures from the weekend! Because usually when words fail, pictures and hugs are the next best thing.
Friday morning walking around downtown getting all things situated and ready for the girls and this made me so happy. Welcome to Houston, Passion!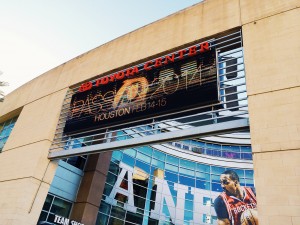 And so did this! Just a sneak peak of Downtown Houston looking out from the Toyota Center.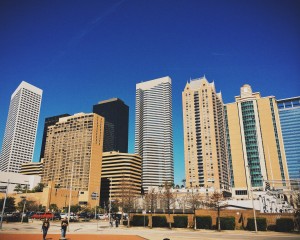 Our group of girls walking on Friday night to the Toyota Center! Such excitement in their smiles!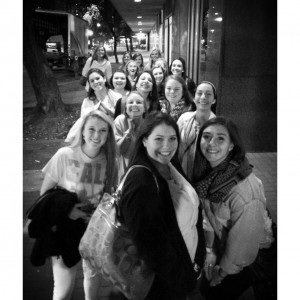 Welcome to Passion!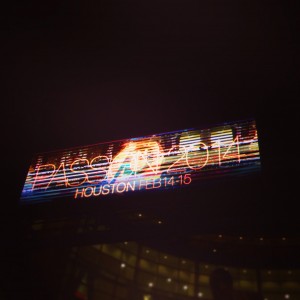 Waiting in line to get into the Toyota Center Friday night.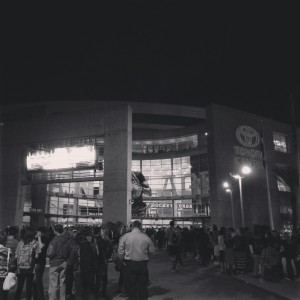 Finally in and seated! Thank you, Lord!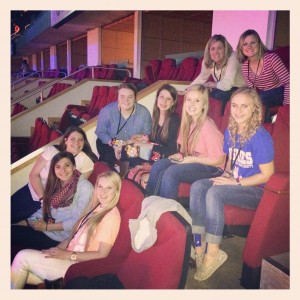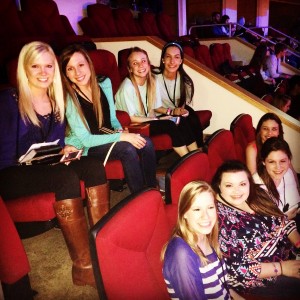 My dear partners this weekend, also known as my coworkers. There is no way I could have hosted 15 girls alone! I'm so thankful for coworkers that become fun friends to serve with! Thank you, Jenn and Sherry, for giving up your weekend for these girls! I love you forever!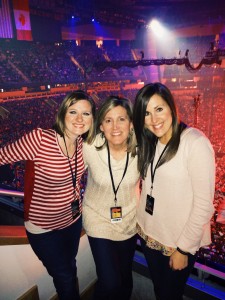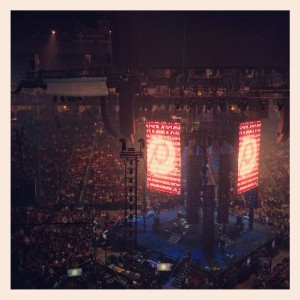 Just a glimpse of Oceans being sung.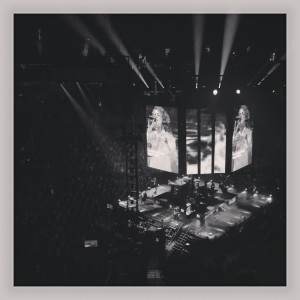 Saturday morning we got to the Toyota Center in time to take a picture in front of the End It Movement X. This isn't just for kicks, I am praying that some of these girls would be called to fight the darkness of slavery, in Jesus' name. That is no small calling. One thing I do know for sure, we are all called to get on our knees and pray!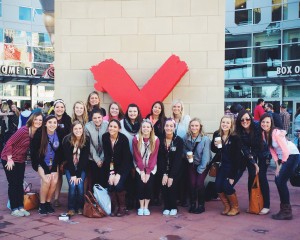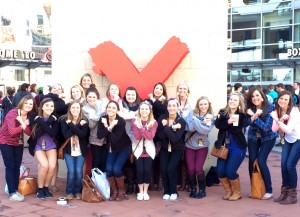 A few of our girls eating lunch in the sun! It felt so good.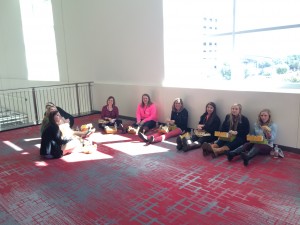 Our beloved Beth BRINGING IT.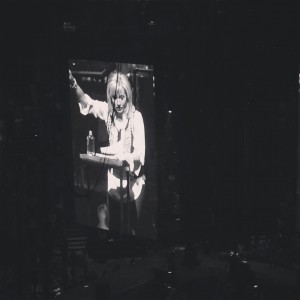 The four Moore's after Beth taught her heart out. We join them in applauding her and saying, "Well done, faithful servant!" Isn't this picture so great?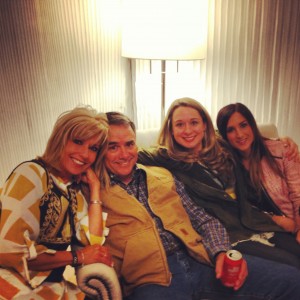 Something else that is really fun for you all to see is Beth getting to run into Jack Cottrell, also known as Travis Cottrell Jr. Is that so fun?! I wish I could have heard about Passion from his perspective.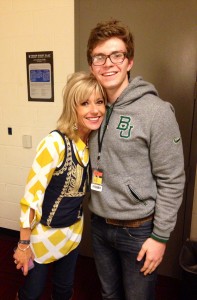 Jenn, Sherry and myself as we were about to start the last session. At this point we were so tired we were delirious and would pretty much laugh at anything.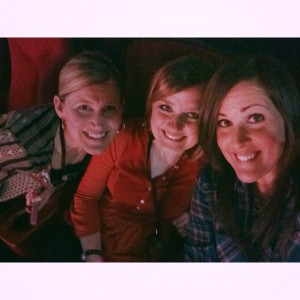 Thank you, Passion, for coming to Houston and taking a risk on us. We cannot wait to see you next year!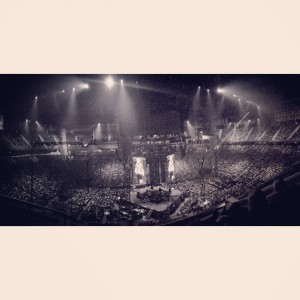 Thank you, Lord, for all you're doing and all you continue to do in and through us. We are not worthy. But you, Jesus, are stunning.