SOLD OUT!
Those were the words I saw in all CAPS under the Passion 2014 logo as I was scrolling through my Instagram feed last night! Passion in Houston is about to go down and not one ticket is left. Let's give the Lord some praise, my friends! That means that in less than 24 hours the Toyota Center will be maxed out with thousands of 18 – 25 year olds hearing and proclaiming the name of Jesus. This is so very good!
This year, like every other Passion conference, our very own Beth will take the platform as one of the main speakers, so as you can imagine, she's full on in preparation for this weekend! We've been studying about the Holy Spirit together on Tuesday nights and as a staff we're asking God to move among His people in Houston! That there would be an outpouring like never before. I've heard Beth say time and time again that Jesus just flat likes Passion, and I can't argue with that. So, will you join us in praying for the Lord to raise up a generation that will be sent out to spread the truth of God's word in power? Not all the time, but sometimes these things take an army of prayer warriors.
Even if you were at Passion in Atlanta and saw what God could do, let's set aside our expectations or our previous experiences and ask the Lord to do something brand new, fresh, captivating!
Much like previous years, I get to take a group of girls along with two of my coworkers, Jenn and Sherry to the conference. I am pumped to say the least! Most of our group of first time attendees and I know they're in for a treat. And a treat really sounds so petty.
Anybody out there heading this way? Anybody out there happen to attend Passion in Atlanta this year and are excited to see God at work in both cities?  (And I mean this for both those attending and those coming as a doorholder, what they refer to as their volunteers.) Tell us where you're coming from and one thing you are looking forward to! It would be a blast to run into some familiar faces.
In other exciting news, I heard a rumor they were live streaming the conference. So if you want to join in and experience Passion from the other side of your computer screen, you can do so from here starting at 7:30 Friday night (CST).
In honor of Throwback Thursday, I feel it is only necessary to post a picture from Passion last year.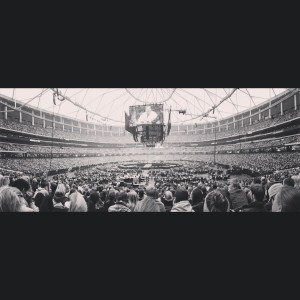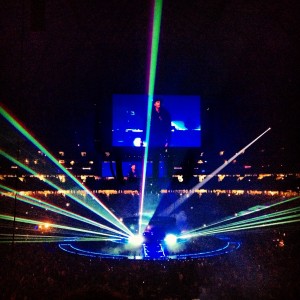 "Yes, Lord, walking in the way of your laws, we wait for you; your name and renown are the desire of our hearts." Isaiah 26:8