A couple nights ago I was leaving a friend's house when we landed on a really serious discussion. It was so serious that I set my purse down and sat back down on the couch. What was so important, you might wonder?
Cereal.
Not just any cereal, y'all, we were salivating over the sugary, good, delicious, unhealthy, childhood cereal that we all secretly dream about while we choose to eat the healthy cardboard junk. Who invented Kashi cereal anyway?
Even as I type this I'm feeling all giddy again.
I went on to explain to my friends that growing up my mom might have well been named the Junk Food Queen. We had every imaginable sugary cereal and Hostess Cupcake you can imagine. I wish it weren't true. In fact, I'm almost certain that if I were to open my mom's pantry door today, I'd see remnants of my childhood. (Well, they wouldn't be THAT expired, but you get the point.) My mother still doesn't believe in food tasting like cardboard and I don't blame her.
(I think she got the habit from my Grandpa who, until the day he passed away, would eat Cap'n Crunch nearly every morning. I ate it in his honor the last time he visited, because you better believe he had a box left.)
Since I am now considered a grown up, I try to make healthier food choices, including the cereal I eat. (And let's be so honest, any evening that includes cereal for dinner is a really good evening.) This means I steer clear of the Cookie Crisp, the Corn Pops, the Cocoa Pebbles, the Apple Jacks, the Cap'n Crunch, the Frosted Flakes, the Fruit Loops and well, you get the point.
(And don't even get me started on how Lucky Charm marshmallows should be saved for the end of your bowl and then eaten all together. Or the fact that you can buy Lucky Charm marshmallows separately and if that doesn't make you happy, I don't know what will. If you're one of those eat-one-marshmallow-with-each-bite kind of person, I don't know if we can be friends.)
I could name twenty more cereals and add a jingle or a tag line with each one of them.
(Oh, and shall we discuss at large the leftover milk if you've eaten Fruity Pebbles or Cocoa Pebbles? It was one of the best parts of the cereal eating experience.)
After our detailed discussion we decided we needed to have an official cereal night. There are a bunch of us that frequently eat dinner together on Sunday evenings, so the rule this past Sunday for all who decided to join was to come with your favorite sugary cereal. I'm not even kidding, y'all. These are adults I'm speaking of. We usually eat very adult meals with an occasional chicken nugget thrown in, but Trix aren't really just for kids.
I failed to get a picture of our cereal choices Sunday evening because I was too busy eating said cereal, but despite my lack of photographing that particular evening, I struck gold when I reached this aisle the day before and bought myself a box of Cocoa Pebbles. Not for the Cereal Extravaganza of 2013, but just because.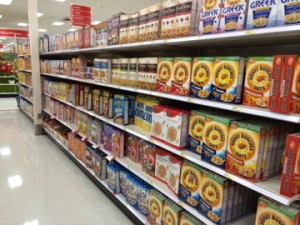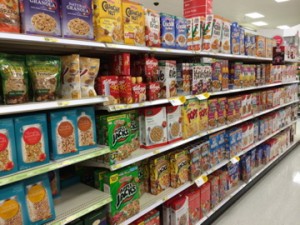 I think I even heard angels singing.
This entire conversation and experience is something I felt so passionate about, I knew I had to share it with you guys. I know how you people get all excited about the little things with us. Even if it's about cereal.
So can we all just take a moment and relive our childhood by naming off our favorite all time cereal? And by all means, throw the slogan in there, too.
And if your mom never bought you the good stuff, today we grieve with you. But please, for the love of all things normal, go buy yourself a box of Fruity Pebbles.
They even make those gluten free.
Boom.