I'm curious how many of you are singing the next lines to the song posted above, "wish it was Sunday…". Makes me laugh!
Truth be told, Sunday is easily one of my favorite days of the week, and Monday one of the hardest. I have the great honor and privilege of getting to sing on our worship team at church, and since we added an evening service a few months ago, that means that the weeks I'm serving, I'm liable to be at church all day. Listen, this isn't me complaining in the least, I am so delighted and happy to do it, and consider it a great honor, but it certainly zaps me of some energy come Monday morning.
Hence the manic Monday. I've been known to leave my house on a Monday morning headed to work only to realize I left my computer sitting on my coffee table. And well, that's kind of a necessity. I may or may not have done that this morning. Sigh.
Anyway, as I often do, I was scrolling through my phone last night deleting the masses of unnecessary pictures I have stored on there, when I decided an iPhone dump for this Monday was in order.
For the record, our sweet Siesta Mama has a very full plate right now, you wouldn't waste a prayer on her at all, so I'll do the best I can to hold down the fort while she works to serve you all in a different capacity. So, I do apologize in advance if you get tired of hearing from me! But rest assured, she will hop on when she can.
Without further do, a little Monday randomness for you.
Every other Thursday night I'm taking a small group of girls through "Believing God". I'm so proud of them for coming because that study is hard! Especially as a high school girl. But what makes me happiest is when they say their five statement pledge of faith at the beginning of each week. I wanted to capture this so I'd remember it! Oh, if they just got those five truths at that age. Such liberating truth!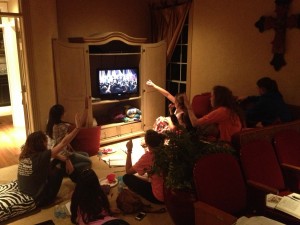 Remember that time I confessed to y'all that I unintentionally rub my feet together when I'm really tired? And then I confessed I remind myself of a cricket. Well, KMac, my beloved coworker found this pillow at a little shop right after that. You guessed it. This pillow now sits on my bed. I love it.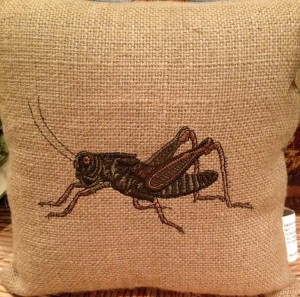 We've had our fair share of interesting visitors here at LPM, but most recently, we've welcomed a crane. It's slightly bizarre, but we are all very intrigued. I'm not quite sure what he thinks about us, though.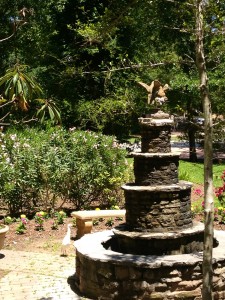 My friend recently texted me this picture. For the sake of all embarrassment, yes, this is my hysterical, typical laugh. I'd label myself an unattractive laugher. But seriously, life is good when you're laughing this hard!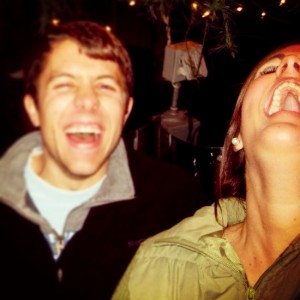 My  sweet mom and I at a wedding recently. This was the photo booth! How fun is that? I'd just like to give a shout out and say that moms are the best nurses. Remember how I told y'all recently I needed to have my wisdom teeth removed? Well, I did it a little over a week ago and I survived! Praise the Lord! This was all largely because she took such good care of me afterwards. I'm thankful.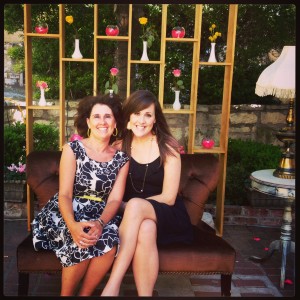 Speaking of wisdom teeth, you know you've arrived when you get snail mail from a four-year old. My favorite get well card of all time.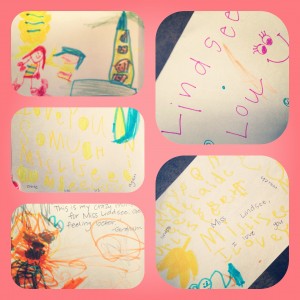 One of my favorite things about my church is all the young families. I love getting to spend time with them and their precious kiddos. Truly, not much brings me as much joy as getting to do just that. Anyway, this was my placemat for dinner one night. It made me so unbelievably happy!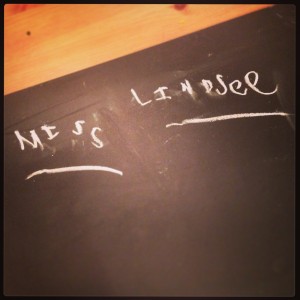 I recently had to make a little drive to the country. Apparently, that's where road signs don't matter. "No Motor Vehicles". Funny.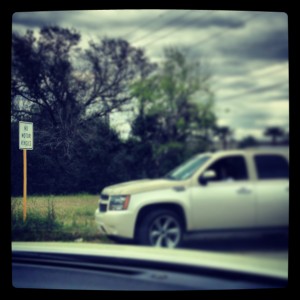 One fun thing about roommates is that it means you can take random midnight trips to the grocery store. This particular evening was one for the books. Oh, and in case you were curious, I'm kind of obsessed with apples. Hence the delight in this picture. My roommates just go along with it.
LPM is in it to end it! For more information on what that means click here.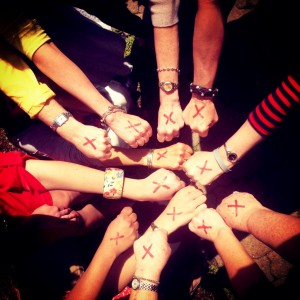 Since I don't have babies of my own to brag about, I choose to brag about my BFF's baby. For my recent trip to Austin for a wedding, Ellie was my car buddy. Tell me, is this not the best three hour view? She's scrumptious.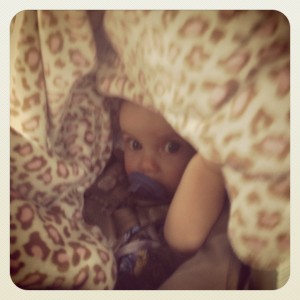 That wedding I keep referring to was a for a dear friend I've known since birth. It was a beautiful wedding! And one of the most unique weddings I've attended for sure. Everything was so Brittany. Anyway, ten years ago this year the brides daddy passed away. The most bittersweet thing was watching her older brother give her away at her wedding. Not a dry eye!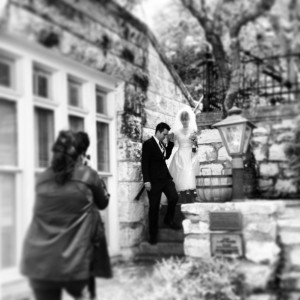 Oh, and speaking of Ellie, I had her all to myself Friday night while her parents had a date night. She makes me so deliriously happy. We played and played before bed time. This is us. She was more interested in eating my phone. But what nine month old isn't? This is pre-bed time.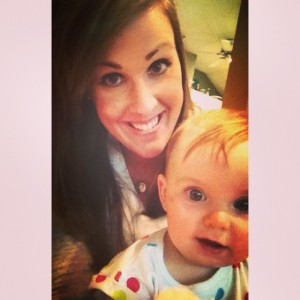 After an hour of off and on giggling, talking and fussing in bed, she decided play time was more fun. So played we did. Needless to say, contrary to "Goodnight Gorilla" that girl was not ready for goodnight. Not that I minded. Party time with Aunt Lou! We were both happy.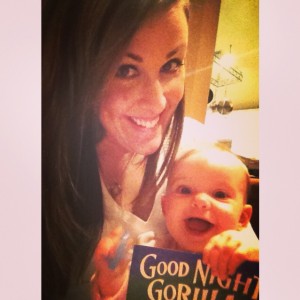 Houston has had amazing, yet unique weather for the month of May. I keep imagining I live in California, because that's what our weather has been like. Perfection, if you ask me. Because of the weather, I've gone on as many walks as possible at a trail near me. Normally, I might go for a run, but seriously, who would ruin this weather with a run! I convinced my roommate to go with me one Friday evening. Clearly, we both enjoyed it.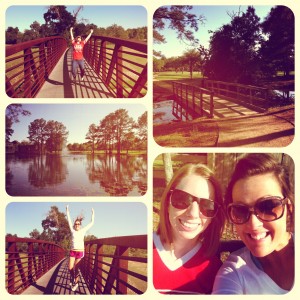 Sometimes you go for a walk and you stumble upon a treasure.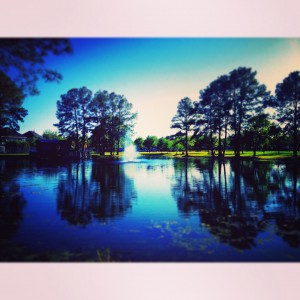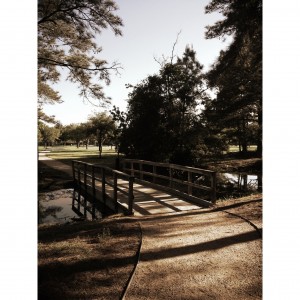 You have to cherish every minute of these Houston weather days. Also, I'm apparently into bridges. Awesome.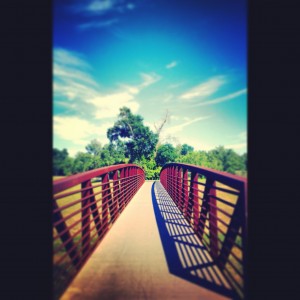 Yesterday I had a different viewpoint at church than I typically do. I took this shot during our last worship song. Honestly, words can't describe how grateful I am for my church. I'm glad the Lord has planted me there for such a time as this. It blesses my soul.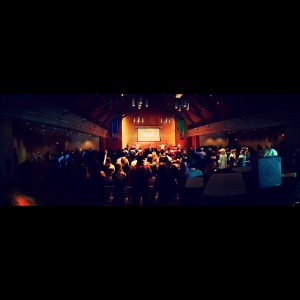 Y'all have a happy Monday!