UPDATE: I was floored by how many of you jumped into the classroom and participated in this assignment! (As of noon Monday, several hundred have yet to be moderated but you'll see them posted soon.) Your papers were FABULOUS. You did exactly what we hoped. You gave the assignment thought and authenticity. My tremendously busy weekend only afforded me a perusal but I look so forward to getting deeper into the stack. You are amazing women. You blow my mind over and over. I wish so much you could all have been at staff prayer today because each coworker brought her homework for us to discuss. We also had a particularly fun and unique translation addition (remember how you were to check 3 translations?)  because I asked Melissa if she'd read it to us in Hebrew. We got such a charge out of it. It truly was beautiful. To me, one of the most intriguing insights from many of your papers was the varied forms fleeing can take. Those differences were also articulated in our staff circle today. Running takes all sorts of forms, doesn't it, Sisters? Here's what we can know: Only when we're fleeing from God can the enemy catch us. And even then, if we're in Christ, he cannot have us. Nor can he keep us. Our God be praised. Gotta get back to work! Bible study tomorrow night! I love you, Sisters! And I think about you daily. THANK YOU FOR PARTICIPATING!!
Happy Friday, you wonderful things!
As soon as I push publish on this post, I'll be heading out the door to the airport. I have a Life Today taping this weekend for the Wednesday program. (Two sessions tonight. Two in the morning.) Please pray for Jesus to fill us, teach us, heal us, and thrill us and that the group will be greatly responsive. Thank you! I do not know where I'd be without prayer. What I'm asking for in this Bible study ministry as a whole is something only Jesus can do. I need Him so much.
OK! So, this morning God impressed something on me in prayer time that I became convinced over the next hour He wanted me to share also with you. It's coming in the way of a homework assignment I want to offer to any of you who'd like to participate. I have to be sparing in my words this morning because I have very little time but my heart is tremendously enlarged over it.
Here's the ground rule: Please complete your assignment without reading any of the comments. Let's resist any comparison or competition. Everybody who participates gets an A+. So you're not tempted and so that you don't get well into the assignment and lose your connection and your work, do it first on a Word document or the equivalent and then copy and paste it into your comment. I'm not looking for smart or scholarly sounding responses or ones that demonstrate impressive and great Spiritual prowess. I'm just looking for thought-out answers that are real.
You game? Me, too! OK, here goes. You do not need to include the questions or instructions in your answers but, for the sake of organization, please do list them by number. (1-6)
1. Please go to a website like Bible Gateway or to your Bible software if you have it and look up Isaiah 30:15-18. Please read it thoroughly in 3 different translations. In your response to this first exercise, please tell me what 3 translations you read then copy and paste the one that spoke the most blatantly to you. (In your answer you will have the abbreviations to three translations and then the full text in one of them. Make sense?)
2. Look up the word "threat" in any good English dictionary and write the full definition. After you write the definition, please share how it hits you and how you feel most threatened in this season, if at all. Keep in mind that nothing trips the switch on our insecurity like feeling threatened. Be careful as always in this community not to over-share by telling things about other people who wouldn't necessarily appreciate it.
3. What does "fleeing" tend to look like in your life? In other words, how are you most prone to flee? And, are you in fleeing mode right now?
4. Compare or contrast the Isaiah text (30:15-18)  to 1 Peter 5:8-10 and James 4:7.
5. One of my translations this morning for this text was The Message. Here it is on the card I wrote out.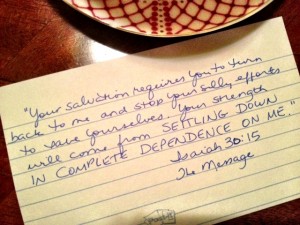 Do you perchance need to hear the words "settle down!" as much as I do? If so, why?
6. Finish your assignment with any particular personal insight you gained from it and, most of all, what you discern God is saying to you through it.
I love this kind of thing! If you don't, I still love YOU. I will look so forward to reading many of your "papers." Girl, I do dearly relish a classroom, and from both sides of the desk. Lindsee will be in town moderating your comments then I will start looking at them as soon as I finish up in Dallas.
PRAY FOR US! I LOVE YOU!!!