Monumental anniversaries are powerful forces for so many reasons. They not only cause us to remember and, to what extent we are able, relive the big moment that originally stole the show. They also snap a quick shot of an era of our lives. Like most any other, a tangy cocktail of an era both sweet and bitter, both beautiful and terrible. Such is life. But several times in the course of a long stay, a wonder comes along that blankets the whole tumultuous season in a smiling sun's rays.
Right about this time of day 30 years ago, I sat in the waiting room of my OBGYN's office with one thing on my mind: I meant to have a baby that day or else. My man worked in the oil field with BJ Hughes and they were sending him off for a month in two weeks, just when she was due. If she was on time, I was on my own. BUT, if she had a little nudging, the four of us – Keith, Amanda (our nearly-3-year-old daughter and the biggest dream-come-true of my 25 year-old life), this new little creature that had swung on my bottom ribs like monkey bars for months, and I would have 14 days together. Those were the stakes.
High indeed.
So early that morning, my big sister, Gay, came to Victoria, Texas where we'd been transferred with BJ Hughes, and together we went on a brisk little – well, as much as I hate to admit to it – jog to very deliberately see if we could get some action going. There is absolutely nothing about this approach that I'd recommend to an expectant mother no matter how great with child she is. Those were the 80's when the pendulum had swung WAY to the left and we were advised to do any physical activity in our pregnancies that we'd been accustomed to doing at the time we conceived. That was for normal people. Not me. Most women didn't teach high impact advanced aerobics classes. What I'm recommending is this: sit down the moment you realize you're expecting and get up when you head to the hospital.
Because here's what happened: I trained up a child in utero in the way she would go and when she was born, she did not depart from it. She stretched, rolled, tumbled, jumped, lunged, and high kicked so wildly from five months' gestation to full term that I lived nonstop at my maximum target heart rate particularly when I climbed into bed at night. I sang in the choir at First Baptist Church in Victoria and, in those latter days, my blue choir robe came alive like a 3-D illustration of the raging sea in Mark 4, only not once did Jesus stand up from the boat and say, "Please be still!" Or was that "peace be still"??
It was prophetic. That child would demand the training wheels off her bicycle two days before her 3rd birthday then ride off on it like she was born to be wild.
Because she was.
Dr. Mabry took one look at me, peered over the sheet draped across my swollen tummy and said, "Is your husband in town?"
"Yes, sir! As a matter of fact he is!"
"Good, because I'm about to break this water and put you in the hospital. This child is on her way."
I'd asked God for a boy. In fact, I did it just right. I used all the biblical terminology. I prayed in faith without doubting and summed it up confidently with, "In Jesus' Name." I made sure I asked before conception so we could start out with the appropriate gender and God wouldn't have to go to any extra trouble. I persevered in asking until the circle formed perfectly on the bottom of the EPT test tube then I sat back, smiled, claimed it…and, yes, named it: Brandon Keith Moore.
At seven months along, my OB nurse, good friend, and sonogram technician, said, "Beth, I'm telling you, I think this is a girl." I went home undeterred, sat back on the couch and said to the Lord with utter confidence, "This is not hard for you. In fact, nothing is too difficult for Thee!" (Using proper King James English is always most effective for times such as this.) "Change it," I chirped then got very still to see if I felt anything.
Nothing.
"It's a girl," I told Keith when he came in from work that night.
"Are you sure?"
"Yes."
"How do you know?"
"I just know. That's what they told me at the doctor's office. And I asked God to change her into a boy and He didn't. I could tell. I could tell He didn't, that is."
Young, strong, tan, black-headed, right winged, and at the peak of machismo as a 26 year old man tends to be, Keith grumbled something then looked up at me and said, "Well, then, we'll have a girl."
Good. Good plan.
The loud speaker went off over the grounds of BJ Hughes calling Keith Moore to the telephone. The kind with the black curly cord that was actually attached to the wall. "It's your wife," his supervisor said. "She said she needs to talk to you right away."
"Hello?" Sounding a little frantic.
"Hey! Wanna have a baby today?"
"Today??"
"Yes, today. My parents are on their way to stay with Amanda. I'm packing. You better come get me."
And he did.
Mamas push their babies into the world and then just keep on pushing.
We think we know just what we want them to be and just what will make them happy and we push and push and push and push, red-faced, grimacing, and threatening our husbands who got us into this shape. We just keep doing the thing we were doing the hours and minutes before they were born.
And, thank GOD, sometimes it doesn't work.
I suppose Melissa would be at the peak of her professional basketball career if she kept going where I was pushing. And I'd be chaplain of the team. And assistant coach. Or head coach.
But she's always had a mind of her own.
A fine one. Like her big sister's.
I gave my heart away 30 years ago today for the second time in my life. Totally. Withholding nothing. Complete abandon. Both times to squirming little creatures that didn't even weigh as much as their Daddy's career trout.
I sat across a white-linened table from both of them 2 days ago, sharing three desserts, coffee and teas and I got lost in them all over again. Lost in their laughter. In the color of their eyes. In the way they use words. And sip out of a cup. Such a flawed woman. Such an embarrassing past. So many insecurities. Secrets that make me nauseous. And yet there before me, grace welled up in two distinct heaps, like twins born three years apart. Twins who only look a smidge alike. Twins as similar as salt and pepper…as homemade peach-vanilla ice cream and pico de gallo. Twins only because they each broke into my fortress, shimmied down the side, and ran off with my heart.
We asked the waiter at the restaurant if we could sit by a window because we needed to keep an eye on my car. We were seriously certain someone would want to steal the clothes we'd just bought from Anthropologie. Yes, all three of us. Of course, the birthday girl got the most but the three Moore women have always liked to do things together. So, we all got presents.
Just like Keith, Amanda, and I did 30 years ago today.
That very day a pair of ocean green eyes opened to this beautiful and terrible earth and none of us who know her well have ever seen life the same again.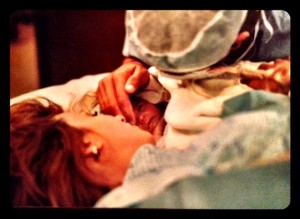 And, as for Keith Moore?? Well, he wouldn't trade that baby girl for a world full of fine sons.
And, whatever happened to that professional women's basketball star? Well, a good friend of ours gave her a fragile centuries-old piece of Torah scroll a few days ago for her birthday.
And the child commenced to read it to me.