Update: Here is the recap video, ladies. Rich did an exceptional job on this one! He really did pour his heart into it and it did not go unnoticed. Thank you so much, Rich!
Living Proof Live – Austin Tx from Rich Kalonick on Vimeo.
Good Monday morning, sweet friends!
I sure hope the start of your day was a sweet one and that it's only a reflection of your week to come. We could all use a good Monday here and there, couldn't we? I know Monday is not typically a favored day of the week, but let's give today a chance, shall we? What is one thing you're looking forward to today? Or this week? Let's hear it!
I happen to be attached at the hip to my phone because on this very Monday, my very best friend since the womb (I mean that seriously, I've never not known her), is delivering her first born baby girl. I am beside myself with ecstatic joy (shout out to Austin LPL!) and cannot wait to meet her and hold that little love!
We here at LPM had a FULL weekend! Most of the staff and a handful of our precious volunteers packed up and took a road trip to Austin for Living Proof Live. Is there a better way to bond with someone other than a road trip? I submit that there is not. We laughed, we worshiped, we studied, we cried and we got a WORD. Boy, did we get a Word. Often times we can hear a good Word and let it slip in one ear and out the other, but I'm praying this takes root and bears fruit. (I really didn't mean to rhyme, but I like it so I'm leaving it. Insert cheesy grin.)
Besides getting to be with the 7500 ladies, another highlight was getting to meet about 72 of you! It felt fast and furious, but it was so fun. Getting to lay eyes on you in the flesh is so surreal. You exist outside of our computers. Praise the Lord!
As the trusty media assistant, I took all of two pictures this weekend.
Here is about half of the staff on our way to Austin! Sherry, our beloved chauffeur, believes in safety first so she decided not to turn around and smile and we were grateful. Also, no road trip is complete without Starbucks or gum.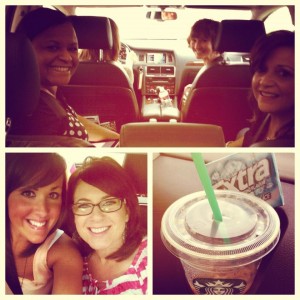 And here is our beloved Siesta Mama teaching on Saturday morning! Note the Texas flag in the background. I was tempted to blur everything else out of the picture except the flag. But I refrained. You  might think Texans are proud if I did that. (Note: These are all iPhone pictures. Forgive the poor quality should you choose to enlarge the picture. Again, trusty media assistant always aiming to please.)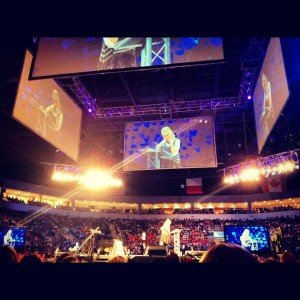 While we were busy taking notes, y'all were busy commenting away! So, lest you think I forgot about our giveaway, I did not!
Drum roll please…
Our lucky winner (thank you, random.org) of The Law of Law Lecture study is…Kathryn Bechtel!
Congratulations, Kathryn! Your comment was precious. If you'll send me your mailing address at [email protected] we'll get it to right away!
A lot of you were curious if you could purchase The Law of Love. Yes! Yes you can!
You can pre-order a copy through LifeWay here. It should be made available by August 1st.
You can also purchase the digital downloads through our Living Proof website here.
Once I get the LPL video recap from Rich, I'll post it as well. I mean really, no LPL weekend wrap-up would be complete without a recap video!
Y'all are simply the best. Thank you for letting us serve you. Seriously, it is a joy! We love YOU.