Just yesterday I realized the blog had been really quiet for an entire week. To be completely honest, it hadn't occurred to me until one of you so sweetly commented and asked if everything was okay with our Siesta Mama. You'll be so relieved to know that not only is she okay, she's actually hosting "Camp Bibby" this week. Needless to say, she has her hands very full and is loving every minute! In fact, we just returned from eating lunch with her and the kiddos and no one could leave until we found the plastic, fake spider Jackson held so dearly all through lunch. Priorities, folks.
Since she is Bibby this week, and since I'm currently obsessing over the high school girls that we get the sheer joy of hosting every Tuesday, the blog, although always on my mind, suffered only due to lack of time, not lack of material or love!
What you may not know is that May 29th brought a whole new dimension to LPM. That was the first day some of the most precious high school girls waltzed into LPM. They were quiet, reserved and scared out of their mind, just as I would have been at that age. Stink, just as I am now to walk in any unfamiliar place! However, that didn't last long before they were all chowing down on pizza and making new friends. The most ironic part about the quietness and anxiousness is that starting that evening, all of us were going to crack open So Long, Insecurity together. Is there a book more appropriate for a high school girl? I submit that there cannot. My hope and prayer is that they grasp these truths and principles at this young age so that ten or twenty years from now, they won't have to dig up as many roots of insecurity as some of us did.
And lest you think I've learned all I can about insecurity saying as though I've already read this book once already, think again, the Lord has let it hit me in a fresh, new way that is striking all kinds of ugly chords. He knew I would need it again, and He knew the only way I'd read it again was to take a group of high school girls through it. I told the girls the first night that I was not only on this journey with them, but that I was certain I'd learn more than any of them. So far, my predictions are correct.
I've received a few emails wondering how we're doing this study, so I wanted to post some fun facts so that if you're interested, you too could lead a group of girls through SLI.
Since Tuesday evenings are always Bible study nights, that was automatically our go-to night. When we opened up registration, we had an overwhelming response, glory to God, so we decided to also open up an Tuesday afternoon study, all as an experiment. The LPM office isn't tiny by any means, but it can only host so many people at one time before we get crazy, so fifty girls was our cut off number. When all was said and done, by the time May 29th rolled around, we had just a small group of girls that I lead in the afternoon, then at night we have our full group, along with five leaders.
For the first thirty minutes, we all just chat it up and eat. It's what girls do best, right? When we're all done eating, I typically make them find one girl they don't know and I give them a fun question to discuss, something like their favorite movie. Then, for the next hour or so, they break up into five different small groups and unpack that particular weeks homework. The book now has a workbook to go along with it and I don't have enough good things to say about it. It is such a helpful, wonderful guide with a lot of rich questions. So rich, in fact, that just last night we had to ring a bell to break up the small groups. You know what that means, it means they're not running out of things to talk about in small group, praise the Lord!
For the last 20 to 30 minutes, we all gather back in the board room and I give them a little challenge or devotional. The last thing they want to do is listen to me talk for another hour, so I keep it pretty short and to the point. Then we all hug and say our goodbyes.
You cannot imagine the amount of food that has come in and out of this place. Girls can eat.
We've ordered 20 boxes of pizza.
Nuggets trays and salads galore from Chick-Fil-A.
Enough sandwiches from Potbelly to feed the staff, the girls, and the leaders for a good three days.
Over 100 potbelly cookies.  I'll refrain from telling you how many calories are in each cookie.  You're welcome.
Jimmy Johns sandwiches that were just right.
And cases upon cases of all manner of drinks, like water, coke, diet coke and dr. pepper.
I think it's safe to say that LPM is always learning and growing, and this experience alone has been such a learning experience for me, if not for all of us. The entire LPM Village has played a part in some way, shape or form and to say I couldn't do it without them or my leaders is a vast understatement. Unfortunately, I'm not sure I express my thankfulness enough. They are the bomb!
This I know to be so true, no one has to convince me to want to serve and love these girls. They have my heart. Boy, do they have my heart. Tuesdays are the most exciting and yet the most exhausting days of the week, but I wouldn't trade it for anything. It is a complete joy and honor to serve them in this way. Oh, I pray that they would be rooted in Christ and their security would be found in Him alone. And that it would begin with me.
The first Tuesday we were ready to receive those girls with open arms and books galore!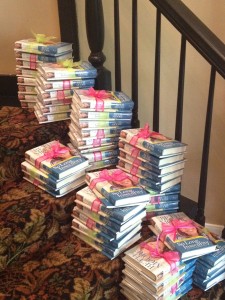 The sweet staff made me do this. It felt so awkward that I'm still laughing.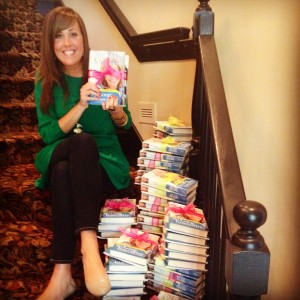 Beth was equally as giddy and excited. She got to pop in and say hey to the girls that day. So fun!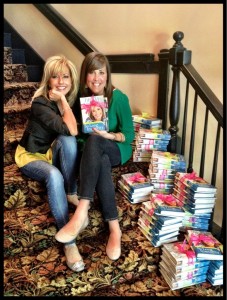 Our typical food set up.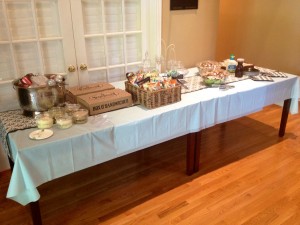 These Potbelly cookies are sinful they're so delicious. And we had over 100.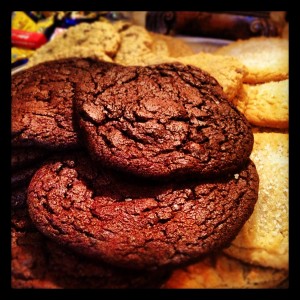 If you walked into LPM on a Tuesday, this is what you might find. Isn't it a precious sight? Brings me such joy.