Hey, Sweet Things! I thought I'd take about an hour's break from my preparation for a message God is laying on my heart for Gateway's Pink Impact (isn't that a fun name?) Thursday night. As you'll see, I'm sort of a captive audience for you right now.
I am so in the mood to interact with you and I don't have a ton of time but I'll try to make the best of what I have! Want to do some Q&A for the next little while? I'll try my hardest to take the first 20 questions that are best suited for this format. (Mainly it's a matter of time. The best kinds of questions are those more easily answered in the brief time frame we have. In other words, this is not the time for us to expound on deep theological issues or how to get past childhood trauma. Your questions can be fun or trivial or serious or simply information oriented. If I pass over yours, it was simply a time issue – OR, even more likely, that I just didn't have an answer. Or MAYBE it's a surprise I need to save for later.
I'm not a big expert. This is just kind of a lopsided slice of how two friends sitting across a small table at Starbucks might get to know each other a little better.
So, let's talk if you'd like to! Just so you can picture where I am and what I look like right now: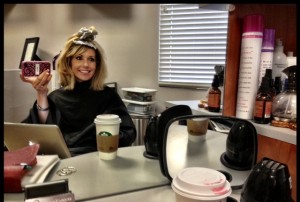 DO I LOVE YOU OR WHAT???
When you write in, tell me where you are right now. It will help me picture you on the other side of the table.
I'm crazy about you.
For the siesta who asked about the color of lipstick on my coffee cup. I loved that question! Here you go: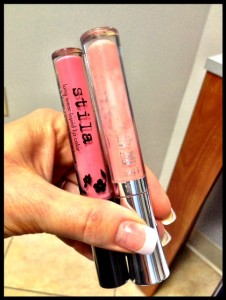 The Stila shade is "Petal" and J Lo inspired me to get this shade. It's a stain and I like it but it sort of tends to smear if I'm not really careful to let it dry completely before I add the gloss. Needs more time to set than other stains I've tried.
The gloss/plumper I wear over it and many other stains is Buxom's (such a stupid, embarrassing name) "Sandy." It makes everything have kind of a creamy look. I love it.
You guys are such a blast! I wish I could have done more! I'll try to do a few more in the next 24 hours if possible but, if I can't, I love you just the same.