Hey, my darling Siestas! I hope your weekend was full of Jesus and that you found refreshment with family and friends. I also hope you were blessed by a lively, Christ-loving body of believers in your local church and that you freely worshiped with them and sought God together with them through the Scriptures. You guys know how strongly we feel about the local church around here. These are days on the Kingdom calendar when we need one another more than ever. (Hebrews 10:24-25) We can't afford to rationalize that we can link up with other believers on line as a replacement for investing our lives and our spiritual gifts in the local church of God's leading. I love what we get to do here and believe that it's real and that it has an important place but it's not a replacement for a local body of believers. I'm so happy to say that I don't see many people in this community confused about that. I often hear you refer to your churches with much love and commitment. You bless me so.
That said, God has brought about a huge transition in our lives over the last months. Let me say that in all caps: HUGE. I think the best way I can explain it to you is to post the letter that was inserted in the church bulletin at my home church yesterday and is up on their website. I will pick back up with you briefly at the end of the letter.
Dear HFBC, my beloved church family of so many years,
It is with indescribable gratitude and deep emotion that I say farewell to this body of believers as a fellow member. I asked Pastor Gregg if I could write you a letter rather than speak to you from the platform, not because I mind shedding tears in public but because I wish to spare you my lapse into an ugly cry.
These are exciting days in my family. Nine years ago, Keith walked our oldest daughter, Amanda, down an aisle of this very sanctuary and gave her in marriage to Curtis Jones, a young man with only one life plan: to serve Jesus anywhere, any time. We knew from the start that anything was game. Over the last several years, we've watched God prepare Curtis and Amanda to plant a church in another part of Houston. Keith and I will unwaveringly go with them with joy, approval, and glad anticipation.
Not one of us goes without cost, however. For once, I'll let the others speak for themselves and I'll stick to what I place on this altar today. I met my life-long mentor here and came to my first realization that human flesh and blood could fall madly in love with Jesus. At her insistence, I taught my first Sunday School class here and didn't sit down for 23 years. I signed up for a Bible doctrine class taught on the second floor of this church on Sunday nights 26 years ago and was ruined for life for anything other than the pursuit of Christ through Scripture. You dared to take a Christian aerobics teacher with a side ponytail seriously when she pitched her leg warmers for commentaries. You gave me a safe place to keep learning amid a thousand mistakes.
Meanwhile, our marriage has endured for 32 years and, in such large part, over the support we received among godly couples here in this church. Our daughters, Amanda and Melissa, each walked one of these aisles, gave their lives to Jesus and were baptized in those very same waters above the choir loft.
As ministry life took us places – both good and hard – that we could not possibly have foreseen, you were my safe harbor. As far as I can recall, Dr. Jimmy Draper is the only one who has ever called me "normal" but the context was something I'll treasure forever: "Beth, you know the only reason you've stayed normal?" No, Sir. I don't. "You stayed in church."
And now the tears well up in my eyes and spill over from my heart. How do you thank people for nearly 30 years of love and acceptance and patience and forgiveness and guidance? My best shot at it is this: I may be absent from you on Sunday mornings but you will never be absent from me. You are woven into my soul. I take you with me everywhere I go.
I have the glorious privilege of placing my membership here at HFBC on the altar at the best possible time: when I have never loved this church more. There is not one hint of conflict. Not one iota of friction between my beloved Pastor and me. We have pledged our support and friendship to one another and to one another's families. He has also graciously invited us to continue to hold our Tuesday night women's Bible studies here. I'm Pastor Gregg's fan forever and a staunch supporter of this fine church. Please hear these words, all of you, from the truest and most tender place in my heart:
Thank you for all that you've been to me. The gift of you is inestimable. I love you deeply and will press you close to my heart all my days. Pray for us as we pray for you "so that the body of Christ may be built up until we all reach unity in the faith and in the knowledge of the Son of God." (Ephesians 4:13)
Beth

Pastor Gregg and me:

I didn't know until today that Melissa had snapped this picture of Keith and me up on the platform with Pastor Gregg yesterday during the service. When she walked into my office a few minutes ago and caught me inserting pictures into this article, she said, "Mom! I took one you've got to post!" I wish so much that this picture also had Kelly, Pastor Gregg's wife, in it. I love her dearly and respect her to no end.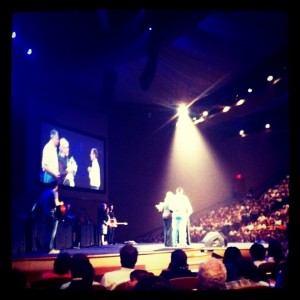 These next two pictures represent some of my very biggest losses at HFBC. Make no mistake. We will always be friends because our hearts are tied together forever but I won't worship right in among them on a myriad of Sundays like I have for years. The first one is the Tate girls. A few of you may remember that I dedicated Get Out of That Pit to Kendall Tate and her family and told their story in the book. I, then, dedicated the GOOTP journal to all four of these wonderful girls.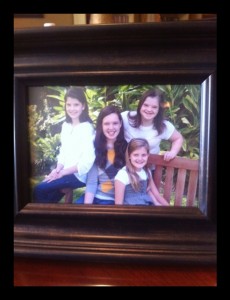 This is Abigail Davis. I've known her (as well as each of the Tate girls) all her life. I told a story about Abigail and her golf lessons toward the very end of the Esther Bible study. I'm nuts about her. The best pictures I have of Abigail and me are in frames on shelves at home but I do have this one in my office. You can see that she is a well-rounded woman-child. A golfer and a dancer. Grin.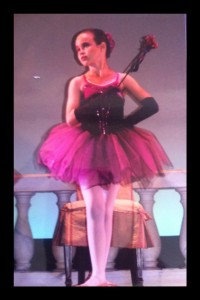 Well, you can see that these are days of change around here. I cried many tears yesterday as I said goodbye to a body of believers I have cherished with my whole heart and so much of my life. But, as I met with our church plant core-group of 50 on our knees last night, seeking God desperately to come and do His will in this infant church, I felt His power and pleasure. It is the Lord's will. I welcome it and embrace it. Bayou City Fellowship will swing open its doors to the public in the Fall but you will not waste a prayer on us now. We have much work to do in the spiritual realm before that day comes.
I praise God that this fellowship of believers will be right here in Houston. When your kids are in ministry, you well know that God could "plant" them anywhere in the world. We are ecstatic that God led Curtis to plant this church right here in this big, fat, wonderful, hot city. Our whole family will be engaged in this crazy adventure, including Colin and Melissa. If you're wondering about the name, Houston's nickname is "Bayou City." We couldn't believe it hadn't been snagged as a name for a church in this city yet. Over the coming years we want Houston to be so glad we are here as we stretch out our arms to its aid. Our first outside action as a church has been to gather various articles to give to families that lost all they had in a local apartment fire. As I folded up clothes this morning and put them in a bag and made a plan to run by Walmart, I thought to myself, "Well, old girl, there's not a lot of time to sit around and mourn. Hop up and get on this love train. There's a city to serve."
And it felt right.
One last thing. Last night I looked at all the children of our core group couples and thought, "You are going to get to watch some of these children grow up. Open your heart wide and receive with joy!" I knelt down by about 7 children, one by one, last night and said, "Hi there! I'm Miss Beth and I'm new to this church, too. Would you be my friend?" Most of them said yes. A few of them stared at my big hair.
Jesus, be exalted in this city. Bless HFBC. Bless Bayou City Fellowship. Bless every body of believers with knees to the floor and faces to the sky in Your holy Name. We are wholly dependent upon Your presence.
PS. Amanda is my pastor's wife. I have to throw my head back and laugh with joy. HOW ABOUT THAT????