Hey, you Scripture-memory buffs! I pray that your verses are bearing fruit and that they're right there on the tip of your tongue when you're tempted to say something the polar opposite of God's will. That's one of many things I like about memory work. It's seems out of place to use the same mouth that has been spouting Scripture to spout off a bunch of trash. That doesn't mean we never do it but it does mean we're likely to feel miserable over it and think twice the next time.
Two times in a row our SSMT has fallen on a Bible study day so I am forced to be much briefer than I'd like. My heart toward you is bigger than my words, particularly today. Tonight's lesson is especially pressing because I'm further behind in preparation than I'd normally be if I hadn't had a taping over the weekend and spent the end of last work-week getting ready for it. Yada yada yada. I am woman, hear me whine.
I bet some of you feel the same way I've felt over the last week: too much on your plate. Looking at all of it in one big heap on your desk or your calendar can be demoralizing. Thursday I had one of those days when you can hardly make it to your car after work without bursting into tears. On the way home I felt like God was telling me to humble myself and get the word out that I needed prayer and by the next day I felt a world better. (Some nights you just go to bed early out of love for the people who live with you.) A couple of other things have really helped me today. They seem elementary but, if so, why don't we ever seem to learn them once and for all? Here's what they are: Remembering to…
1)   TAKE ONE THING AT A TIME! God's grace really is sufficient and He really does meet all our needs according to His glorious riches in Christ Jesus. As much as we want to see all that manna heaped up in a mountain of provision a week in advance alongside those upcoming demands, His promise in Philippians 4:19 is to meet each one AT THE TIME WE NEED IT. Thank You, Lord. If we could learn to live in this present moment with this present provision, oh, man, life would be so much less stressful, wouldn't it?
2)   SAY NO. I have managed to get that most distasteful word for the people-pleasure out of my mouth two times today to people I really, really, really didn't want to say no to. People I love a ton. People I want very much to please. But the fact is, I don't have a single other yes in my pocket right now. Not one. For this moment, I am completely bereft of extra yeses. Anybody else? So it's got to be no. Help us, Lord. We need so much help to say yes to no.
Anyway, that's not what we're doing on here today. We're on here to spout off our Siesta Scripture Memory Team Verse 4!
I am continuing out of the Book of James. This round I'm going with James 3:17 –
Beth, Houston. "But the wisdom from above is first pure, then peaceable, gentle, accommodating, full of mercy and good fruit, impartial, and not hypocritical." James 3:17 The NET Bible (Is that a mouthful or what??)
For any of you who could use some ideas, the alternative verse I'm selecting for today outside of James may as well be the one I mentioned a couple of paragraphs earlier. If you've never memorized this one, stick it toward the top of your list. It's a staple in the mental pantry of the believer.
"And my God will supply your every need according to His glorious riches in Christ Jesus." Philippians 4:19 The NET Bible
And from The Message:
You can be sure that God will take care of everything you need, His generosity exceeding even yours in the glory that pours from Jesus.
And that is a promise, Sweet Thing. Eyes up. Chins up. Joy up.
And maybe…just maybe…say yes to no.
Just for fun, here are a couple of pictures from Valentine's dinner last night. We didn't have the Fitzpatricks with us because they had their own plans for their third anniversary. Can you believe it's been that long? We missed them but had a ton of fun anyway. Here are two darling couples I got to stare at across the table. I love them each so much.
We are ecstatic to have Travis and Angela in town and the rest of the worship team lands today. They'll lead us tonight at Bible study. Wooooohooooooo!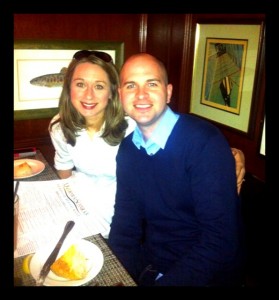 Are they darling or what? For any of you newcomers, that's Amanda, my firstborn, and Curtis, her wonderful man.
This picture didn't come out well because the lighting was so bright so I did it in black and white and it looked even goofier but, anyway, at least you know I really did go with them to dinner.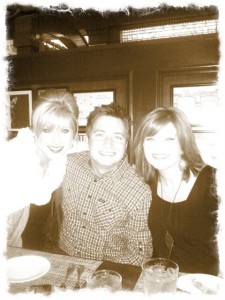 And, in case I haven't yet bored you to utter oblivion, here is one more that Trav took with his phone: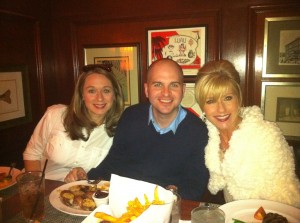 OK, that's it! If you're missing my Valentine, he had to be out of town for a work thing but I will see him soon and got beautiful roses and funny text messages all day.
Let's hear each of your fourth verses, Siestas! Name, city, verse and translations please!
I love you guys.