Hey, Sweet Things!
I feel like I've lived a month-full of events since the last I checked in with you but decided in retrospect that maybe God had kept me busy so I'd leave up that last post a little longer. I knew in my heart that many of your lives were touched by hidden disabilities just as mine has been. Some of yours, vastly more than I've experienced but I know some of the pain and bewilderment and fear. My prayer is that, at the very least, you know you are not alone and that God sees every struggle and is moved to compassion by every heartache. He is still our Healer and when healing doesn't come the way we wished and prayed, He is still our Strength and Sustainer.
OK, let me think what has happened around the Moore world since I talked to you last. Thursday morning I had the great joy of heading to San Antonio for one of my closest and dearest spiritual daughter's first baby's birth. (Did you follow that??) I have known Amy since she was barely out of college and came to work at my home church years ago. We were not instantly close because of such a wide age gap between us but God wove our hearts together through the ups and downs and twists and turns of time. For years now we have been as thick as blood. She is big sister to both of my girls and I love Amanda and Melissa even more for always opening their arms to her. As tight as the four Moores have been, I have never for one second been able to tell that they felt the least bit threatened as Keith and I loved this young woman second only to them. I relish so many dimensions of life in Christ and one of my top five favorites is family that He brings together, not by natural means but by the bond of the Spirit. The riches are immeasurable.
Amy moved to the Texas Hill Country where her man works after they married two and a half years ago.  Then eight months ago while Keith and I were at our cactus ranch, I got a text from her that said, "Hey, can you call me when you get a minute?" That was not unusual but I just had the weirdest feeling in my stomach. I dialed as fast as my fingers would move and when she answered, I blurted out, "Are you having a baby???" And we both screamed and then cried. Amy married just on the other side of her mid-thirties and God knew that the desire of her heart was to have a baby. I was all about rushing it but, since I had no control, I let Amy and Steven do what they thought was best. And, boy, did they ever do a good job of it.
Michelle drove me to San Antonio so I could still work on my laptop in the front seat of the car. When she offered, I reasoned that it was a tad above and beyond her job description but she countered that I am her job and, after all, it was a workday, and, furthermore, when I'm out of the office, she doesn't have as much to do. The truth is, I think she caught a bad case of itchy feet from me and I'm just as glad. She is the easiest person in the world to travel with and a big help to boot. Her Dad works for Marriott so she got us two rooms close to the hospital for $40 each. Not bad at all.
I stayed in touch with Amy and Steven all the way from Houston to San Antonio and made it to the hospital in time to lend some support to my sweet girl while she labored from 6-9 centimeters. I was so proud of her. I've thought a lot about Amy and Steven and that baby coming in their later thirties rather than their early twenties. I know this is not always the case but, as for this young woman, she felt so blessed to be carrying that baby that she virtually never complained about being sick or, as most of us feel from seven months to nine, ample of stomach. She was nothing but grateful all the way from push to shove. As I stared at the two of them staring at her, I wondered if I'd ever known a baby that was more welcome or more apt to be savored every single second of her young life.
Ainsley Elizabeth was born to Amy and Steven at 6:12 PM as Steven's parents, Amy's mom, sister, and brother-in-law, and our dear friends, Steve and Bonita Seelig, and Kimberly McMahon and I waited nearby on pins and needles. Steven shot me a text about ten minutes later and we shouted till the dead could have been raised at Methodist Hospital in San Antonio, Texas. In no time at all, we all got to go back and see as beautiful a newborn as any of us had ever laid our eyes upon (needless to say, alongside Jackson and Annabeth Jones). A little while later while I was hogging her, everybody but her parents (busy with the doctor) gathered around to gawk at the gorgeous reality of her. I said to that darling little thing, "Ainsley Elizabeth, the generations welcome you! Come into this family and be loved!" And she had an expression like she might do just exactly that.
Ainsley and her absolutely darling new Mommy. I normally would never post a picture of a woman who'd just walked through the Valley of the Shadow (what my mom called childbirth) but Amy looked so fantastic that she earned this. This baby wasn't even an hour old in this picture.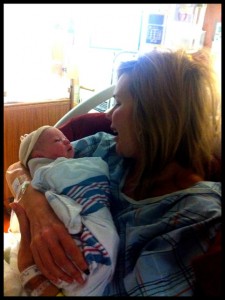 Since I did that to her in her unadorned hour, I think it is only fair that I show you a regular picture of Amy with her man. This sits on an end table in our den: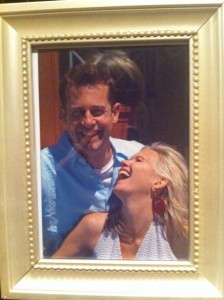 Back to the hospital Thursday night. This is some of our very best lifetime friends, the Seeligs, with Ainsley and me. Steve is a minister at "the other" big Baptist church right down the road from us and has been on the LPM board of directors since its inception. He is a nut just like he appears to be in this picture and that's why I'm posting it.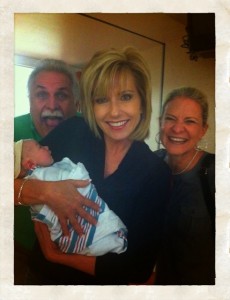 This is one we keep looking at and laughing. I mean this in good humor and with nothing but respect (and our dear Sister Lynn knows that's the truth) but doesn't Ainsley look a little like Mother Teresa as an infant here?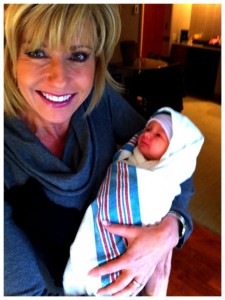 This is Ainsley and the uncontested man in her life: Daddy.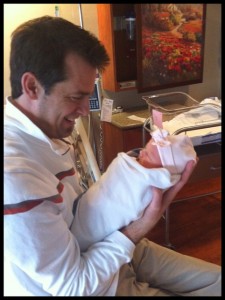 And this is Miss Pris all by herself. This is her first outfit and I was given the dubious honor of putting it on her: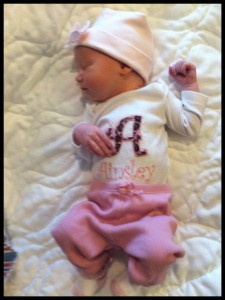 I got back Friday night and threw a roast in the oven and sliced potatoes in a pan and prepared a heaping helping of birthday dinner for one of my favorite men in the whole wide world. Curtis Jones turned thirty and our entire family unit was there to celebrate. It was one of those nights you can't really plan when everybody laughs like there's no tomorrow and makes big over everything. Colin and Melissa gave Curtis a great set of speakers for his I-pod and we turned up the music and danced our legs off on the kitchen tile. Well, at least Amanda, Melissa, Annabeth and I did. Keith wanted to. I could tell. He just wouldn't bring himself to do it since the other men were sitting back laughing while we were carrying on. Believe it or not, Keith Moore was a disco king back in our college days and could twirl a girl on the dance floor with impressive flair. After we were entirely out of breath, we crowded around the Cotton Bowl until Amanda, our resident Aggie, just couldn't take it anymore. All of us texted each other the next day and said what a blast it was.
Such a great welcome to the weekend then yesterday came.I spent the first part of it in near euphoria with both my daughters at lunch at a great little tea room by the ministry. Melissa had a decked-out veggie sandwich and my favorite pasta salad in the world. AJ had chicken enchilada crepes and a green salad and I had chicken and spinach quiche with tortilla soup. Man, my mouth is watering thinking about it. We then dropped Lis off at the ministry to do some catch-up work then I took AJ home and grabbed the boy. He, Buzz Lightyear, and I headed to the park where we played for about the next hour and a half. If I loved this boy one iota more, I'd break into pieces.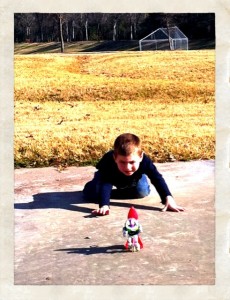 Then I got a text. A horrific thing happened in Arizona, sending shock waves all over the United States. A gunman unloaded a semiautomatic weapon at a public gathering for Rep. Gabrielle Giffords. He wounded thirteen people and stole six precious lives right out from under their families. One was a nine year-old little girl. A nine year-old little girl. It's the kind of thing that makes you throw your hand over your mouth. A bloody rampage. What on earth makes a person do a thing like that, we wonder. What kind of world is this we live in??
These are strange days. Terrifying days. Sometimes I just sit and shake my head and wonder what on earth is ahead. During those times, my mind often turns to the divinely intended irony of the exact same phrase found in Acts 2:17 and 2 Timothy 3:1 –
In the last days, God says, I will pour out my Spirit on all people. Acts 2:17
But mark this: There will be terrible times in the last days. 2 Timothy 3:1
A few days ago an older man I respect so much told me that he was scared to death for our world and that he believed we were facing history's most perilous days. I hadn't even unpacked my suitcase yet from a conference where I saw 22,000 college-age men and women wildly proclaim the Name of Jesus, pore over His Word, and support His cause with over a million dollars for missions. I thought of the irony. I thought of the truth. I thought of the prophesy of the worst of times and the best of times. The same days that will give rise to such peril will also see the rising of a refined church. Darkness will come but light will shine in the darkness. The shroud of death may threaten to cover the earth but the tender cries of newborns still remind us that beauty can rise from the ashes.
Somebody new might read this post and think how idealistic and out of touch I seem and that's okay. Enough of the rest of you know that I didn't even make it out of toddlerhood as a budding Pollyanna. Though many of you suffer in ways I can't imagine, I have ongoing hardships and some personal challenges that seem overwhelming at times. Even in the midst of escalating horrors, Scripture commissions us in the final words of Romans 12, "Do not be overcome by evil, but overcome evil with good."
Some verses skim easily off the surfaces of our lives. Others make it deep into the echoing chambers of our hearts. Psalm 27 is one of those for me. I memorized it years ago out of the KJV at a time when I thought I'd be swallowed up whole by my enemy. To this day, I call its closing words back to my conscious mind every single time I feel overcome by evil.
13      I would have lost heart, unless I had believed
That I would see the goodness of the LORD
In the land of the living.
14      Wait on the LORD;
Be of good courage,
And He shall strengthen your heart;
Wait, I say, on the LORD!  (Psalm 27:13-14 NKJV)
The goodness of the Lord. Here. RIGHT HERE. In the land of the living. May He strengthen your heart. And may He crowd around the suffering with such force and affection that His healing presence is palpable.
We are praying for you, Arizona. And we are so, so sorry for your suffering.