Hey, Darling Things! A quick, random post here. The last day of work before Christmas is always ministry-on-steroids around this place. We close to the public and work like crazy to get last minute details done. Several of us (yours truly included) will still have to put in a few days between Christmas and New Year's but this is our last day of 2010 as a team. Characteristically at some point on the last day, all of us pitch in and help Diane and Evangeline with resources. Lots of people place last minute orders that they're hoping will make it by Christmas Day and we try hard to accommodate. This year someone also came up with this insane idea that tagged on, oh, about 6000+ orders and in December, no less.  (Perhaps you've noticed that we are having to freeze new SSMT spiral orders for a few days because we've gone into back order for printing.) But we are so happy and the Lord is so faithful!
Christ has called us to Romans 15:13 over the last week due to some long term struggles a few of us are having.  We've been saying it back and forth to one another as a reminder of His blessing to us. Maybe you could use this reminder, too. Hopelessness is never of God. Never. Nothing is too difficult for Him. Nothing is beyond His reach. His restoration. Even His reconciliation. I'm going to try to write the verse by heart to you:
May the God of hope fill you with all joy and peace as you trust in Him, so that you may overflow with hope by the power of the Holy Spirit.
As you trust in Him.
As you trust in Him.
AS YOU TRUST IN HIM.

If we've got His Word on it, let's not stop believing Him for our situations until our lack of hope transforms into an OVERFLOW of hope. Do it, Lord. I felt the victory begin the moment I started committing the verse to memory. God is so amazing.
Anyway, here are a few random pictures from the last two days. I had so many more but they won't upload and I'm so annoyed. This is a quick pic of our staff Christmas lunch yesterday at Grand Lux by the Galleria: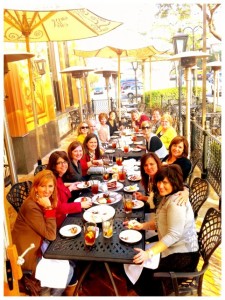 This is your very own Siesta Mama stuffing envelopes with spirals. That's my buddy of 30 years, Johnnie, to my right (she's the one the David revision is dedicated to. That's my buddy of 20+ years, Diane, to my left. She is one of our LPM managers and one of the people I trust most in the world: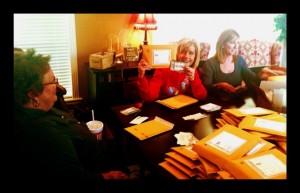 These are some of the last minute orders waiting for our wonderful UPS man.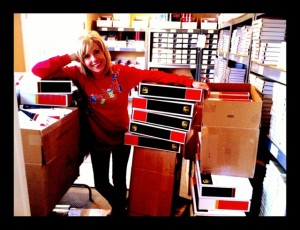 Gotta go! I get to babysit tonight! I'll be in plenty of touch around here. I love you guys!