Good morning, Sweet Things!
It's one of those rare days around the Moore house when we get to sleep late. I got up about 7:30 because I like to have a few minutes before everybody else rouses around here. I just got finished with my quiet time and had you on my mind so I thought I might show you what life looks like from exactly where I'm sitting: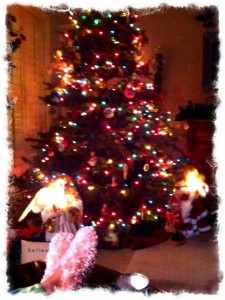 My man and I usually get a tree that is way too big for our low ceiling and have to cut two feet off the top. After all, we are the Moores and if medium is good, more is better. This year we got one that fits our size room a little more appropriately and is less accommodating to Star and Geli for chewing and climbing and all-around-dragging. Up front is me in my favorite house slippers. They are called "The Pinks" (forenamed by Melissa and I when we got our original pairs). Everyone in the family knows The Pinks and God forbid one of the dogs getting hold of them. I am very picky about my house slippers because my man keeps the house ten degrees below zero and my feet nearly freeze into nubs.
To the right of The Pinks you can see the very top of my favorite coffee cup. I'm annoyed at myself for not getting it in the picture better but I don't have time to take another one and upload it. My Greek tutor, Dr. Joe Wall, and his beautiful wife gave me a set of dessert plates and cups and saucers from Russia where they train pastors. (Replicas of Catherine the Great's official dishes.) I don't have a ton of attachments to things but, if my house caught on fire, these would come out right after the baby pictures and the dogs. Coffee and tea drinker that I am, I love delicate cups and saucers. So do Amanda and Melissa and we have used this set no less than a thousand times. They have the added sentimental value of coming from people I love and respect so they make English tea or fresh brewed coffee taste even better.
On each side of the tree are dolls that hold candles and move their arms (hence, the blur). I've had them for twenty years and they mesmerize me. I could sit and stare at them for hours. Annabeth is also completely taken with them. She stands right in front of them and needs to talk to me at length about them. The one on the right has a hood on her red velvet coat and AB likes to put it on and off and on and off and with the delicate touch of a chimpanzee. Nonetheless, the doll stands tall and takes it like a trooper.  If you're wondering where the presents are, we don't bring them out until Christmas Day because they take up too much room in our den.
Shhhhhhhh. Don't tell them you saw what's in them but these are my girls' stockings: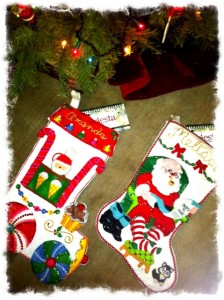 I made each of these from kits with my own little hands right after each girl was born. (Amanda was born ten minutes after we were married. Not really. Nine and a half months to be exact and, no, I'm not kidding.) Of course, I also made a stocking for Keith and one for me. I still can't believe I did it. (Don't you dare ask how hard it could be. This might as well have been chiseling heads on Mt. Rushmore for me.) That was back when I had more hope of being the home goddess. I may have even had a sewing machine back then. I had high hopes of carrying on family tradition. My mom could sew anything and I didn't have a store bought dress until junior high. My older sister, Gay, and I dressed alike all our young lives and still think it might be fun.
Uh oh. Melissa and Keith are up so I've run out of time. Here's one more. It's a picture the girls and I took yesterday at Saltgrass Steak House with Melissa's I-phone on our Christmas shopping day. By 2:00, we hadn't gotten a single gift but we'd eaten twice.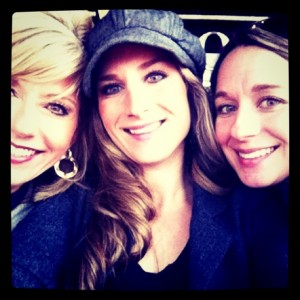 Oh gracious. I love those girls so much. They remain the greatest proof in my life of God's inconceivable redemption. Even more than the ministry, as thankful as I am for it. God didn't just do a miracle in my serving life. He did a miracle in my HOME. In my own troubled family. How Keith or I either one did not destroy this home is a mystery only God can explain.
OK, so now it's your turn. What holds a special Christmas memory or tradition around your home? Do tell!
I love you guys so much.
PS. OK, because you insisted, here's a close up: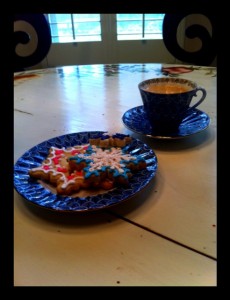 And I couldn't bring myself to show it to you empty so you just caused me to have a fourth cup of strong coffee. I'm typing really fast and feeling extra energetic. Going to get off and do handsprings in the den until I calm down.