Hey, my darling Siestas! Keith and I are on our way back from our Cactus Ranch, rolling east on I-10. I thought about you so much and took a few pictures with you in mind. I put the first two on Twitter so, if you've already seen these, you can skip on down to the rest. This is where I had my Sunday morning worship service all by myself but, as cool as I think it is, it's a poor second to  my home church. Church is about people. Not places. The Lord still heard my prayers and received my praise and I was able to intercede for Pastor Gregg as he delivered his sermons and Curtis as he taught his Sunday School class and, Tammie Head, one of my darling "mentees," as she taught hers.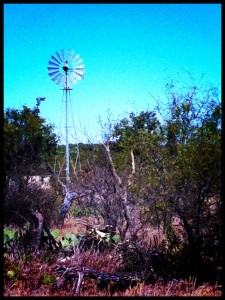 I got very amused after tweeting this picture because so many people were dismayed by this small piece of sausage on this big fire pit. Some even mourned how lonely it looked. The thing is, I was the only one eating it. It was jalapeno cheese, by the way. So dang good.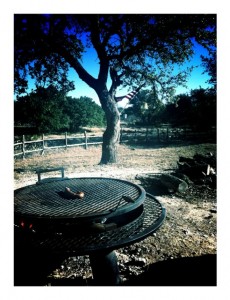 Now, here's what I wrote to you late yesterday afternoon so keep in mind it's a day old:
It's a near perfect late afternoon. There is no sound except what nature makes. A north wind is shoving the first thoughts of winter into the Texas Hill Country even before she's come to grips with Fall. Leaves are blowing off the trees before they've had time to turn colors. The crickets don't know the time changed today and they're waking up early for the night, chirping like we should be yawning. A fire is crackling in the big pit and the wind is keeping the flames high and the smoke heavy and oscillating. Both dogs are playing in the yard. Star's feelings are hurt that I've put down the ball and picked up my laptop. She hates the sight of that silver apple rising up from my lap in the worst way.
The early evening sun is casting a shimmery gold over the field between the big red barn and me. It makes the pasture look soft and inviting, like you could take off your shoes and run through it barefooted in your long white flowing skirt with your wide brimmed hat in your hand, ribbon cascading from it. Hair extensions flowing behind you like you're in a commercial where you're about to meet the love of your life and be swept up into happily-ever-after. But you best think again, unless you want your feet to be cactus cushions, swollen up like honey dew melons, and the hem of your skirt to be embroidered in burs. We don't wear skirts out here anyway.  It's harder to see if you're about to step on a rattlesnake. Hair extensions do sound exotic though.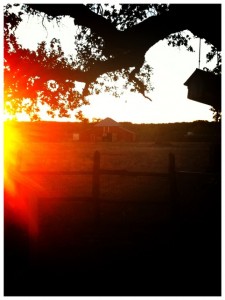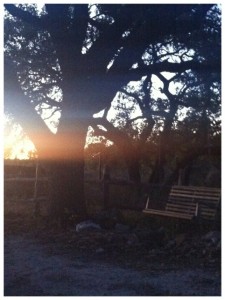 I've walked I don't know how many miles since we got here on Friday. I suppose twelve or so and mostly by myself. My man is in his element here so he stays busy and I read and go on long walks. I pray a while, then say my memory verses, then nothing at all. I just try to see what I feel. And try to just think my thoughts before God and see what comes of them. We're moving so fast these days that it's hard to know how we feel about things, important or otherwise. Our feelings get all cross-wise and we end up getting mad about something we don't even care about and not caring about something we should be mad about.
We go back home tomorrow, thankful for a three-day weekend, and ready to see Jackson and Annabeth. They're at the age where they change overnight so I don't like to go long without seeing them. We babysat them on Thursday night before we left town and ate Lil' Smokeys (cocktail wieners) and anything else of equal nutritional value that they wanted. Cookies. Cheetos. Whatever. AB was in the cutest outfit ever. I held my I-phone up to take her picture and she looked up at me and said, "Cheesth!" I nearly died. Jackson is unbridled delight and, with the least prodding, tells me all the scoop from inside the Jones home without even knowing it. And it's always good. But, boy, is it funny.
Oh, my word. I can see a whitetail deer about a hundred yards from where I sit. A doe. (A deer. A female deer…) She must have seen Keith drive off in his pickup, kicking up dust for a while. The dogs are frozen stiff. Mesmerized. They've learned the hard way that, if they bark, the fun is over. There's another. And another. Too dark to take their pictures. I love this time of day, just as the sun goes down. If I could freeze any time of day and make it last a little longer, this would be it. Just to give pause for one long moment at the end of every day, turn back the covers and say, "Return to your rest, O my soul, for the Lord has dealt bountifully with you." Psalm 116:7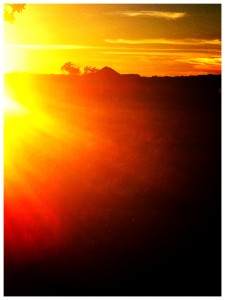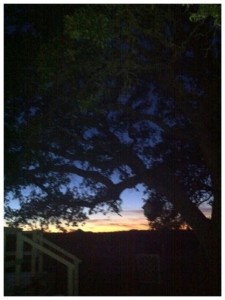 I think of you so often, Sisters. I will touch base with you again tomorrow on Talk To Me Tuesday. By the way, I was greatly comforted by what big mouths we have here in Siestaville. Just think what could happen if God got a hold of all our tongues! I love you, Sweet Things. Fight the good fight of faith. Jesus is so worthy.