Hey, my dear Siestas!
I hope you are well and blessed in an acute awareness of the presence of Jesus with you this Lord's Day. Hawk and I are sitting on the plane heading back to Houston from Orange County, California. I am writing to you from an altitude of about 30,000 feet and there is nothing but a carpet of cottony clouds as far as I can see outside my window. The pilot just came on the speaker to tell us that we have thunderstorms ahead and that it could really be bumpy for the next 20 minutes (the mere suggestion to keep our seatbelts fastened always makes me suddenly die to go to the lavatory) so if I have a sudden lapse in my spelling or judgment, perhaps you'll kindly attribute it to turbulence.
We've had such a great time this weekend with the people we were graced to serve. Our Living Proof Live was in a church this time – Mariner's Church – and we were so incredibly happy to be back in a house God frequents. They were so kind to us. The sanctuary is very close to the size of mine back home (theirs around 3200, ours ever so slightly larger) so it was a size that feels homey to me. (I know that's so odd for you guys that have never attended a mega church. It's not what I would have chosen for myself years ago either but it was God's will and, this many years later, a joy.) I told this group first thing that it's always a relief not to feel like we have to get to that city arena as fast as we possibly can and ask God to sanctify it from God-only-knows-what-was-in-it-last. I say that with a smile and not with self-piety as I really do know that we, too, along with every environment of every gathering, can only be sanctified and prepared by God. We're not one bit worthier of His gracious presence without Him making us so. In fact, I'm fairly certain from the Gospels that He's more grossed out by a gathering of sanctimonious, self-righteous, proud Christians who presume He's there than He is by a group that desperately needs Him there. He's funny that way. I'm not saying He always attends the latter's gathering, especially if it's downright sacrilegious, but that He might be apt to zoom there a little quicker if asked.
I love the team I get to work with so much. You surely know after all this time and all these mentions that I love Travis Cottrell (if you want to say the last name right, put the accent on the first syllable) I guess as much as I would if I'd had him (really young). I hate for him to even read that because he gives me such a hard time. Then again, he doesn't really like to read anything much longer than a tweet (Oh, it made me so happy to say that. It will temper the nice thing I said about him) so there is every possibility he'll never make it far enough into this post to hear me say publically that I love him. But I do. I also love the rest of the praise team. Generally speaking, they are not as much a part of my life away from the events as the Cottrells but many of us have been together a number of years and we're close. This weekend in Irvine, we really missed our buddy Seth (who is working on his masters and had a school thing he had to attend). If you've ever been to one of the other LPL's, he's the other male vocalist on the praise team and so much cooler than the rest of us that we can only stand back slack-jawed over his coolness. I'm smiling because I know he's going to hate that I said that. He's not trying to be cool. He just honestly can't help it.  In his absence, however, we got to have Daniel, a worship leader at another great California church and another of Travis's really good friends (he's got a million in case any of us regulars turn against him). We loved him! (Daniel is who I'm talking about now. Try not to lag behind here.)
Now, if we could only get both Seth and Daniel up there at once, it would be almost more than the rest of us could bear. They're both incredibly gifted. I'm so crazy about the women on the praise team: Lici (to help you picture who's who, she's the one who knocks it out on that lead in Travis's version of "Victory in Jesus" and the one with the darkest tan unless I'm trying a new Sunless and it's gone awry, which does unfortunately happen from time to time) and Julie ("Revelation Song " and "How He Loves") and Angela (oh, good grief, she leads on more than I can list but for a few, "Mercy Seat" and "El Shaddai").  I am no less crazy about the guys. Besides the ones I've already mentioned, there are both Kevins (one on bass and one on the drums) and Alexis (who is Angela's man and who plays the keyboard with such glad worship that I almost can't take my eyes off of him, especially if he's playing while she sings) and then there's Wes.
I have to stop for a moment and smile about Wes. I love him so much. He's one of our shier ones so you can imagine what a hard time everybody gives him. This weekend I nearly busted out laughing during the last segment of praise and worship (when it was really upbeat or I wouldn't have felt the freedom to be laughy) and the camera got right in his face and he turned his (hair-free) head the other direction so they couldn't capture his expression. You know how guitar players sometimes have to make certain faces to play really well? (I do it myself when I'm playing air guitar at home in front of the bathroom mirror.) He preferred not to be caught with one of those. And I understand and not just from playing the air guitar. From speaking and getting my picture taken or video frozen in the least possible flattery. But I don't want to talk about it. And don't you think for one minute I haven't seen y'all talking about it in your comments to the video greetings so I know for a fact y'all make fun of me, too. Your very own Siesta Mama! Honestly, is there no dignity to be had around here???
Laughing.
OK, well, we're about to begin our initial descent into the Houston area so I'm going to have to close and put my seat back and tray table into their upright and locked positions. For Heaven's sake, I meant to get on here and say something of value. Instead I have just invited you into the mindless musings of my bleached blond head. I've bored you to sobs. I'm sorry. But I really have good highlights right now.
The real reason I started telling you about the weekend and everybody on the team is because I'm just in a really grateful mood. I even got to stay after the event with a dear friend of mine and go watch her 11 year-old daughter play basketball at the YMCA. All these things together in one weekend was almost more  joy than I could stand. I texted a picture of the game and scoreboard (we won) to AJ and Melissa and they both texted back with, "You are in your element, Mom!"
My heart is mush before the Lord right now. He has again answered the most important petition I ever place before Him: that He'd cause me to love Him and to love His Word and, secondarily (and scarily), to put me in whatever circumstances are best suited to set me up for those things. I say this just for today as I could wake up tomorrow and feel stale and stressed and numb and maybe even a tad ticked and not even sure at whom. I have no guarantees for tomorrow where my fickle emotions are concerned. We learned this weekend, however, not to worry about tomorrow so I can thank God with all my heart that this present day I feel love toward the One who loves me first.
From Charles Spurgeon this morning: Seek, O believer, that every good thing you have may be an abiding thing. May your character not be a writing upon the sand, but an inscription upon the rock!
Please, Abba Father.
PS. As only God could possibly have timed (perhaps He's getting back at them for making fun of me), when I landed, I received a text with this picture of three of the guys from our praise team dressed to go…well, I guess, snorkeling. (They're still in California.) I pray this is not their new singing ensemble but it does not look that unlike some of their other suits. Oh, that Trav would have been in this picture too!!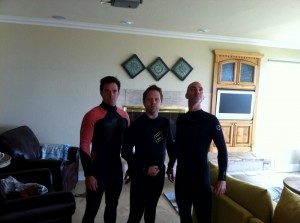 Kevin (drums), Kevin (bass) and, yes, my dear Wes.
I am so happy right now.