We are home. Mom and Melissa are home. All the LPM girls are home. Well, they are at work today, but still. Home! Home is good!
My little family had a very fun, unexpected blessing at the end of our trip. My friend Janelle, who lives in the Dallas-Fort Worth area, invited us to stay with her family on the way home from Missouri. It was perfect! We drove eight hours on Sunday with the goal of making it in time for dinner. Janelle's husband, Heath, is an amazing cook and was making a feast for us. We had our eyes set on the prize all day. First, we stopped for an hour in McKinney and met up with my college roommate, Mel, and her precious new baby. I have so many sweet friends in DFW that I miss terribly! Mel and Janelle are both the kind of friends who are more like sisters.
We arrived at Janelle's house just in time for dinner.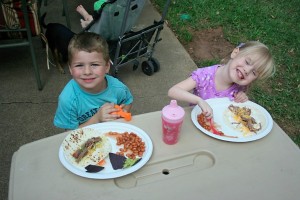 Jackson and Ella, who were born in the same hospital just two days apart and were each other's first friend, were thrilled to be together. It's so precious to see how much they love each other despite the physical distance between our families.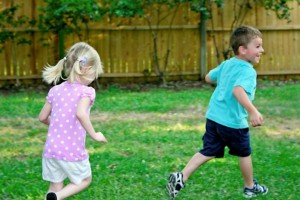 After dinner, Annabeth went to bed, the "big kids" watched a movie, and the grown-ups turned out attention to Phase 10. This has replaced UNO as my new favorite game. I have no pictures of us playing it, but we played for hours. It was so much fun. Does your family have a favorite game you play together?
The next morning we had an amazing breakfast at a restaurant called Mimi's. It was like a cross between La Madeleine and IHOP. I loved it and deeply regretted not going there when we lived 20 minutes away. The last time we were with Janelle's family we hit up Cracker Barrel. I guess breakfast is our new thing. It used to be Double Dave's pizza.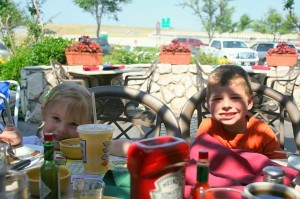 Ella was concerned for Jackson's safety and wanted to hold his hand. We were cracking up.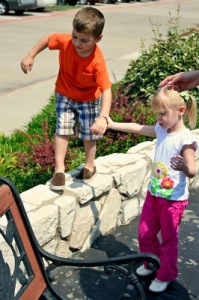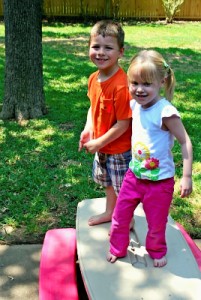 Our children formed a praise team.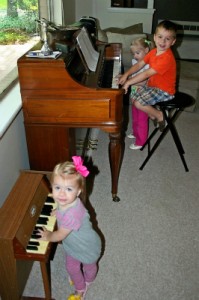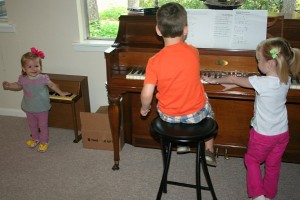 Just the girls.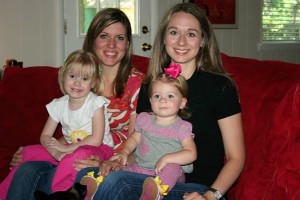 We finally made it back to Houston on Monday evening after four more hours on the road. We picked up our dog, Beckham, from a very generous friend's house where he was spoiled and loved on by her three darling kids. He climbed into the back seat of our Suburban and pouted like a small child. He wouldn't talk to us until the next day. I don't know if he's mad that we didn't take him to Nana's house (he thinks he's a grandchild) or because he didn't want to leave Heather's family.  Bless his heart.
Well, that's all I've got for now. Melissa is preparing a post for tomorrow and I can't wait to read it! Y'all have a great Wednesday!
Love,
Amanda