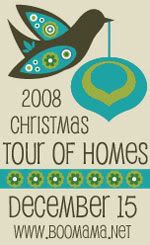 We're joining BooMama's Christmas Tour of Homes on the very last day! I think she's closing the links down any minute. If you'd like to take a peek at tons of beautifully decorated homes, hop on over to her site and visit some of the blogs listed. You'll find lots of Siestas on there.
Welcome to LPM! Here's the front view of our office, which used to be a home. Hopefully that qualifies us for the tour of homes.

Front doors

Entryway

Our beautiful tree

The boardroom and our banqueting table. I love the chairs.

Fireplace

Each of us has a stocking hung on the mantle.

A little tree in Diane's office

Another one in Evangeline's office

The water cooler in the resource room

Did you know that our resource department is named after the wonderful Mary Helen Davis? LPM would not exist as it does today if it weren't for this wonderful lady and her tape recorder. She used it to record Beth's Sunday school lessons for years. We love you, Mrs. Mary Helen!

Jingle bell tree

Some little angels

This is not really a Christmas decoration, but we bought it at a Christmas market last month. I LOVE it!

We have several of these for all the fun cards we receive.

A fresh wreath

Outside on a staircase

The fireplace in our ministry director's office

Some bling on Beth's desk

The fireplace in her office

Merry Christmas from Beth and Starsy!

Tags: Office