Hi friends!
Before we are out of the office for a long weekend, we wanted you to share in a little celebration we are having around Living Proof.  It was just announced that Beth's "Portraits of Devotion" was awarded Christian Retailing's Best Devotion for 2015! Congratulations to Beth and B&H Publishing! You can see all category winners here.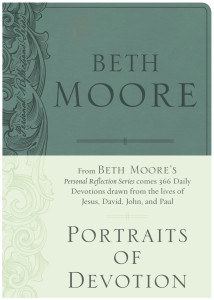 So that we can hopefully treat you before the Independence Day holiday this weekend, this will be a quick one.  We will leave this Giveaway open until tomorrow, July 2nd, 11:00AM (CST).
We will quickly draw the winner's names and then reach out to you via email to get your mailing addresses.  Set a reminder to look back tomorrow morning to see if you won!
(Check your local Lifeway Christian store to pick-up a copy, or order online here.)