Hey, Everybody! It's my privilege to invite you to hear from my oldest daughter and my pastor's wife, Amanda Jones. She's letting you know about one of the neatest events our church, Bayou City Fellowship, has the annual privilege to host. If you are parenting on your own – for any among many possible reasons – and live around Houston or can get to Houston on June 16-17, this is such a wonderful opportunity to be encouraged, taught, refreshed and thoroughly blessed. We want to honor you and help equip you. You would LOVE the women of our church who serve at this event and our speaker this year is none other than Lisa Harper. You just can't do better than that. She is a wealth and one of my favorite people on earth. She is also a woman parenting on her own, with the help of Jesus and a loving church and community of friends. She speaks from experience. If this event does not apply to you but you know someone who might be blessed by it, help us get the word out. We are trying to make the event available to as many women as our sanctuary can hold.
Thank you for the privilege to serve you! Such love to you. Now, here's my girl:
Hi ladies!
This June our church, Bayou City Fellowship, is hosting our fourth annual conference for women who are parenting on their own. This wonderful event is called Overflow.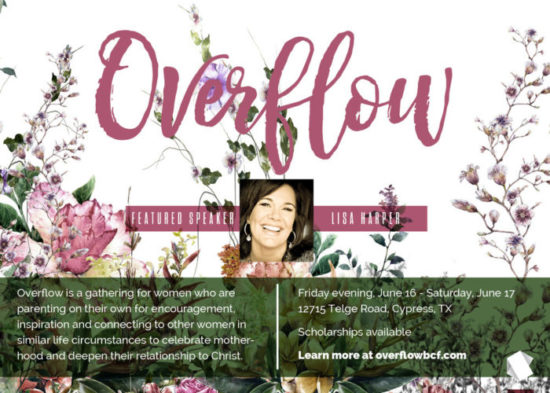 If you are separated, widowed, divorced, never married, have adopted, have an incarcerated spouse, have a husband stationed overseas in the military, or any circumstance that means you are parenting on your own, you are invited to join us for this special weekend. Overflow is designed for you to connect with other single moms, learn more about God's purpose for your family, and leave feeling encouraged and refreshed. We are excited to have Lisa Harper joining us as our main speaker for the second year in a row.
You are invited to register your babies and kids up through eighth grade for our Overflow Kids and Middle School programs. (Space for kids is limited, so please don't wait!) It would be our privilege to serve you and your family that weekend. 
If you're interested or know someone who might be, visit the Overflow web site at OverflowBCF.com. It costs $20 for a woman to attend and $5 for each child in the program. If anyone feels led to partner with us by volunteering or making a donation, you can find info on the web site. My husband is hoping for a big team that can help him wash the ladies' cars!  
We hope to see you in Houston June 16-17 for Overflow!
Love,
Amanda