Saturday morning I sat on my front porch steps in my pajamas drinking a cup of coffee, Queen Esther, as usual, close to my side. I stared all around me with a measure of awe at these humble woods. Humble, not because I'm being modest. Humble, because they really are. We think they're beautiful but they're simple. God got us good and ready to appreciate this place by not letting a single tree flourish in our in-town yard of 27 years. We transplanted a young oak from Keith's grandmother's woods into our front yard early on and it had grown a whopping six inches by the time we moved. We finally had the greatest-ever river birch in our backyard, birdhouses and feeders hanging from its gorgeous branches, and Hurricane Ike kindly relieved us of it.
So these woods out here are not wasted on Keith and me. Still, we are well aware that the beauty that surrounds us is in the eye of two grateful beholders. The view in the picture you see below is tidy because it's closest to our front door but the rest of these woods are pretty wild and viney and, when it rains, our low land is a good deal swampy. Mosquitos eat us alive if it's wet and hot and, more often than we wish, it's both. We can't take a walk without snake boots since these gracious acres are prime habitat for breeding water moccasins, coral snakes, and copperheads. Each of our dogs have been snakebitten, one of them twice. That's just life in the country. But you couldn't budge us from these woods with a heavy bevy of bulldozers.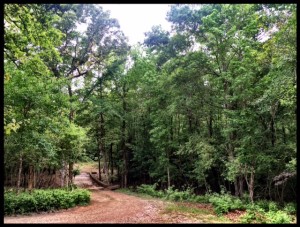 What moved me Saturday morning was that all I could see was green. Every shade possible. Lime green, olive green, kelly green, emerald green, foam green, sea green, myrtle green, you-name- it green. Foliage of countless kinds and textures. Oak leaves that look like the soles of feet. Sweet gum leaves that look like the palms of hands stretched wide-open. Spiny pines, bristly red cedars, and lacy foliage of cypress trees, dreamy and ethereal, growing straight out of the waters of our tiny natural pond.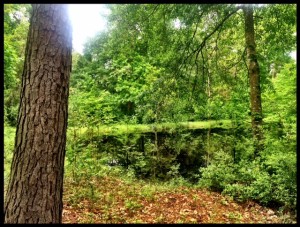 Nothing dead in sight.
I put on my boots (still wearing my pajamas, otherwise, what's the good of living out in the country?) and I went for a walk. If you're inclined to like the color green, I'll take you with me. But take your Claritin. You're going to need it.
I wish you could hear the chorus of frogs, come evening, that meet for choir practice in this straw-thin creek bed.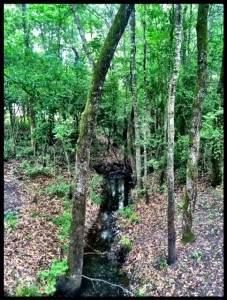 The white trunk you see below in the middle of the frame is a Sycamore. Not exactly the same kind Zacchaeus, a wee little man, climbed with all his might for the Lord he wanted to see. All the same, when I walk past it, I don't mind thinking of Jesus saying, Zacchaeus, you come down from that tree, for I'm going to your house today and Zacchaeus countering, Well, it's a long, long way to my house – I fear I've wandered far from home – but why don't we just stop off at the Moores? That girlfriend can stir up a fine pot of chicken and dumplings. And they do.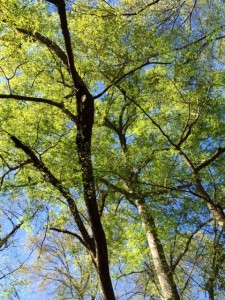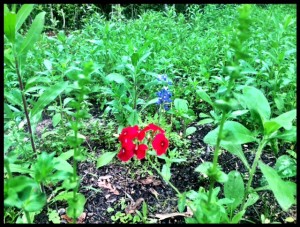 You did take your Claritin like I told you to, didn't you? Because one of us is really allergic to this right here but, still, there's no saying it's not pretty.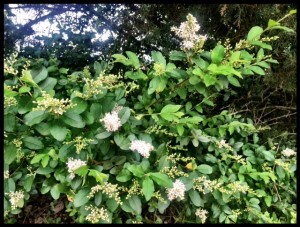 And these. Well, these make Texas Texas. We just had a few bluebonnets the first year we moved in but every Spring God adds a a handful more because He knows good and well we're going to brag on Him like nobody's business. And He loves that.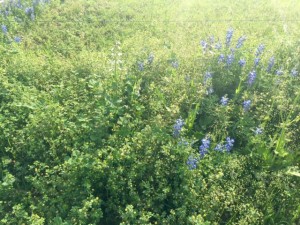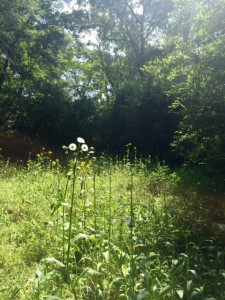 What burned in my lungs on Saturday was that, everywhere a soul could see, there was nothing but life.
Somebody might shrug and wonder what's new about that. It's Spring. That's what Spring brings. But that's not all of our story out here. Three years ago, Texas suffered the worst drought of its history. The ravages of it did not peak until a year or so later when century oaks and towering pines all over our beautiful State begged our forgiveness but they just couldn't recover. I asked Keith this morning how many trees he estimates we lost in these few acres alone. He said the smaller trees were innumerable but the painful losses were the fine, stately trees, some of them absolutely enormous. We said a sad goodbye to somewhere around 100 of those.
We were sick at heart. We'd walk round and round them, studying them carefully, trying to decide if they'd died or gone temporarily dormant in an effort to survive. When all was said and done, we'd lost many of our very favorite ones. After both Old Moses and Isaiah gave up the ghost, Keith swore and declared (and swore again as he has a mind to do) that he'd never again name another tree. It's too painful when you have to see them die. I never imagined wanting to cry over a tree before. I may have laid hands on Old Moses and prayed. It didn't work but he didn't mind. We stared at their deadness and mourned for awhile then Keith began the slow grueling process of cutting them down.
It's taken all this time.
I thought that was all there was to it but I was wrong. Next came the process of piling them up, waiting for really wet weather, and starting to burn heaps and piles of deadness. Day after damp day, Keith and a few helpers watched over a dozen bonfires.
But, Saturday, I sat on my front porch and beheld the breathtaking sight, forgive the redundancy, of nothing but life. Because, here's the thing:
We'd finally given up what was dead and not coming back.
I wish I were not just talking about trees. We Moores and Jones have had some hard things to let go of over the last several years. Droughts, dying, death, grief. Of course, embedded here in this soil where thorns and thistles prosper, we earthlings will always have those things nearby to remind us that this place in no permanent home. We long for a better country.
I could not help but think about the contrast of all that is happening in these woods in the wake of our recent Resurrection Sunday celebration. I love Easter so much. If I believe in anything at all, I believe in God's shameless felicity in raising to life what is dead. We Moores and Jones have experienced His resurrection power in ways no blog post could adequately boast. But I thought of a second theological principle as I stared all around me, not a dead branch in sight. I thought how sometimes we have to accept what has died or refused to come to life or produce a whit of fruit…
…and we have to let it go.
Instead of staring at it for months on end as a monument to our loss, we sometimes need to cut it down, pile it up, move it out or let it burn.
While we cry.
Because often God chooses to resurrect something that has died.
But other times He wants us to call it what it is – dead – and let it go, knowing that He is good. He cannot fail to be good.
That's what Jesus said He does with what, over the proof of time, does not remain. It is "thrown out like a branch, and dries up; and such branches are gathered up and thrown into the fire, and are burned up." (John 15:6 The NET) He "takes away every branch that does not bear fruit" and He "prunes every branch that bears fruit so that it will bear more fruit." (John 15:2)
He's all about the fruit.
What doesn't bear fruit, what fails to resurrect Spring after disappointing Spring, finally needs to go. That doesn't mean you forget. Some things are too big to forget. Take Old Moses, for instance. He blessed us with a lot of shade. And spectacular beauty. And he's so big, we're not even sure how to move out what's left of him. But we've quit begging him to come back to life and we've pushed him back where he's not so easy to see. Trying to resuscitate what's not coming back to life just leaves you out of breath.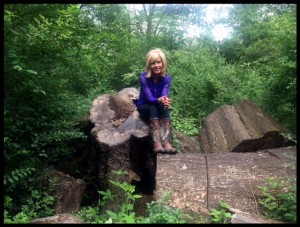 But this is the miracle of the whole thing. The drought stole life from these woods that bore roots in this ground for a hundred years. It was a terrible shame. But the sun rays and showers blocked so long by their enormous branches found their way to the fertile ground and the space that was bare gave way to new life.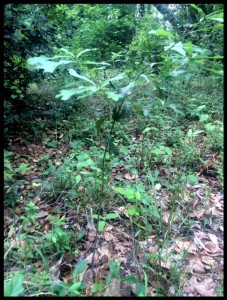 God will not leave us comfortless. He will not leave us alone. He will not leave us fruitless. He will either resurrect the dead or grow something brand new.
I say this to you with a tender heart and deep compassion and empathy. If it is gone, let it go. If it is possible to move the deadness from your sight where it has become a monument to your sadness, pile it up and carry it off.
And know with all your heart and all your faith that something new is coming. Hope preferred for your hope deferred. Give it space. Sunshine. Water. Inspect it with great expectation. And you will surely – as surely as God is faithful and Jesus is the fleshing out of life itself – live to see new trees sprout out of that soil. Something you couldn't have expected. Something Old Moses could never have given you.
We're here too brief a time on this finicky soil to spend days on end grieving what could have been. We'll talk to Jesus about that when we get Home. We'll have forever then. For now…
Let it go.
So something new can grow.
Water it with your tears if you must but release your fears that nothing but nothingness is ahead for you. Is God your God? As sure as He is, new life is coming.
All the deadness did not manage to kill you. You are stronger than you thought. Stretch out your arms like mighty branches even if, for now, they're as thin as sticks. It is to your Father's glory that you bear much fruit.