Hey Y'all!
I find that it's always a hard balance to know when to talk about something fun and light on here and when to approach the heavy and hard things. Especially right now because I am hyperaware of what is occurring around the world and in our hometowns and it is dark. So much evil. So many unknowns. So much fear. So much sadness. It's just been one of those weeks in the news, you know? I find the news very hard to watch, but I also don't want to be naive. The way I see it is the more I know, the better I know how to pray, even though I'm still  more often than not at a loss for words. I'm asking the Lord to strengthen us, protect us, deliver us, have compassion on the oppressed, the afflicted, rebuild the ruins, bring light to the darkness and all the other words my heart cannot come up with. My prayers groan alongside the groans of the earth, of His people. Before I ever uttered one silly word, I did want to acknowledge the terror, the injustice and the hurt that is all around us. Lord, be near! Come soon!
Whew.
Now I'm going to try and make the awkward transition of talking about…gelato.
Yes. Gelato.
Why?
Because I've been ruined for anything else. And by anything else I mean any other ice cream. And while I realize gelato is not the same as ice cream, I still don't know the difference between the two. After all, both of them have the essentials such as milk and lots and lots of sugar.
My palate is pretty consistent when it comes to ice cream and without fail, every time, I head for Blue Bell. Bless you people who don't live in Texas but have Blue Bell delivered to your home state. You are blessed and highly favored. Recently, though, I've skipped Blue Bell all together and gone straight for this: Talenti Gelato. And more specifically, Chocolate Peanut Butter Cup.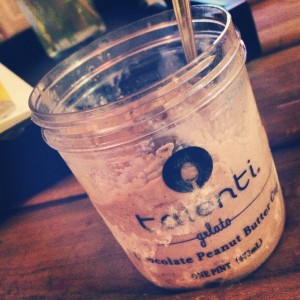 Y'all. I cannot be trusted with even a pint. It's sinful. If I'm not careful, I can eat the entire thing in one sitting. In fact, usually I leave about a 1/4 to put back in the freezer just to make me feel better about life and my indulgence. And lest you think a pint is not big deal, I promise you that if I told you how many calories were in this one pint your mind would be blown. Let's just say it hits four digits!
Consider this your PSA. Every now and then in the midst of turmoil and chaos, it's good to sit down with a pint of gelato. And if you've not tried it, please do yourself a favor and get your hands on some. Ladies, since I've shared my secret weapon as of late, please feel free to tell me if I'm missing out on anything else!
Also, in other random news, I got home the other day, checked the mail and found a handwritten letter in the mail from a loved one. Can I just say that I hope handwritten letters never, ever go out of style? Do you feel that passionate about certain things you're afraid might go extinct? I'm just here to encourage us to go postal occasionally. Let's keep the forever stamp in business.
Y'all are the best. Thank you for always putting up with my random thoughts.
Have a happy Thursday!