Good afternoon, ladies! I usually try to have the recap up before noon, if possible, but this morning we were caught off-guard by a special delivery that arrived to the office.
You see, Friday evening Beth was greeted in Lubbock, Texas with what she would call the salsa of her life. Salsa, as in the yummy goodness you dip your chip in, not the dance.  She spoke out about it on Twitter and nearly announced that she'd marry it, if that were possible. We Texans are a little passionate about chips and salsa, in case you were wondering.
See tweet on Exhibit A: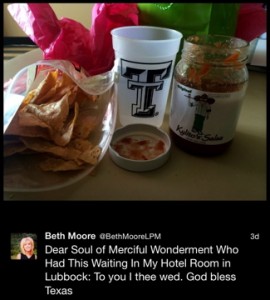 She was so passionate about said salsa, that she introduced it to the ladies attending the LPL.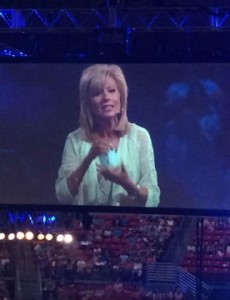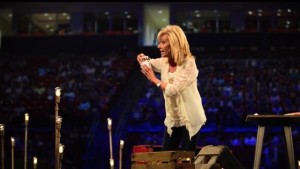 Fast forward to this morning when we had a visitor ring the doorbell at the office. As usual, my coworker Kimberly went to see who was here when she was greeted by a man with a lot of boxes. At this point, sitting in my second-floor office, all I hear is the word, "SALSA!" loudly exclaimed!
To those of us who didn't attend the conference (which was all our Staff), we were a little confused until this man told us that he was delivering salsa to us as a gift to Beth for making such a big deal out it. He was the salsa angel! And low and behold, it was HIS salsa. He stopped by LPM on his way to make a delivery at our neighborhood HEB!
Exhibit B: Salsa Delivery Man!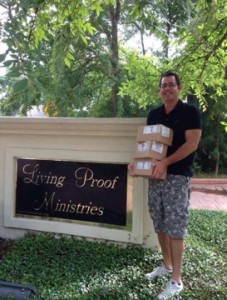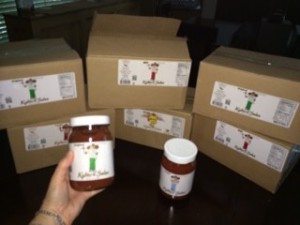 Needless to say, this very day, we enjoyed some chips and salsa alongside our lunch. And we are ever so grateful.
Moral of the story: You never know what might show up at the Living Proof offices. Next time I want something in bulk, I might just have Beth tweet about it. Of course, I'm only kidding. Grin.
And last but certainly not least, here is this weekend's recap. It is an excellent visual of, I'm sure, an even more Spirit-filled weekend.