Yesterday we closed the ministry down for the morning to attend the funeral of a dear friend that passed away suddenly last week. Our dear Beth participated in the service and honored both Louie and his family. Out of everyone there, I can say I probably knew Louie the least, but did have the fun privilege to help plant Bayou City Fellowship alongside he and his beautiful wife, Vicky, who we all adore. If it was said once, it was said a thousands times that Louie was funny, and found himself in some precarious situations, but more importantly, he laughed at himself. He took life seriously when necessary, and lightly when appropriate. I have heard a few of those "Louie stories" and I found myself doubled over at them. In the midst of despair, it's a sweet thing to be able to laugh at the funny memories. (While memories and laughs are a gift, I know many hard days are ahead for this sweet family. If they, Vicky, Catha and Crista come to mind, your prayers would be appreciated and received!)
Life is hard and if we take ourselves too seriously and can't even find the humility to laugh at our awkward moments, then we really aren't living. Besides not being devoted to Jesus, the saddest thing someone could say about me is that I lived life stingy and hard hearted, not being able to laugh at the funny and embarrassing moments that make up one's character. Oh, the tragedy! I think this is mainly due to the fact that laughing is one of my love languages.
I learned this pretty early on because I like to think I am the leader of the pack when it comes to the awkward ministry. I have the radar to find the most awkward and interesting situations, and if you knew me in real life, you could attest to this.
In fact, a couple weeks ago I had just arrived home from work and in the hour of downtime I had before I needed to leave again, I sat on the couch to rest my eyes for a minute.
I happen to have the perfect view of each and every sunset from my balcony, so as I was laying on there in my half-awake state going in and out of consciousness, I could see that the sunset was getting better and better by the minute. I think you know by now that I'm a sucker for sunsets. The other day my dad asked why I never get pictures of the sunrise, and it's simply because I can't see them. Big bummer.
Anyway, as I could see the sun flare getting better and better over my apartment building, I knew my window of opportunity to get a good picture was growing strangely dim.
So I grabbed my phone, hopped off the couch and ran to my balcony.
And then this happened.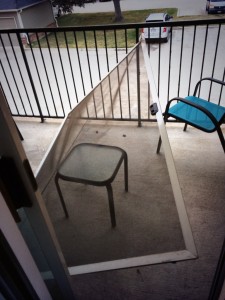 Yes ma'am. That is my balcony screen door laying horizontally. I ran smack into it and knocked it completely over.
I'm still a little stunned and confused by the entire situation, but it happened.
I could hardly stand up for laughing so hard all the while wondering who anonymously witnessed the catastrophe and how in the world my roommate was still napping in her room among all the ruckus? With what little dignity I had left, determination kicked in and at the last minute I was able to capture this.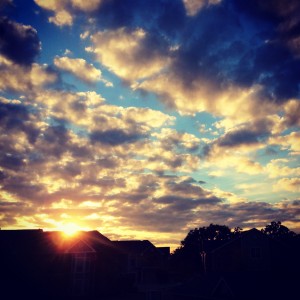 Though I've seen better, I'd say it was worth it. And I was humbled to say the least.
Listen, I know I made a complete fool of myself, but instead of acting like I have my life together (BECAUSE NEWS FLASH TO THE INTERNET, I DO NOT) I posted it on the World Wide Web. Because somebody needed to laugh that day; even if it was at the expense of someone else. A bruised toe and a humbling never killed anybody.
And let's be real, somebody needed to see that a picture doesn't always paint the entire story. I could have showed you the sunset and explained how beautiful and perfect life is, but that would have been a total lie.
For the sake of all things sane and normal, can we learn to laugh at and tell on ourselves in those awkward and unexpected instances? Because I've heard it said that, "A person without a sense of humor is like a wagon without springs. It's jolted by every pebble on the road." Henry Ward Beecher
Lord, grant to each of us a sense of humor!
And all the people said amen.