Towards the very beginning of this year Beth mentioned doing something one day that she'd had the desire to do, give away her books for free.
Well, today on December 31st, the last day of 2013, that dream is coming true!
B&H Publishing Group  made available a selection of her books until January 10th, 2014 for free on any e-reader! No money to you whatsoever! The only requirement is that you indeed, own an e-reader of some sort, whether it be a nook, kindle or an iBook. (However, if you don't have an e-reader, you can also download the Kindle app on your smartphone.)
B&H posted a blog with all of the details so to keep from being reduntant, but to help spread the word, I am linking to it here!
CLICK HERE FOR ALL THE DETAILS!!! (The best way to find the books is to search "Beth Moore" in your e-reader and her books will pop up.)
This is a screenshot of what it would look like on Amazon. (You might need to click on the picture to enlarge it, but you should see $0.00 next to the "Kindle Edition".)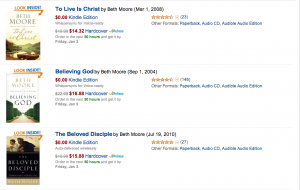 As we begin a new year tomorrow, I can't imagine a better time for you to grab a book and let God do a fresh work in you.
For fun and to help spread the word since she was so ecstatic, Beth sent out a few tweets! In case you're not on twitter, I thought I'd screen shot them and share them with with you so you can join in on her excitement.





We love y'all and wish each of you a Happy New Year! Enjoy your new books!