Good Thursday morning, friends!
Can you believe this season of LPL is coming to a close soon and very soon? We only have one more conference left after this weekend. Kind of crazy to think about since I feel like we JUST kicked this year off. Anyway, like ususal, we are blessed to be able to give away 20 tickets this weekend thanks to our Siesta Scholarship Fund. These tickets are for those of you who are near our LPL location and have the urge to attend the conference, but cannot fork over that kind of money at this time. We'd love to bless you!
If this applies to you, or if you know of somebody and you live around that area, you can call us at 281-257-3344 or call toll free at 888.700.1999. Please ask for Kimberly and she will hook you up! If you happen to call during the lunch hour, or we miss you for some other reason, please leave a message and we'll get back to you ASAP.
Thank you in advance for your prayers for this upcoming weekend! Prayer is the work, friends. They literally could not do anything of eternal significance without your intercession on their behalf.
Lastly, for those of you ladies who got to attend the MOPS convention last weekend, I heard that a few of you got to have your group picture taken! So fun. Unfortunately, we only have a side shot because the main one on our dear Beth's phone disappeared. It's a mystery, but this is better than nothing, right? So here is your picture girls!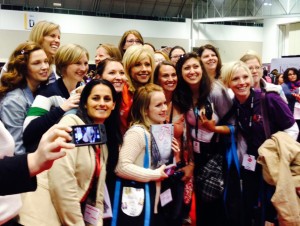 We love y'all!