Well, I feel safe saying that I feel like I have run a marathon the past week and a half.
This was my office last week.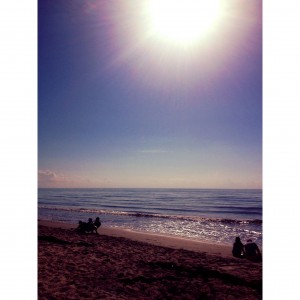 Now, before you get any ideas that I may have been relaxing in the Caribbean and wondering why I feel as though I've run a marathon after getting such sweet R&R, that is really a picture of Galveston, Texas. Yes, many filters were used in the making of that photo. (And by many I mean one.) Galveston, to put it lightly, is not very easy on the eyes. To be fair, however, the brown sand is pretty accurate. I was actually in Galveston for Beach Week with the student ministry at my church. That's right! After taking a year off of traveling for all things summer trips, I decided I really missed hanging with the students for a solid week, so I signed myself up to be a leader.
And I was placed with the middle school girls.
Lord bless them. And bless any of you that are currently raising middle school girls.
Let's be honest, they became an anomoly to me and I to them. I loved my time with them, but I learned a lot about that age. (Side note: I spend the majority of my time with high school girls, hence the middle school lessons.)
1. They do not understand sarcasm. They are very literal.
2. They are allergic to cleaning up after themselves. Grin. (I was happy to serve them by washing their dishes, and other unmentionable service.)
3. They all want or own iPhones, have facebook, tweet and thrive on Instagram. I learned how thankful I was that I did not have any of those distractions at that age. Lord, help us.
4. They like to have dance parties when no one is watching.
5. The majority at that age still think boys are gross. I think the major shift happens their freshman year. (I pray they stay that way for a long time. Laughing.)
6. They all want a best friend that they can cling to.
7. They're growing (physically) so fast, so they tend to be clumsy. It's kind of endearing. And cute. Just like them.
When it came to the end of the week, I realized I had lost my middle school mojo. Bless my heart. Any and all tips on how to connect with middle school girls are appreciated. Smile. (I know, I say that too much.)
Anyway, we had such a fun week, minus the 12 jelly fish stings that happened the first day. Ouch. I now plan on adding jelly fish sting nurse to my resume. Vinegar and meat tenderizer is where it's at, y'all.
This is me and Debra. Deb is our youth pastor's wife. (Just a side note: Deb and I met years ago on the world wide web of blogging. Who knew that five years later we'd be serving together at the same church. Jesus is really so fun when He weaves lives and hearts together.) We bonded over a late night Walmart run that may or may not have included a drive through Whataburger. Only in Texas. No camp is legit until you have to go to Walmart for water and toilet paper towards the midnight hour. Don't judge our hair in this picture. It's what we call aunatural. Also, we were getting ready to head home at this point. Can you say tired? I loved serving alongside her this week. She and Ernest, our student pastor, do a wonderful job of shepherding our students at Bayou City Fellowship.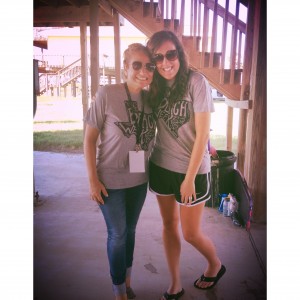 It's really fun to go from serving with middle school girls all week long, to attending a woman's ministry event. Two completely different things, but both warm my heart. Last night our church hosted an evening with our dear sweet Beth, and we had a really special visitor, Christine Caine, that also shared a bit of her story and the gospel presentation if you've ever heard one. We are blessed! And we welcomed many new faces into the Kingdom. So, when I say I feel like I've run a marathon, what I'm trying to say is that I am spent and exhausted in the best way possible. I really wouldn't have it any other way.
Thanks to the very strong Word last night, I realized that's the difference between just attending church and being attached to the church. If we are believers a part of a church, we need to do more than just attend, we need to attach ourselves and serve. Work hard for the Kingdom! Being connected is more than just attending. Being connected means you attach yourselves to the community God has placed you in. Isn't that a good Word? So I would encourage you, if you're just attending your church, and have been for the past ten years, nows the time to move! To work! Don't miss out on the blessing of serving and pouring out. I have no doubt you'll be blessed beyond measure.
Even if it means attaching yourself to a group of middle school girls. Yes and amen. Our young folks need us attaching to the church! Let's lead by example!
She may be tiny, but she is mighty in the Lord, that sweet Beth. Thankful for her example of pouring out and attaching herself to the church. I'm better for it, and I'm sure you are, too.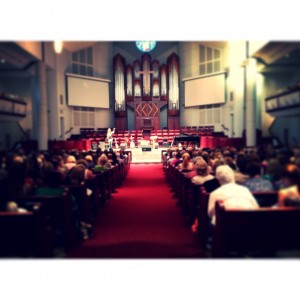 A marathon. It's the difference between attending and attaching. And it's so good.