For those of you who are well acquainted with social media, the term "tbt" or "throw back Thursday" is nothing new to you. In fact, if you're anything like me, on occasion it can be a bit overkill. Not that I don't love watching people walk down memory lane and seeing old photos, because I absolutely do, but I can only take so many throw backs before I start to confuse present day with current day people. It is, however, endearing on occasion. And I might be saying that as a disclaimer since I'm about to throw us all back. Grin.
Recently I was at my parent's house and my eyes came across an old photo that is framed on my dad's dresser and could easily be labeled as one of my favorite pictures ever. I actually happened to spot it just after our small group from church had gone around and shared how long we'd been impacted by music and how we initially came to love it. That picture reminded me that truly, I'd been immersed in it since the beginning of time.
I dearly love my immediate family. And despite all of our differences, quirks and challenges, one common theme that flows through all five of us is music. At any given moment when we're all together, not a minute goes by that we're not discussing artists (old and new), harmonies, bass lines, records and well, I'm sure you get the idea. From the beginning of time my mom has either been a music teacher or, for the better part of 23 years of my life, a piano teacher. Countless students from ages five to 18 are constantly flowing in and out of our home. Needless to say, while living there, you hear the good, the bad and the ugly. I say that endearingly since I've watched student after student come in with zero knowledge of anything musical, at the beginner level, and graduate as a high school student knocking out pieces that leave you speechless. (For reference, look up David Lanz. Beautiful.) We all have to start somewhere. And practice really does make perfect.
You might be wondering if my mom taught each of us to play the piano. And what might make you laugh is that, because we are her stubborn children, she taught each of us as much as she could before World War 3 broke out. You know, because when Mom is teaching you something, clearly you're right and she's wrong. Our lessons were short lived. But thankfully, the Lord graced us and we all play a little. Actually my older brother plays the most out of all of us, as he went on to do a little bit more with music in college, while I only took one measly piano class after graduating. But still not a time goes by that we don't walk in her house and either sit down or tap at the piano ourselves. It's our first instinct.
On top of that, I literally cannot remember a time that both of my parents have not served on the worship team at their church. I've lost count of how many years my mom has played the piano while my dad has simultaneously played the guitar or bass. And it goes without saying that we were all involved in the choir and or praise team, you know, when choirs became less cool. Laughing.
Needless to say, music runs through our blood. And I imagine it always will.
My dream would be that, although I'm no music or piano teacher, the love and appreciation of music would be carried onto my children, and their children, and so on and so forth. I'm not sure much more would make my parents happier either, besides the obvious of growing up to love Jesus. I'm almost certain that when I was 16, my dream of marrying a man with any musical talent was a deal breaker. Meaning, if he was musically challenged, it would be absurd to even consider liking him. I'm laughing now. And while that would still make me so happy, to marry a man with similar gifts and passions, I'm letting the Lord work that one out. It's no longer a deal breaker, but it would be a bonus.
I'll never forget my freshman year of college when all five of us did the "special music" at our Christmas Eve service. Yes, you can just call us the Von Trapp family. We might as well have become a traveling band. Talk about a throwback, every time I hear "Light of the Stable" by Emmylou Harris, I immediately think of Christmas 2003.
I recently came across this quote by an actor I'm not well acquainted with but it summed up my family perfectly, "I've always thought people would find a lot more pleasure in their routines if they burst into song at significant moments."
And all the people said amen. Those that have been around our family know we don't just do this at significant moments, but really at any given moment a song that would be appropriate for that occasion pops in our head. In fact, I should apologize in advance to anyone that, in the future, might spend any amount of time with us.
Music calms. Music is universal. Music speaks where words fail. Music ministers. Music is simply a part of us. Music, after all, was created first and foremost by God. He put that gift in us.
Nearly every time I drive up to my parent's house for a visit, and they live only 20 minutes from me, without fail my mom is found playing the piano. When we were little and all living there, people used to ask me if the constant sound of the piano, and people coming and in and out for lessons was annoying. I can truly say that not for one minute did it annoy me. As time went on, I found it very comforting. It was normal. I can't speak for some of her students who may have been annoyed however when I, on occasion, would be yelling at my brother from the top of stairs, at the top of my lungs, mind you, because he was picking on me, but that's another story for another day. Big brothers are both a blessing and a curse. Some of you may understand.
This entire post sums up my love for this "throw back Thursday" picture. For the love of all things music.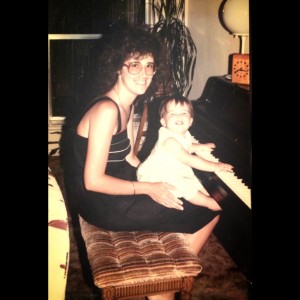 My mom and I sitting at the piano. Where all is right in the world. She always has and always will by my favorite piano player, and for once, I think it's okay to be biased.
And those glasses? Well, they speak for themselves. Love you, Mom.