You can always find a good balance of fun and serious on this blog, but every now and then, you'll find a little business (or maybe we should label it housekeeping) mixed in, and today is one of those days.
The beauty of SSMT is that we're all memorizing scripture together and holding each other accountable and we have a ton of new siestas joining us! God alone be praised. However, if you are new to the blog, or joining in SSMT for the first time, I can see how you could get a little overwhelmed or stressed out if you're unclear how to navigate the blog. My inbox is currently flooded with emails regarding all things blog FAQ.  So in one fell swoop, I'm hoping to help each of us out.
To our veterans, if you see a question I failed to mention, feel free to chime in on the comments. And to our new friends, I hope this post will be both informative and encouraging to you!
How do I join SSMT?
I am so glad you asked! We are so glad you desire to be a part and we invite you to join us! To "sign up" all you need to do is enter the scripture you're committing to memory on the 1st and 15th of every month on our blog. At the end of the year, that will total 24 verses. You are welcome to enter your first verse on January 1st by clicking here.
Or, you are welcome to hop in on the next SSMT post. They will always be titled "2013 Siesta Scripture Memory Team: Verse ___"
Also, by clicking on this link, you can retrieve every SSMT post so far. You can also find this link on the right hand side column under "Links" labeled, "Siesta Scripture Memory Team 2013".
How do I leave a comment?
To post a comment, scroll down until you find the post you want to comment on, click on the little brown box to the right hand side that states the number of comments on that post so far, then go to the end of that post (after any other comments that show) to "LEAVE A REPLY". You will see 4 boxes: Name (required), Mail (email address), Website (NOT REQUIRED), then the final box is where you type in your comment. Click "SUBMIT COMMENT". When you click "Submit Comment", you should see a message that says "Comment awaiting moderation." This means that you did everything right, and now you are just waiting on one of us to approve your comment. No need to worry if your comment doesn't immediately show up. During SSMT, if you could give us at least 12 – 24 hours to moderate comments, that would be so helpful.
How do I sign up for the SSMT Celebration in January?
Great question! We ARE having a SSMT celebration next January, however, details and registration for that will come towards the end of this year. So until then, all you have to worry about is memorizing and entering your scripture in on the blog.
Can I log my SSMT verse for a friend and me?
Our goal here for SSMT is to just be an encouragement and have a little accountability with our sisters, and a few brave brothers. With that said, if you're friend has no access to the Internet and cannot login on her own, you are certainly welcome to do that for her. However, please do it under two different logins, not under the same comment. Does that make sense? We wouldn't want anything to hinder anybody from joining in.
I can't find my comment, did I do something wrong?
I can't imagine searching through thousands of comments to find my exact one, however, I totally understand that you would because I'd be the same way. Grin. By far the easiest way to find your verse is to note the time you submitted it.  (Adjust your time to our Central Standard Time.) Just know that once you press "submit comment", you will see the message saying your comment is awaiting moderation. Rest assured, you've done it right! Now you just get to wait on us. That is the message you want to see after you submit!  Also, because I've been asked, there is no way to receive a message that your comment has been approved. This is where you'll have to practice a little bit of faith!
How do I subscribe to get the blog delivered to my email?
If you go the blog homepage, which you are currently on if you're reading this, look to the right hand side column, and you'll see a button that says "Receive this feed via email", click on that and it will take you through the very easy process of getting this blog emailed to you each time there is a new post.
I recently got a new email address. Can you cancel my old email address and have the blog sent to my new one?
Your email is not stored with Living Proof, so if you would like to change the address that your LPM Blog RSS feed comes to, you will need to click "unsubscribe" at the bottom of your RSS feed email, and then re-subscribe with your new email. (See previous question.)
Is replying to the RSS feed email the same as leaving a comment?
I absolutely see what you're saying here, but unfortunately, it is not. If you get the blog post sent to your email account, you have to personally click on the title of that post so it can take you to the live blog post itself and leave a comment that way. I typically get about 100 replies to RSS feeds in my email inbox, and I have a feeling that might be why some of you are having trouble finding your comment among the thousands. If you replied to an email, your verse was not received. Unfortunately, your comment is most likely floating out somewhere in the cyber world. If you are new to this and you hear this one thing, I think it will make both of our lives a thrill! I know how confusing it can get.
How can I download the SSMT app?
You can click and find the app here for all Apple products.
And click here to download for all Android users.
You can also download them using your phone or by searching "BethMooreLPM".
What do I need to do to qualify for the SSMT Celebration next January?
To qualify for the celebration next January, Beth has asked us to log in to share our verse on the blog the 1st & 15th of every month, a minimum of 21 out of 24 times throughout the year. You are welcome to go back and post your verses to each week. We are very encouraged by you all!
I think that's a wrap, folks! Thank you for being patient and gracious with us. We consider it a great privilege to love and serve you all. Seriously. Feel free to leave any question I might have not addressed in the comments. That way if someone has the same question as you have, we can all read it!
Oh, and just for fun, as I was about to publish this post, I decided to share a picture with y'all I snapped on Tuesday before Bible study. I happened to be the only one in the sanctuary for about ten minutes and it felt like the calm before the storm. The blog has felt a little bit like that this week, eh? A little quiet? We do apologize. But know that while it may be quiet, we're thinking of you guys 24/7.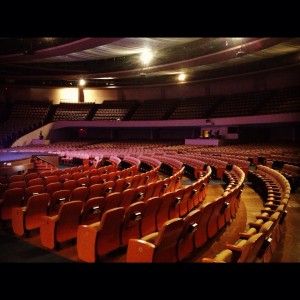 We love y'all so much.
Tags: FAQ, Scripture Memory 2013