I don't know about you, but Christmas parties are currently running through my mind.
It might be due to the fact that when I hopped on facebook Saturday morning, the first five items that popped up on my newsfeed were pictures of five different couples that had gotten all fancy the previous night to attend their company Christmas party. I am not even exaggerating. It was a very pretty sight!
A few nights ago I got together with some girlfriends and we were discussing all things Christmas parties when I told them that one year I attended seven, I repeat, seven, Christmas parties. That's what happens when you work on staff for a student ministry.
That year the White Elephant gift exchange was in full swing and by party seven, I was plum out of ideas. And I'll admit, a little exhausted from the White Elephant. Why is he white anyway? Rabbit trails. I have become one with them.
And now this post is becoming more like the zoo. Rabitts and elephants. Gota love 'em.
Anywho, I was in a bind for that last party and feeling kind of snarky, so I decided to create my own white elephant gift in the form of a homemade ornament.
You bet I did.
Later that night, this ornament ended up on my friend's tree.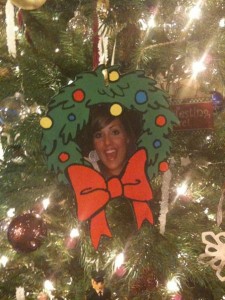 I know. It was a treasure. Truly a keepsake.
You wouldn't be shocked to know that that was the last White Elephant gift exchange I participated in. I retired after that. (At any moment the elephant could resurface in my life, but for now I'm content without it.)
All of that got me thinking about some gifts you all could give that aren't as high dollar. Who doesn't love a good, affordable gift idea?
These are off the top of my head, but just go with me.
Need a gift? Look no further.
1. Nail polish. I don't know about you, but I am a polish freak. I typically have a color on my nails at all times. Just ask my co-workers. You can even get some great nail polish brands and colors for under $10. OPI and Essie are my personal favorites. Plus, who doesn't love getting a nail polish color with a name like "The Spy Who Loved Me" or "Chick Flick Cherry"? So fun.
2. Scarves. Let's just say I may own a few or fifty. But y'all, you can find scarves for CHEAP. I love places like TJ Maxx, Ross, Marshall's and Target for scarves. They come in plenty and they're adorable.
3. I was about to say a potted plant, but I'm not so sure that's very fun or cool, so I'm just going to leave it at that because who knows, one of your love languages might be the potted plant. And if so, you are my hero.
4. A Relaxation Basket: This might include foot scrub, bubble bath, maybe some fuzzy socks. Whatever makes you feel relaxed.
5. A coffee or tea mug. You know where I'm going with this. Add a bag of tea or coffee and voilia, you have a gift!
6. A journal and a good pen. Clearly there's a difference between a good pen and a bad pen. Go for the good!
7. Big earrings. Yes. I love my pearl studs, but every now and then to throw a big earring set in the mix makes me feel extra girly all over again. You can find big, cheap earrings anywhere these days! And I do mean anywhere. I think I saw some at HEB, our grocery store, the other day.
8. A board game. My current favorite is a game called Quelf. However, if you lean more towards the shy side, this is not the game for you unless you're in a group you can be 100% yourself around. But it's so fun and you will laugh your head off at all the ridiculous things they make you do!
9. An iTunes gift card attached with a hand written note. You can buy pretty much any album on iTunes for $10, so you really can't go wrong with this. And who doesn't love a new CD? Did you also know that you can purchase an album on iTunes and have it sent to your friend? It's magical and easy.
10. Of course, for those of you with a crafty side, anything homemade is so special. Much like my homemade ornament. But seriously, even a homemade loaf of banana bread, a homemade picture frame, a homemade wreath, etc. This is where Pinterest becomes your best friend. I like to think I'm crafty by simply pinning creating ideas. It's pitiful!
If that's not the bear minimum list I'm not sure what is. How about y'all spice it up a bit and add some of your ideas! I'd love to hear your creative gift giving ideas.
And by all means, if you feel led, please share a hilarious White Elephant gift you've received. This might just bless us more than we know.
Lastly, and only because it's so fresh on my mind, I went to my first Christmas party of the season last night. It was with the team of people I get to serve with on a weekly basis at my church, Bayou City Fellowhip. They have become like family to me and getting to lead worship with them this past year has been one of the sweetest gifts! That's the best kind of party, isn't it? Stellar people, hot fajitas and no mention of the White Elephant. Grin.
I know this may not mean much to you, but we snapped this picture before we all scattered last night and it makes me so happy to look at. Some of the most genuine, sincere, humble people to serve with. I know some of you ladies feel the same way about teams you serve on. You get it. Thank you, Lord!