I won't publish this post until Monday morning but I'm writing it to you a little after 6:00 PM on Sunday evening. I'm only giving myself a little while to finish it so that I won't awaken tomorrow morning wanting to whisper, woe is me, it's work, work, work. Blah, blah, blah. Work martyrs are fake martyrs. They don't count. They're too self-important. It dawned on me about 2 years ago that no one was making me work nonstop but me so why, then, did I want to find somebody to blame for driving this skeleton like a shovel into quicksand? Anyway, I want to dance with my grandchildren at their weddings.
So, wonders never cease, some things in my life actually changed for a change but that's another story for another time.  I like work. That's the biggest issue. I love it even. But the body makes certain demands that are harder to ignore in more, how shall I say, seasoned years. That there is not always energy to spare after decades of flying high on fumes has been a glorious, unsolicited gift to me and one that came as a shock after major surgery and a serious cancer threat. I have savored what I do – researching, studying, serving – and what God has placed around me – many friends and fellow sojourners – and what I get to experience in my 4-generation family so much more in an ever-so-slightly less revved up gear.
For instance, I'm more apt to let time suspend for a few seconds and count the steps it takes for Annabeth to run to me from the car with a smile stretched from sea to shining sea. And I make notes – at least mental and sometimes actual handwritten – of the statements that cause the most prominent lisps with Jackson's three missing front teeth. Friday night I had to purely look away at the dinner table when he said, "Did my mommy show you the pictures of the two postcards they sent?" Show-pictures-postcards-sent. Perfect. I tried to act like I was reflecting with my elbow on the table and my chin on my fist while I steeled myself to answer, "No, but she told me about them. I want to see them!" (It was everything I could do not to ask him to please repeat the question.) Amanda and I laughed later until we nearly had to kick our legs for relief.
I thank God for lessons only time can adequately teach and for still leaving room for airplanes, short nights, hikes, books, Bible dictionaries, and bikes. And still a fair amount of revving up. I'm not sure I could bear revlessness.
My man's been gone for the day so it was all mine for the taking. I had a reflective, worshipful morning at church despite four shots of coffee strong enough to cleanse the sinuses and shear the throat like a spring sheep. (Remind me to get Jackson to read that sentence later.) I sat next to my firstborn on the front row and received a word about forgiveness from a pastor I greatly respect and took the Bread and the Cup with a depth of seriousness that made them feel especially healing to me. Maybe even filling. I was touched in my soul when I saw the elements on the edge of the stage in the chapel, just waiting to be served. I had not known we were to receive them but I had hoped. Right at the Clay Road exit on Beltway 8 as I was nearing our church that morning, a few lines turned in my head. I jotted them down in the parking lot.
O Glorious Lord's Day
Our souls to awake
Saints to be gathered
Awash in glad grace
Called to the table
Jesus the Head
Partake, all you ransomed ones
By love come be fed.
I love church. What a harbor it has been to me through the years. I love the Table. I love its Head. My life would be a black hole without Christ and the communion of saints.
I drove my nearly 40 minutes home from church, fired up the stove and heated up Keith's homemade chicken soup from yesterday – perfect for our first bona fide autumn day in Houston, Texas – and I ate a blistering bowlful by a wide-open book. Satisfied and sleepy, I heaved myself into the king-size hammock my coworkers gave me last year and held on tight till it quit swinging. It takes about 3 minutes. I read a little more, laughed, sighed, reflected. This is said hammock. I clipped this particular shot the day before.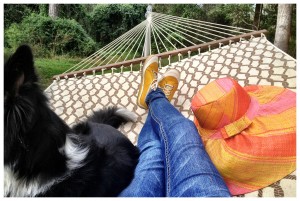 Then, after a cup of tea, I pulled on my rubber boots to pay up on that promise of a walk I'd made to Queen Esther who'd nearly knocked me out of the hammock earlier, book sent flying, with her obsessive compulsion for closeness.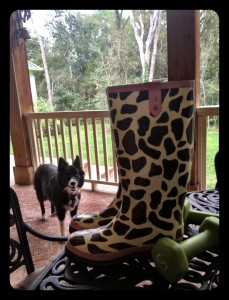 I was only about three minutes into our usual walk in the country when I said to the air what I've said to Keith one hundred times. "This is my favorite spot on this walk." So I pulled out my iPhone to take a picture of it for at least the 15th time. I'm not exaggerating. I take the same exact shot over and over. Then I looked at it, blew out my lips in frustration and said again to the air, "I can never get this picture to turn out as fabulous as this really is."
Then I looked at it again. And that's when I realized for the very first time that the reason why I can never fully capture the beauty of it is because it's really not all that spectacular. Quaintly pretty, yes. To us nature lovers anyway. Maybe a four. Maybe just a three.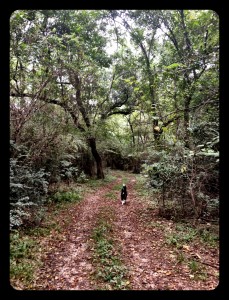 But, it's not what high-dollar sightseers would throw hand to chest over, bracing for visually-induced coronary thrombosis, exclaiming Breathtaking! Stunning! Well, I never!

No, now, THIS is the kind of thing you clutch your heart over: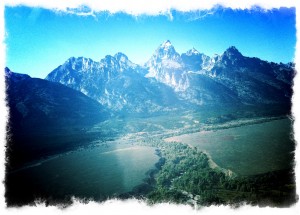 I took that picture from a Delta airplane window exactly two years ago just before landing in that valley for a couple of days. I'm not sure there is a place more beautiful than Jackson Hole, Wyoming in the pioneered universe. Not to me anyway. But somehow when I'm there I can never get past the sight of it. I always plan to do my most creative writing there but I rarely do. Somehow, when nothing is left to my imagination, well, then…nothing is left to my imagination. It's all filled up. And that's that.
That's the revelation I got today. The reason I can't capture the beauty in these crude woods on camera is because it's a beauty felt more than seen. It doesn't scream anything. It won't interrupt you while you're talking. It doesn't beg anyone to pen or paint it.
Simple things tend to have more manners. They won't say a word if you don't let them. If we don't shut up, they will. But it will be our loss.
The beauty in the threadbare. The beauty in the unswept scenes that refuse to finish everything out for you. Or think for you. They leave the spiderwebs to walk into and the realistic fear of a snake slithering by. They leave you to have to kick the dried-up mud off your boots when you get home and to run the water hose over your slobbering dog. And, while you're at them, they won't leave you so speechless you can't answer the phone in your back pocket. Go right ahead if you want to. And sometimes you'll be glad you did. But other times, you might just get that sense that you walked and talked right past something special, if only vaguely special in a world overwrought with specialties.
The chance not only to see beauty.
But to feel it.
May God grant us this day a whisper of His beauty that sweeps right past our vision and dives deeply like a stream into our world-parched souls.