Every now and then, someone comes along who changes everything. I was in my late twenties when a woman I'd come to know through my aerobics class then a small Sunday school class came up to me and said with a gentle firmness, "God is calling me to support you in ministry."
It was the first time…
A) that anybody had ever called whatever on earth I was doing "ministry."
and,
B) that there was even enough to be done for anyone to actually help me do it, for crying out loud.
Though I'd already come to like her so much and was instantly taken aback by her kindness, I could not have begun to grasp how God had smiled on me that moment. As I look back on it, she would only have been a couple of years older than I am now.
Her name was Mary Helen Davis. Or, to my family and to multiple hundreds of people at Houston's First Baptist Church, "Mrs. Mary Helen." I was in my early thirties and teaching my first ungraded class of women when she walked in one Sunday right before class with one of those off-white rectangular cassette recorders with the big thick buttons. I looked at her curiously and she waved her hand as if to dismiss it entirely and said, "I'm just going to set this right here…" (a folding table near my small podium) "…and record some of these lessons. Who knows but that somebody might want one some time. Don't pay any attention to it. You'll never know it's there."
Within several years as the class grew, she moved a duplicator upstairs in her home and copied tapes all by herself each week for anybody who signed up for one. And…wait for it…laid hands on every single tape. She hand wrote the title of the lesson on each cassette with a Sharpie. Several years after that, her best buddy and our second official volunteer, Julie Weir, began helping her. Because of God's grace alone, the class kept growing and people kept ordering and a couple of years after that, we started looking for a tiny little office space so our homes were not turned upside down. I wish I had some way of making this next statement appear on this page with all the passion and honesty that I feel as I write it: NO ONE ON THE PLANET has supported, (accidentally) steered, served and loved this ministry more than Mrs. Mary Helen Davis. She even let me try the name "Living Proof" on her. Turned out, she liked it.
Soon after that, that title developed into the name of a non-profit and necessitated a board of directors. And she was on it.
During all this time, she was not just supporting me in ministry. She supported me in mothering. Melissa was one and Amanda was four when Mrs. Mary Helen first came into our lives. Because she was in both my Sunday School class and my aerobics classes, we saw her a minimum of three times a week. My girls do not remember life pre-Mrs. Mary Helen. To give you some idea of how in love they fell with her, there was a period of years when I never – let me say that again a little louder – I NEVER got one single craft that Melissa Moore did in Sunday School. Nope. Mrs. Mary Helen did. Stay with me here. EVEN MY MOTHER'S DAY PRESENT made in kindergarten Sunday School went straight past me and into Mrs. Mary Helen's hands. We both laughed so hard behind Melissa's back that we nearly couldn't stand up. Mrs. Mary Helen was such a fun sport that she'd take them…and I'd let her…and we'd tell it and retell it on Melissa for years to come. (Amanda was too sensitive about people's feelings to be as forthright about passing me over for Mrs. Mary Helen but I don't doubt she wanted to. I'm sure it was a sacrifice.) My mother had gone to be with the Lord Jesus when Amanda married and Mrs. Mary Helen sat right beside me on that front row and when, at the first glimpse of that gorgeous bride, I stood to my feet, she stood right beside me. And bawled her head off.
When Melissa was six years-old and in the hospital for a week, you can guess who she requested. Of course, she got both of us. I did not give over that easy. But at least I got to go home and get a change of clothes on occasion. Melissa swore and declared that Mrs. Mary Helen would be one of her bridesmaids and we were all – including Mrs. Mary Helen – scared to death she was serious. We were all relieved when she gave over at the time and let Mrs. Mary Helen simply stand in place as the Bride's maternal grandmother. Mrs. Mary Helen just didn't know if she could bring herself to wear one of those strapless bridesmaids' dresses.
Mrs. Mary Helen adored my children. And my husband. Oh, she'd laugh at him! (And all the harder if I didn't think he was very funny.) But, to be fair, she didn't just love our family. She loved everyone she met. She cooked for people, doted on them and showered them with gifts. Case in point: one time my coworker Sabrina talked about often serving her family their dinner on paper plates. Mrs. Mary Helen never judged her. She just bought her a whole set of dishes. Sabrina treasures them like diamonds set in solid gold today. So many of my coworkers can tell similar stories and all of them can boast in God's kindness to them shown through that one powerful woman who never appeared anywhere except behind the scenes. She moved to Washington State several years ago to live near her daughter, son-in-law and grandchildren – whom she totally adored. We could hardly tear ourselves away from her but her health was declining and she did exactly what she needed to do. Her family got to lap up every possible drop of those last few years. God was all wise. He always is.
Our beloved Mrs. Mary Helen saw Jesus late Wednesday night.
We are so happy for her. And so happy for HIM. He must surely be delighted. And, there is no doubt in my mind that He has the best tape ministry He's ever had.
But I have cried my eyes out, over and over since her daughter Carol let me know that He'd come for her. She was loving enough to tell me only a couple of minutes later. I am so thankful that she has so graciously allowed me to love her mother alongside her, as my second mother. My girls are heartbroken over her passing, too. Oh, mercy. She was a love. We will grieve to the extent that we loved. We will spend much of next week getting ready for her service. It will be back here in Houston where she raised her family and she will be buried right next to her man.This is the two of them. It was taken I guess about 10 years ago.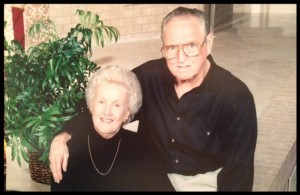 This is her and her BFF Julie Weir. We were all dressed in jammies for a staff Christmas party.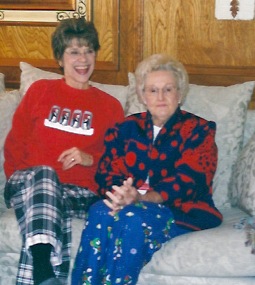 A few of us at another staff Christmas party when we moved from a jammy theme to a headdress theme.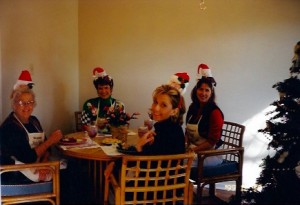 And another. She is holding our Jackson in this picture who appeared that day as Claus.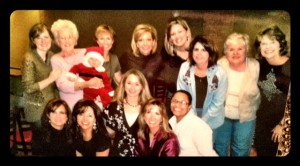 I am almost positive this was taken at Amanda's wedding: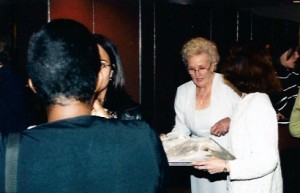 This picture is Mrs. Mary Helen, her daughter, Carol, and me on a very important day at Living Proof Ministries: the dedication of the Mary Helen Davis Resource Center.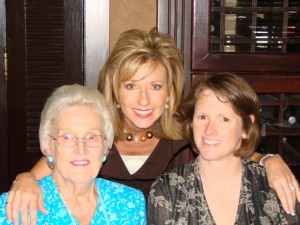 This will be on the wall of that center as long as God chooses for Living Proof Ministries to exist.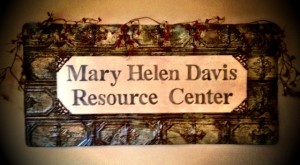 We all hope we're loved but, for all of us, occasionally we absolutely KNOW we are loved. We don't know why maybe. But we are. I do not know why God caused this woman to love me.
But she did.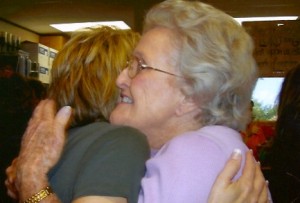 And my entire life was changed in those arms.