Hey, Sweet Things!
Last night I was helping a younger woman with a few hints for roasting her first Thanksgiving turkey. It caused me to think someone else might need a couple of tips so I threw some things I'd told her on Twitter. Then, I got enough responses to wonder if I should open up a forum for questions and helps here on the blog today. I talked to Jan Morton, one of our most beloved Siestas and the owner of one fabulous kitchen, and she promised she'd pitch in this afternoon, too, so LET'S DO THIS! It's perfect timing since we've still got a few days and, if it turns out to be too late for some of you, keep in mind that all of this applies to your Christmas cooking as well.
Now, listen. I am not a stellar cook. I really am only fairly proficient at country cooking and meals like rump roasts and gravy and smothered steak and gravy and pork chops and gravy and fried chicken and gravy and, okay, anything at all with gravy. (And, no, I surely cannot eat that way all the time which is why I don't cook much.) What I am is a women's teacher/tutor and I think this is a perfect time to help some women out in the kitchen and it's Biblical, after all.
Do you remember what Peter said to the beggar at the Temple gate in Acts 3? "Silver and gold have I none, but that which I have, give I thee!" (I love it in the KJV.) So, I don't have mad cooking skills but, what I have, I give thee. Because I love thee. And because few of us are flat-out gifted in the kitchen. Most of us have to learn and that means somebody needs to teach us. SO, calling all teachers!!!
Since I lack a lot in the kitchen myself, here's what I'm going to do: I'm opening this up for you less experienced cooks to ask questions and you more experienced cooks to read through the comments and answer as many of them as you can. If you see that someone else has already answered the question but you still have something to add, go ahead and leave an additional comment. I really need you seasoned cooks in our community to jump in here and help me because I won't have the opportunity to answer them all myself. You also don't have to wait for a comment in order to offer a tip. Go ahead and share some things you learned from other good cooks. Things that come in handy for holiday meals. It's just wide open, Girls. Teach and be taught on here today.
I'll get us started with a few things I threw out there last night and I'll be able to explain a bit more in this format.
If you're baking a turkey this year for the first time or you've done it many times but can't get it consistently tender, consider using one of these: (You can get it and most of the other items on this post at your basic grocery store like Kroger.)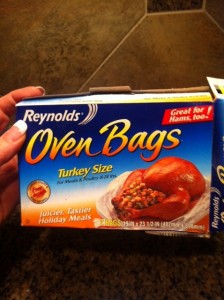 Just follow the directions exactly and it will tell you how long to bake your turkey according to its size. Even though most of them are basted these days, I can't resist slathering them down with at least a half stick of melted butter, generous salt and pepper and minced garlic. Then I stick it in the oven bag and bake it just like it says. Girls, be sure and reach in your turkey and pull out the packet in the inside cavity before preparing the turkey. Don't be embarrassed about not knowing those kinds of things. You can't know what you don't know. The size of a turkey means that you usually end up wallowing the thing all over the sink and counter before you finally get it in the bag SO this is a really good time to use a Windex or any other kind of counter spray that includes antibacterial.Remember to spray down things like the handle on the refrigerator. Use your antibacterial on anything the raw turkey touched or your hands touched before you washed them.
After your turkey is completely done, set it out on the counter and start allowing it to cool off. (NOTHING smells better than a turkey roasting.) Girls, turkeys take quite a while to cool off. This actually comes in handy since most of us only have one oven and we can't fit any of our casseroles in it at the same time our turkey is roasting. Even if you have to wait an hour before your dressing or other casseroles are baked, it's no big deal. As long as you don't slice the turkey until the last minute, it will stay warm. You might just lay one piece of aluminum foil over the top of it.
Now, for a few gravy hints. The drippings to a turkey are absolutely divine. After you've let the bird cool off enough to work with the drippings, tear open your roasting bag and use a cup or ladle to pour a generous amount into a measuring cup exactly like this: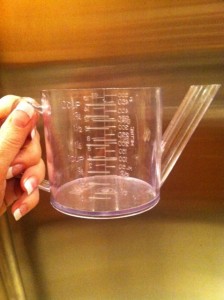 See how the spout is at the bottom? The fattest part of the liquid will rise to the top after just a few minutes. You only want to use the bottom part to make your gravy or it's too greasy. Set the filled measuring cup to the side until it's time to make your gravy. Do you girls have iron skillets? They are best for making gravy but not imperative. You want it to be one of the last things you do before serving your meal. I'm going to tell you how to do basic gravy rather than giblet gravy so you'll know how to make it from any roast whether beef, pork, or bird. I'll leave giblet gravy to one of the other cooks on here.
Go back to your measuring cup of drippings. Pour that lower (less fat) half of your liquid in a skillet. Heat it up to a rolling boil. Depending on how much liquid you have in your skillet, put about a heaping tablespoon of flour (not into your pan yet!) into about a fourth cup of warm water and stir it up really well until the lumps are out. While the liquid in your skillet boils, pour in the flour mixture and stir constantly for at least several minutes. After it's well mixed, decrease your heat to a low boil. Add some salt and pepper if the liquid needs it. (You can't be afraid to taste it in process or it won't be well seasoned.) The liquid in the skillet will all begin to thicken. Keep it boiling until it looks like gravy. Grin. And add some water – just a little at a time – until it has the consistency you're looking for. Especially with any of my bird-gravies (chicken or turkey), I like to add no more than a dime-size of this: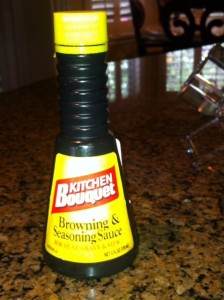 It simply adds a little color. For those of you with access to a Williams Sonoma, however, this is absolutely FABULOUS (this is the only thing on here today you can't get from a regular grocery store):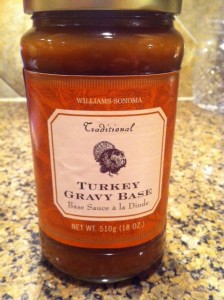 You can forget all the trouble of making gravy from scratch and only use the jar (according to the directions, of course – you whisk it with milk) OR you can make your own gravy like I prefer and simply whisk in about a fourth of a cup of the jar to it. When I add the Williams Sonoma gravy base, I do NOT use the Kitchen Bouquet. Each one gives good rich color and a little extra flavoring. Don't use both.
If you're like me, you love yeast rolls for holiday meals but they're often too time consuming to do from scratch. (I did it for years and it's still the best way but so much is going on in the kitchen at once on Thanksgiving and Christmas, I have to give something up. I only have one oven and in a fairly small kitchen.) Sister Schubert Rolls are so good and they require no thawing and only about 15 minutes of baking time. They're in the freezer section of almost any decent grocery store. I don't have mine yet so I can't add a picture but they come in round foil pans. And don't you dare put margarine on them. B.U.T.T.E.R.
Okay! Those are a few of my tips! They are basics as you can see but a lot of our women need to know the basics. No shame here! I hope our better cooks tell you lots of other things you can put to great use this holiday season. So many women out there can leave me in the dust in the kitchen and we need to hear from them today! (And, yes, ladies, you are welcome to post recipes. Just try to use some that aren't profusely long.)
And just because it's Thanksgiving week, I'll add this picture IF you think you can handle it. Annabeth at her Mother's Day Out Thanksgiving Feast last week. She then visited the ministry in period costume and we all fell so in love, we were worthless.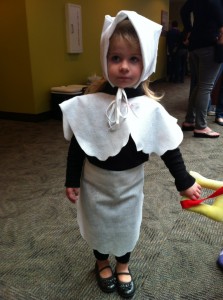 Come on, questions and cooks! It's a kitchen free-for-all in Siestaville today!
Surely you know by now that I love you. Grin.
PS. You girls made me so hungry, I had to get up and spread me a peanut butter and jelly just so that I could keep moderating the comments!