Hey, Sweet Things! I miss being on here with you! I'll need extra patience from you for another four weeks. But, I'll tell you what I told some of you who are on Twitter. When it seems like I'm really quiet, it's because I'm talking my head off to you through writing. Believe you me, you are on my mind continually as I write straight to you in every segment of this curriculum. Melissa would say the same thing. Bless her heart. She worked all weekend because she needs to be finished with her excerpts a tad before I do. It's best not to glamorize writing because it is a very demanding assignment but, if God calls you to it, receive it with joy and with the open-mindedness of a student rather than a teacher, with much self-discipline, and with relentless prayer.
Melissa said something to me yesterday that I've thought about a lot. She said, "You and Daddy and [insert Amanda's nickname] are pretty much my social life right now outside of home because I can't be a dependable friend." Whoa. Have I ever been there. People ask often how I've "balanced" (me balanced???) ministry with family and I've said the same thing over and over: I dumped practically everything else. If you have the updated version of David: A Heart Like His, it's dedicated to my friend, Johnnie Haines, because she stuck with this on-again-off-again friend for 30 years. I'd drop out of communication for weeks at a time. I'm not suggesting anybody out there dump their social life. It's not healthy. It's just what I had to do for long stretches of time in order to fulfill my responsibilities to family and calling. These days I have my fellow sojourners at LPM and YOU and I am inexpressibly grateful. Truly, it's one reason why I love blogging so much. It's the way I get outside without ever leaving my home or office.
Well, that was a rabbit trail. I meant to just get on here and tell you quickly what I've been doing for the last few days. Friday was my wildman's birthday (I first wrote girthday! It just so happens that his girth is not a bit bigger than it was when I met him.) I asked him several days earlier where he wanted to go eat for his celebration and he said, "I just want to get to-go food so that we can have the babies, too. It wouldn't be as fun without them." I agreed but I stressed about him not having something special to eat for his birthday and then it hit me that I should do what most wives might do: bite the bullet and cook. That would have been a quicker decision if I'd been able to take the day off but I didn't have the luxury. So, what to cook?? Then it hit me: Christmas dinner.
(Side bar: I tweeted that the first person who guessed what I was making for his birthday dinner would receive the book of her choice and I purely laughed out loud as it took several hours and several hundred responses for someone to guess it. FINALLY, after about 25 shots at it – ministerially speaking –  our own long-time Siesta – on Twitter as @Micheledidasko – got it. What made it so hilarious and so GOD is that she hadn't ever done Breaking Free. Well, she took her win as a sure sign and that's what she requested. We love you, Michele! You're a great sport! And I hope your care package makes it there soon!)
Good heavens, you guys. You're the worst things on earth about getting me off on a tangent. Back to Christmas dinner. It's my man's favorite meal on earth and, six months after the holidays, it was sure to taste so good that we'd want to slap something. So, I went to the freezer section of Kroger for a turkey, made cornbread for traditional dressing, then broccoli and rice casserole, mashed potatoes and gravy and Sister Schubert's Homemade Rolls. AND, drum roll please, WHITE WEDDING CAKE!!!! I know you were expecting Texas Chocolate Sheet Cake but I'd just baked one on the 4th of July. Keith's mother always makes him a scratch German Chocolate Cake so I had to come up with something different. The 4-Moores LOVE white wedding-type cake. My cake portion was really good but you should have tasted my homemade cream cheese frosting. Honestly, I could have fluffed it up like a pillow that night and slept on it. Oh, for the sweet dreams!
We had the whole family over, stretching from Keith's Dad, "Big Pops," to Annabeth Ellen Jones, who, by the way, is the potty-trained princess. We had the best time even amid the chaos that is my cooking. (I made this whole gorgeous meal then threw Chinet and plastic forks at them. When someone arrived and saw the dining table barren of dishes and asked if I needed help setting the table, I may even ever-so-slightly-recall saying something like, "I worked all day long before slaving over this meal." Servant-fail! Blast it all!)
Even so, we had a great party and I ate Christmas dinner again the next day all by myself. Then Amanda and Melissa came over yesterday late afternoon and we four original Moores heated up the leftovers and ate it AGAIN, cranberry sauce and all. Then I threw the rest away…because, by then, we were on our way to celebrating our girthday.
Yesterday both girls looked shocked when they walked in the door and saw their Daddy and me dressed alike. It was an accident. I guess I got the subliminal idea for purple in my head when I saw him dressed and ready to take me to breakfast at the BBQ place. (Yes, you read that right. You can get ribs right alongside your flapjacks.) When we were on our way in the car, he looked over at me and said, "We're dressed alike." (Kinda horrified. Then I was, too.) So I said, "No, we're not! These are clearly two distinct shades of purple!" Then I kind of made that "puh" sound, like "it doesn't take a rocket scientist to see that." Then we got to the BBQ restaurant where you slide your tray all the way down a cafeteria-style line and the young woman at the cash register had the gall to say, "You are dressed alike." I said, "Well, it was an accident…" to which she said, "Oh. I thought maybe y'all were on a team of some kind."
To which Keith said (in that slightly irritable way that Keith says things when he's exasperated), "Well, we ARE on the same team. We've been married over 30 years!"
That's the story of our lives. We never do anything simple.
After both girls made ample fun of us, Melissa clicked this picture with her cell phone. So, here we are. Team Moore.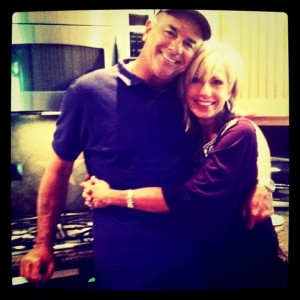 I love you guys.