OK, Siestas, remember two posts ago when I told you about finding those old Scripture cards in that desk drawer? Eureka! Old girl struck gold again! To appreciate this particular brand of gold, you have to think in broad terms. In my family, amusement is a fist full of gold. Absurdity is a brick of  gold. And a belly laugh is a ton of gold. To my dear friend Sophie (Boomama) and me, the national reserve of gold would be anything that makes us lean back in our chairs and clap our hands with glee. I'm not saying you're going to get one of those. I'm just helping you sort out various levels of gold so that you know when you've struck the mama load.
I was three drawers down this time, looking for a set of immunization records which, incidentally, I never found. Since this is the second discovery I'm sharing with you from this old desk, I'll provide a proper visual.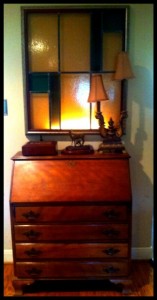 I love, love, LOVE that piece of stained glass above it. Keith's youngest sister, Mary, salvaged it – with permission – from an old Methodist church under reconstruction. Our friend had it framed for us and we'll keep it forever.
Back to the desk. So, this time it wasn't Scripture cards from the family altar that I found in those bottomless drawers. It was speaking notes from the 1980's and early 1990's. Honestly, I sat in the floor slack-jawed, looking from message to message and laughed so hard that I could have cried. And sometimes I felt like crying so hard that I could have laughed. I wish you could tell from this picture how thick the stack is. (Every bit of three or four inches.)  Some of the messages are on typing paper from my first word processor but many of them are handwritten on notebook paper.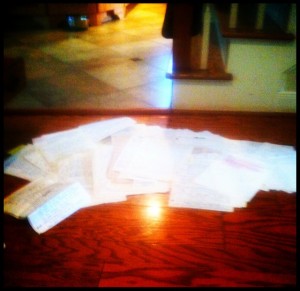 How about a closer look?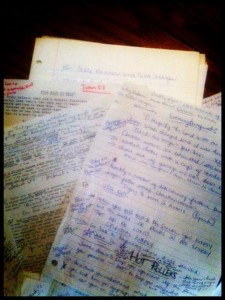 Could you possibly have  missed that I used HOT ROLLERS (I think you're supposed to say it really loud) as an illustration?? I bet you anything it was to explain how we need to plug in to the Holy Spirit. Bless my sweet heart. I can hardly sit up to type. The worst part is that I am still using hair-related illustrations. One would so hope she'd grown in 25 years. Below is one of my favorite smatterings of messages. Please behold the broad stretch of topics. Can you make out the one at the top about "Table Manners and Table Settings"?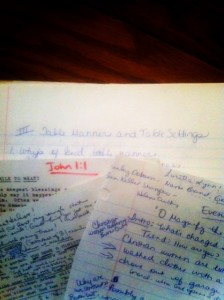 Talking was all I ever could do. My brothers and sisters were musical and theatrical. I simply talked. As you can see, it took me a few years to figure out what I was actually called to talk about. There were innumerable messages about Christian fitness in the stack. I may keep some of them. After all, Jane Fonda made an aerobic come-back. Here's another one. The part that nearly sent me over to my side, kicking my legs, was the "POEM, end." (It is of such importance that, lo, it is in my notes twice.) Well, of course, say a poem then end. That's what speakers and even preachers did in those days. Please note my commitment to cultural relevance as the inclusion of a story about Rosanne Barr clearly illustrates. (Correct spelling of her name is actually Roseanne but I didn't know that at the time nor did anyone ever whisper in my ear, "You'll be showing these notes to a LOT of people in 20 something years.") Oh, what I would give to know what story I was telling about her. As you might note, my source was the Enquirer.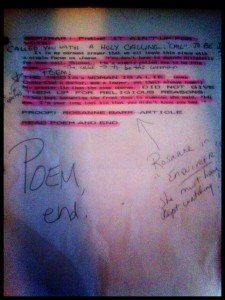 No doubt, you are on pins and needles by now over this riveting post but, alas, the fleeting clock permits me, yea, only one more brick of gold. But it's a doozy. This is a list of my seminar topics that I included in my "packet" to anyone who showed interest in asking me to speak.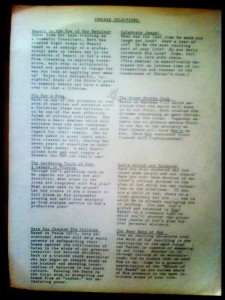 Perhaps my favorite of all is "The Many Hats of God." (I can no longer sit up to type for laughing. Lord, I am so sorry that I helped these innocent audiences of God-fearing women picture You wearing all manner of head gear.) My mind is eased only by the clear remembrance of often receiving a potted plant as honorarium. And, if you care an iota about accuracy, please picture me giving most of these messages wearing a corsage pinned over my bosom by the pastor's wife. (That is not a bad word. Check your hymnbook.)
In closing, permit me to say that, if you think the (looooooooong) life of a Christian communicator is easy, you have clearly been set straight today. My son-in-law Curtis, is presently going through a stack of old cassette tapes of my earliest Sunday school lessons and messages to see what needs to be kept and what can be tossed. I can hardly look him in the eye right now. And he's my pastor. Oh, the gifts that keep on giving.
Well. There you have it. Surely somewhere in those notes you'd find this saying: "Be patient. God is not finished with me yet."
And, Lord knows, He's still not.