I love, love, love our Talk to Me Tuesdays! I had no idea how fun it would be. One of you made my day yesterday on Twitter by saying you couldn't wait for it to be Tuesday so you could take in some good stories from the heart of Siestaville. (My paraphrase) I'm so glad this is working for somebody besides me. (And, yes, the writing is coming right along so this two-month commitment is accomplishing its goal.) One good thing about not posting so much is that we take a little longer to read the comments and I love that. So many people are putting their hearts out there. I want them to know it's not pearls before swine.
OK, I'm totally pumped about today's topic. I got my inspiration from watching Good Morning America this morning while I was putting on my mascara. They're doing this "Count Down to Thanksgiving" thing and this morning they had on a chef to bring a few fresh ideas to the table. SO, with Thanksgiving in a little over a week, Talk To Me about one of your favorite holiday dishes and – listen carefully here – TELL ME EXACTLY HOW TO MAKE IT. Yes, the recipe or don't even mention it. Don't taunt me here. Take me to Cooking 101. A Holidays for Dummies kind of approach. That's not to say you can't give an elaborate recipe. Some of you Siestas are fabulous cooks. Strut your stuff (or your stuffing) here! Just make sure that your directions are really clear so we can follow them without calling you next Thursday at 11:30 AM crying while all our company is standing in the kitchen staring at us. Now's the time to share our recipes so that we have ample opportunity to read through all of them and plan some into our Thanksgiving menu. (Yes, I really do have a Thanksgiving menu and I really can bake a turkey and make cornbread dressing. It's one of the meals I do best. I can do fat food. I just can't do healthy food. Keith's parents officially handed the baton of family Patriarch and Matriarch to us several years ago so we host all four generations. Our holiday meals will be extra big this year since Keith's sister and her family moved home from Japan so we're moving lunch here to the ministry so that there's room for all of us at one huge table.)
HERE'S THE REALLY FUN PART! Let's each commit to work one Siesta dish into our Thanksgiving holiday (even if you're not a cook and it's the only one you make) so that we can have a little touch of Siestaville on our table. It will be a way to remember one another and be so grateful to God for this wonderfully quirky community. I'll write a post right after Thanksgiving to let you share which one you chose. Be sure and give your name and city with your recipe so that your sister can point you out if she chooses your dish. And don't be offended if no one chooses yours. I can think of two times in my entire adult life that someone outside my own family has asked me to share a recipe with them.
I'm really excited! Bring it on, Siestas!!!
OK, so this is not a recipe but I have discovered the world's best sugarfree gum and I'll taunt your taste buds in closing.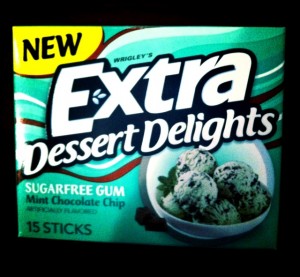 And just in case you want proof that this really is your very own Siesta Mama writing these Tuesday posts to you: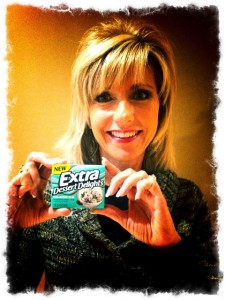 And she loves you like crazy.