Good and glorious Autumn morning to you, my sweet Siestas! Would you believe that it is actually under 112 degrees here in Houston? Everyone in the city is in such a great mood. Even at a four-way stop, drivers wave for you to go right ahead and turn in front of them. No one even tried to run me – the leading cause of road rage in America – off the road for my slow driving. The first few days of cool after a long, hot, humid summer in Houston are like Heaven on earth. All 3 million of us are so happy.
I've been on an excursion since I last talked to you. My man and I had planned a four-day getaway to our favorite place on the planet for this past weekend but the evening before our flight out, he had to cancel over a work issue. I was heartsick. My son-in-law Curtis felt so sorry for me that he told Amanda he wanted her to book a flight and join me. We couldn't find available seats on Thursday so I went ahead and she joined me on Friday.
The Teton Mountains are my happy place. Years ago a group contacted the ministry and said that if I'd come and speak, they couldn't provide an honorarium but they'd put me up in a modest condo for a week. I'd never been to Wyoming before and I asked a well-traveled friend about whether or not he thought I should go and he answered me with one question, "Are you out of your mind?" So I went. I had one of the strangest sensations of my life when I stepped off that plane for the first time. I felt the word "home." I still can't explain the feeling but I get it every time I go and those visits are now way more than I can count. I wasn't raised in the mountains so it doesn't make sense. Don't get me wrong. I know what beautiful looks like. I was raised in the rolling hills of Arkansas in a home perched amid the piny woods. My older sister and little brother and I practically lived in a tree house built between two tall pines by our Dad and our Papaw. When our feet touched the ground, we shaped rooms out of pine needles in our imaginary house. We never played in doors in those days. Such good memories of bag swings and beetles. I love my home State. But for some reason I have the soul of a mountain girl.
So do my daughters. As my plane began its final descent into Jackson Hole on Thursday afternoon, I – a consummate rule-keeper – longed so much for Amanda and Melissa to be with me and feel the thrill that I – yes, I – slipped out my I-phone and clicked a picture (on airplane mode) from my window seat. It was this: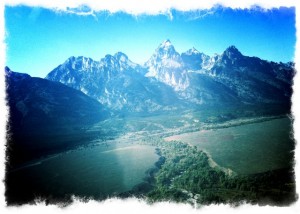 Michelle had made my flight and rental car arrangements. I'm not much of a car person and usually don't know one make from another but it was so much fun to walk out to the designated spot down the Avis aisle and discover a cobalt blue mini hummer. I didn't get a picture of it but AJ did later in our trip. Maybe she'll insert it here later.
I drove straight to Albertsons and got a few necessities then drove out to Teton Village and checked into a hotel. Things can be really fancy out there and art work is a pretty big deal. For some reason, though, this piece of fine art in our hotel lobby amused Amanda and me. Sorry it's not centered better. I was getting ugly looks while taking it.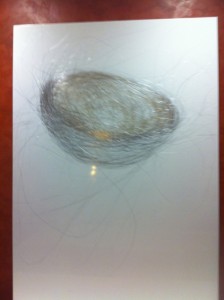 Hmmmm. A fine piece indeed.
You don't go to the Tetons to sit in your room so as soon as I dropped my stuff off, I headed straight into Teton Park. God was so sweet to me. I was sad that our plans to spend a long weekend in the mountains together (Keith and I) had not worked out but God went out of His way to tell me He was there. I'm not exaggerating when I tell you that within 20 minutes I'd seen a juvenile bear, a female moose, and several bull elk. I tried to get pictures with my cell phone but it was nearly dark and, needless to say, I couldn't get close enough to get them to say "Cheese!"
The next morning I headed to my favorite bagel place in the area. It's in Wilson, Wyoming and they make their bagels and stir up the cream cheese right there on the premises. They scorn toasters and hang a hand written sign on a  chalkboard that says "We don't toast our bagels. We serve them (all caps like this) FRESH." OK then.  I won't have mine toasted. I love to get a Honey Sunflower bagel with Honey Walnut cream cheese and sit out at one of the picnic tables in the back to eat it. I took this from that spot: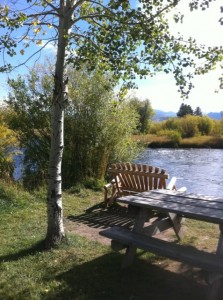 I kept an eye on my watch while I ate my bagel and drank my dark roast and gave myself plenty of time to head to the airport to pick up Amanda around noon. I was the kind of happy to see her that you are when you haven't seen your loved one for a year. It had been one day.  We were hungry so we headed into town to eat at one of our favorite little restaurants. It's called "Sweetwater" and the cranberry chicken salad sandwich on toasted raisin bread could almost give you a lump in your throat. We paid out then walked the square but weren't really in shopping moods. The woods were calling. But, we did see these in one store and reflected on them for quite some time. There are times when the only word that comes to you is "Why?" The hand model is AJ.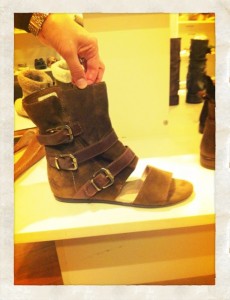 We dropped Amanda's stuff off at the hotel and headed straight to Jenny Lake. I cannot count the times I've hiked around that gorgeous place, often alone and other times with Amanda and Melissa (Keith is not quite as taken with hiking as we are. Maybe because I can out-last him in the altitude. He's very athletic but I have him there. No brag. Just fact). Melissa was a dizzy mixture of happy and sad while her sister and I were in the Tetons. She's wanted to join us so badly but couldn't make the schedule work. She kept texting us with messages like, "Send me a pic!" with tandem feelings like, "No, don't! Yes, do!" These spots on the hike do NOT do justice to the scene but I'll show them to you if you'll magnify them in your imaginations by about 100 times.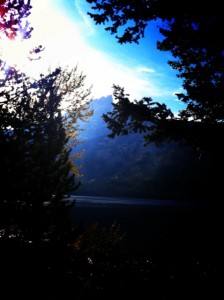 Yes, that is the Grand. She's far more powerful in person.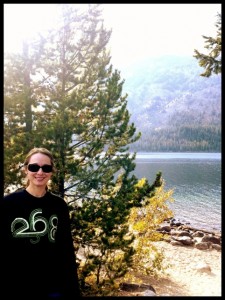 It is already autumn in the Tetons.

The next day we hiked again a much longer way and had the greatest time. We love to eat at Signal Mountain Lodge after a good hike and watch the sun go down over Jackson Lake. I don't have a picture of it because I've taken a thousand of them over the years but imagine it lovely. It's main attraction is Mount Moran. On our last evening after dinner, Amanda and I decided to take a little stroll around Teton Village and see some of the houses that had been built since our last visit. We got to see a house we'd rented for Thanksgiving several years in a row way back when and also stood in front of the house where "When Godly People Do Ungodly Things" was taped. It brought back so many memories. Some good. Some painful. It's just painful material. While we were walking (in a housing development no less) we somehow got into some mud. Amanda kind of freaked out and bolted from her shoes lest she perish in Teton quick sand.  Don't scorn her for not wearing boots at this point. We were taking a stroll through a neighborhood. Not climbing the Grand.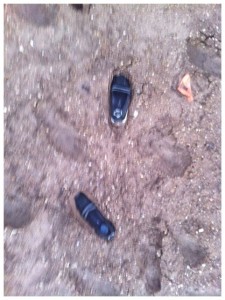 This is her in the aftermath before I braved the quicksand and retrieved her shoes. She looks like she did when she was about five years old in this picture.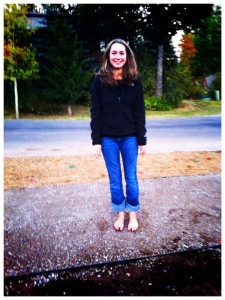 While we were on that very walk with no expectations but to gaze upon dreamy mountain cabins, God had delights for us.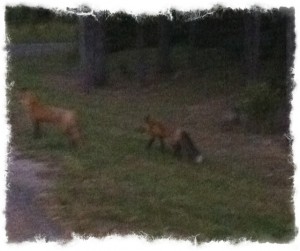 Foxes. And, yes, that close to us. It was getting really dark when I took this one and I had to enlarge it and crop it for you to get the idea. It's not really post worthy but I might as well show it to you. They were just chillin' at this point.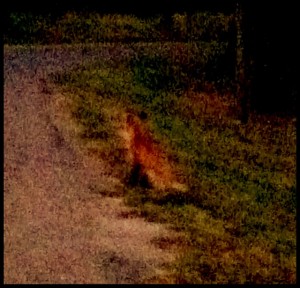 It was not the trip I had planned but it was a wonderful trip nonetheless. God was so gracious to us and the weather was spectacular, the sights restoring to our city souls. Thank you for taking a stroll back through it with us.
So, that's my happy place. What about yours?