The city of Houston will mark the two year anniversary of Hurricane Ike this weekend. Our family chose not to ride out the storm in our suburban Houston home. I tend to be very dramatic (like physically ill and crying) during severe weather events and I wanted to get as far away as possible. I was also pregnant. Pregnancy is a wild card that you can throw out for anything, and I'm obviously doing that now.
We evacuated to my parents' ranch two days before the storm hit. I packed our wedding album and the computer with all our pictures on it just in case our home was destroyed by the storm. That wasn't a likely scenario, but hurricanes spawn tornadoes and you just never know. Our neighborhood has large trees and they were a real concern. Thankfully, after the storm cleared we returned to a home with absolutely no damage. Our power was restored before we even made it back home.
Friends have told us that Hurricane Ike was the scariest night of their lives and that they wished they had left. They described it as being terribly loud. They could hear things hitting their homes, but they couldn't just look outside and see what it was. It was completely dark. Some people in the Houston city limits did lose their homes. Many people were left without power for two weeks. Gas stations ran out of fuel and grocery stores were very low on food. People were acting panicky and it was very scary to see. The damage and loss of life on the coast was shocking. Hurricane Ike is something Houstonians will talk about for years to come.
One of the few concerns I had about coming on this trip was the fact that Guatemala is so vulnerable to hurricanes at this time of year. I wondered where we would take shelter if one came and we couldn't get home in time. It actually rained so much last week that the country had devastating mudslides. Nearly 40 people died under the mud and rubble.
Last May, Guatemala took a direct hit from Hurricane Agatha. Today we visited some families who were traumatized by the storm. They live in a neighborhood built on a hillside. They cannot afford to live anywhere else.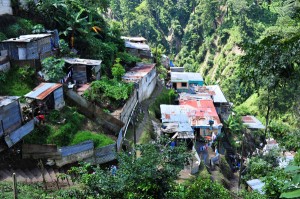 The first woman we met lost her home. She was very lucky to have escaped in time. Because her three little boys are enrolled in Compassion's sponsorship program, she had a place to seek help when it was time to rebuild. Through their Partners of Compassion fund, she was provided with building materials that her father used to construct a new home for her family. Her children have suffered with post traumatic stress and now they receive counseling at the child development center once a week.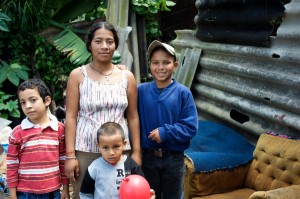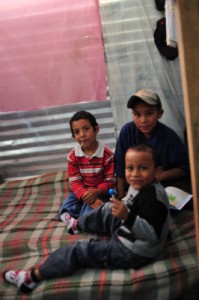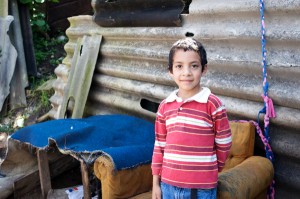 Another precious mother welcomed our whole group into her tiny home. She showed us how the back porch had collapsed down the hillside as water poured through her house.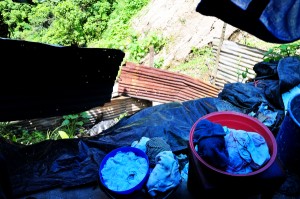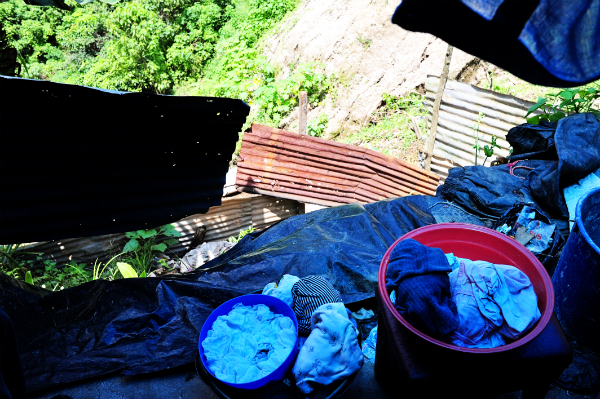 By the grace of God, the rest of it remained standing. She wept as she told us about the night she and her family escaped. Now she can't sleep when it rains because she is so afraid. She is oppressed by the fear that she will hear the screams of those whose homes are slipping down the hillside.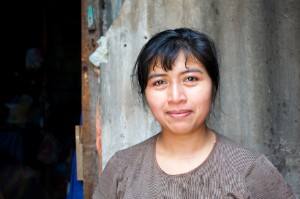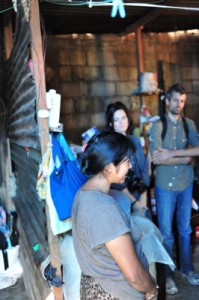 From the story she told through sobs, this is what I gathered that night to have been like. Picture it with me. It has been raining and raining and it only seems to be getting worse. You finally get word that a hurricane is coming and you need to get out of your very vulnerable neighborhood. You discover that the one and only path up the hill has already been washed out from the water careening down the hillside. It won't be long before the water begins dragging homes down with it. Your only way to escape is to climb the steep, muddy hill in pounding rain. Imagine that the only things you have to hold onto as you climb uphill through a hurricane are unstable trees. Now consider that your three small children are with you.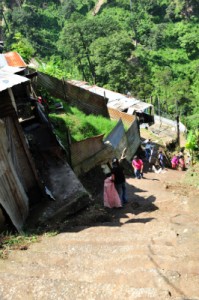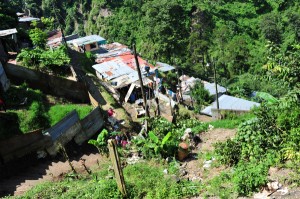 I could only think of how my friends told me that riding out Hurricane Ike in their very well crafted and sturdy American homes was the scariest night of their lives. I could only consider that I hadn't even been brave enough to try. And here I was in the most vulnerable neighborhood I'd ever seen. It was God's grace that any of these families made it out alive.
I was listening hard to try to understand this mother's story without the translator's help. One thing I know for sure was that she constantly said "I'm so thankful." She was thankful to be alive. She was thankful for the support of her children's Compassion project. She was thankful for our prayers for her family's continued safety. When we took a moment to pray for her, she simultaneously prayed for us, saying "Gracias, Senor." She literally could not wait to express her thanks to God.
I've come to the point where I need to tie a nice bow on this story. I don't have it. It must have been swept away in the hurricane. What I do have is this. Compassion International is helping some of the most vulnerable children and families on earth. Their intervention is not just an idea – it is concrete. I saw it today with my own eyes. If you have a heart to help these vulnerable children, I would like to invite you to join me in sponsoring a child in Guatemala for $38 a month. I promise you that his or her life will be changed. And so will yours.