Good morning, Dear Siestas! I so hope you've experienced God's presence and sustaining power this week and that maybe you get a day off tomorrow like I do. Melissa flew in yesterday so I have that darling thing studying about 10 feet from me this very second. Her man flies in tonight and they'll be with us for the next week. She does have her own office but, living so far apart, when she's in town we always work in my office. Believe it or not, we really do get a lot accomplished and feed off of each other's research. Last time she was here, we spent the whole time outlining the study (and the Book of) James. Right now, she's sitting over there translating the Book from Greek into English on her own. Needless to say, I'm not doing that but I am glad she is. I'm doing other things to get myself as familiar with it as possible and it is already clear to me that I'm about to have a major spiritual overhaul. I hear the sound of a heavenly jackhammer in the distance. By mid-September, God willing, I hope to start Week One, Day One. He has already begun preparing both of us by testing just how willing we are to count tribulation a joy. (That's the trouble with Bible study. God has a particular affinity for seeing us actually apply the Scriptures we're learning. If we don't, He finally just quits attending the study. I don't mean to say He'd ever leave His children but I do think He can withdraw a sense of His Presence and anointing in our corporate midst if we never let His Word get to our hearts and real lives.)
The reason I'm writing you this morning is because I had an experience a little while ago that really touched my heart. Every summer about this time, the city coordinators for all the LifeWay women's events for the next year meet for several days of training in Nashville. This gathering is not only for the city coordinators for the Living Proof Live events. It also includes those taught by Priscilla (who I love), Kay (who I love), Vicki Courtney (who I love – my word, we grew up in ministry together although I'm admittedly several years her senior), Angela Thomas (who I don't know as well personally but love), and Angie Smith (who I know and love mainly through her blog, her book, and through Melissa who went to India with her for Compassion International last year). When the LifeWay event team first began these trainings, Travis and we teachers each greeted them by speaker phone as they met together in one conference room. Nowadays we get to join them by Skype, meaning, to state the obvious, we get to actually see each other.
For some reason, as I'm reflecting on it, a lump is welling in my throat. It's an odd thing for a sanguine to be called into the seclusion that writing demands. It is so often the women we serve that God uses to really inspire and motivate me to go beyond a private devotional life with Him. It's running into someone at Starbucks or on the paper goods' aisle in Kroger. It's crossing paths with someone at the airport. It's opening our Bibles together in tandem on Tuesday nights. It's staff prayer time on Mondays at noon. It's church on Sundays. It's community that God most often uses to keep me stirred up to serve and hang in there with ministry. That's why I have pictures on my desk and nearby bookshelves of small groups of women that are never any further than an eye-shot from what's going on at my computer. Here are just four of them that I glance at all the time.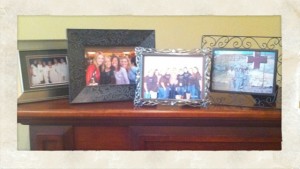 Each of those pictures mean something specific to me. For instance, the third frame from the left depicts a group of women who bonded together over the loss of dearly loved children. Can you imagine? They came together in a support system not only to relate through their loss but to agree to do everything they could to glorify God in the grief process and beyond. I still hear from them from time to time. The frame on the far right depicts a small group of women soldiers in Iraq who do the Bible studies together. As I study, I often glance up at the pictures in my office and ask myself, "Would you have the courage to say those words to them, too? Would these truths also apply to them in their pain? In their circumstances? In their danger? Because, if not, don't say it at all. If God's promises don't apply to them, too, or if you have no regard for the seriousness of their estate, then shut the book and go home."
Oh, that we'd never forget – Oh, Lord, that I'd never forget – that we don't serve the page. We serve people. We serve the Author. There is no such thing as ministry without community. We can't love God and despise people.1 John 4:20-21 cries out with conviction, "If anyone says, 'I love God,' yet hates his brother, he is a liar. For anyone who does not love his brother, whom he has seen, cannot love God, whom he has not seen. And He has given us this command: Whoever loves God must also love his brother."
None of us need to hear that echoed more often than those of us who are vulnerable to constant offense in ministry. If we don't think God is harder on us who presume to teach, we've missed James 3:1. If we're going to be worth our salt in ministry, we better be willing to ask ourselves hard questions constantly. We must be intolerant of our own cold-heartedness and cynicism. But that's really not what I came on here to say.
I came on here to say that it's an unspeakable privilege to get to be part of a large community of women – far, far beyond Siestaville – spread abroad in our  generations who love the Word because they love the Savior. It's not about teachers. It's not about denominations. It's about a move of the Spirit on the hearts of so many who have come to love Christ all the more because His words became spirit and life to them. It's a miracle really. A true wonder. We are different because of Jesus. We are different because we believed His Word. When we quit being different, we quit being disciples.
Anyway, I have a new picture today. While we were on Skype for our conference call this morning, I told them I'd give anything to have those faces in a frame right in front of me this year. And so they clicked a picture that very second and, thanks to technology, I already have it. Here's a small group of women willing to believe God to do something eternal, something life-altering, in their cities in 2011 and, yes, even use them to do it.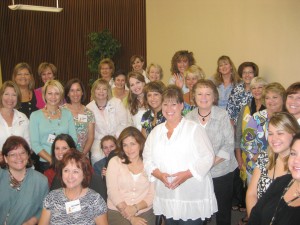 And there are so many others out there across this globe who are willing to believe that their weaknesses are not strong enough to keep God from using them.
For some reason, I am amazed by that again today.