Good Monday morning, my darling Siestas! I pray you had a weekend full of the grace and truth of Jesus Christ! I am sitting here in my sweaty work out clothes, not quite ready to jump in the shower and hit the pavement to work. I usually keep my adorable namesake on Monday mornings while AJ has some alone time with Jackson in an activity class they attend together. The class for today was canceled so I don't have a single toddler in my den saying "Bibby? Bibby? Bibby?" every few seconds. Those words are music to my ears so it's way too quiet around here this morning. I'm usually pretty lazy about getting into work mode on a Monday because I'm babysitting but this time I'm holding back a bit because my physical body feels like God has borrowed it for a quick marathon in Lexington.
There is not enough I can say about our Lexington group. They were just fantastic. We received some hard words from Jeremiah this weekend but those of us willing to open ourselves up to them also got to stick our heads in the fountain of Living Waters (Jeremiah 2). I will not forget that gathering for a very long time.I got to Lexington a day early because the Friday flight landed too late to take the risk. My hotel room looked out over the very center where we'd meet the next day. This was the sunset Thursday evening over that place. I stood at the window and praised God for it and asked for it to be a sign of His goodness to us and a deposit on the full measure of what He wanted to accomplish the next two days.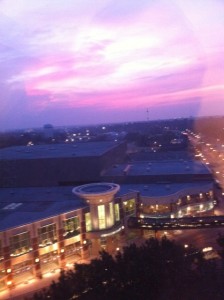 If you got a chance to catch the previous post, Rich has outdone himself by adding some video to the LPL picture-recaps. I watched it a few minutes ago and nearly cried. By the way, Rich's beautiful, smart wife Gretchen, and their six month-old Polly were there this weekend. Polly is the cutest little thing. I'm just crazy about that family. Rich's two girls may or may not have been the final shot in the video. Don't call him shameless.I got a little Polly time myself. Go right ahead and call me shameless.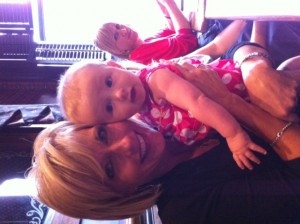 Well, I guess I was being prideful because I can't get this picture to turn the right way. Laughing so hard. It's saving straight up but it won't insert straight up. I don't care. I'm leaving it. Trying to compose myself as I keep looking myself in the eye, sideways.
I got home around 8:00 PM or so Saturday then woke up the next morning to a wonderful Sunday. My son-in-law Curtis was preaching in all our services in Pastor Gregg's absence and I do dearly love to sit under CJ's great teaching. Our terrific Pastor will return from his one-month summer sabbatical next Sunday and CJ will start teaching the Wednesday "Mid-link" Bible study again with the new Fall semester. It was an especially great day because our whole section was back in our corner of the sanctuary, all worshiping together with such unspeakable joy. In a church the size of mine (the sanctuary holds 3300 people), you have to go out of your way to plug in and feel like a part of things. You're not likely to feel a close connection with the whole group but you can get to know a significant, life-changing part of it in a Bible study (Sunday school) class or something similar.
A bunch of us have been worshiping in the same general section of the sanctuary for years and, as I've told you before, our ages range all the way from young children to great grandparents. It's a pretty broad section so there are many whose names are unknown to me but their familiar presence is so precious to me. The summer means travel so it's been several months since it was full to the brim with this close community of folks. We all hugged and hugged yesterday and much of the time during praise and worship, I could not get the songs out of my mouth for the lump in my throat. And then my son-in-law got up and brought us a great word while I sat beside my firstborn, a young wife and mother pursuing God in the glad and chaotic mix of toddlerhood and preschool. My church is so dear to me. A good, sound local body of believers is absolutely crucial as we take this pilgrimage of faith together. It is God's way. We were meant to do this together.
Right before the service, my sweet sister in Christ, Allison, came up to me with a big hug and a gift. I love Allison. I love her for a lot of reasons, not the least of which is that we've made it through some differences. She has been in my classes for years and not necessarily always liked them or agreed with them. For starters, she is a King James gal and I use a number of different translations. One of us is single and the other married with kids and grandkids, so our lives also just tend to play out on separate planets at times it seems. Satan would liked to have caused some really hard feelings between us a couple of times because neither of us is very shy about expressing opinions but he simply did not prevail. And each of us would give glory to Jesus Christ alone for that. Each of us is weak in our natural selves but we genuinely love each other. Yesterday she said, "I made something for you" and placed in my hands five of the most beautiful greeting cards you have ever seen in your life. What makes them so special is that she paints the designs herself. Allison is tremendously gifted. She painted a picture of my best dog buddy of 18 years, Sunny, and it will be on my wall till I'm old and…(did I nearly say gray???). Here are a couple of the cards: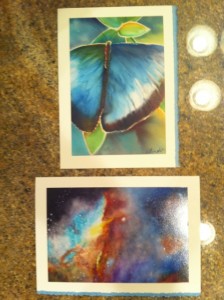 Aren't they gorgeous? Now, do you want to hear the best part? She said with a sheepish grin, "There is a verse inside each one." I said, "Oh, Allison, I love them! Yes, I'm so glad to have them! I will use them judiciously and for very special occasions!" Then she said, "And they're in King James." And we both bent over laughing. I love that girl. She's fought a lot of obstacles in the power of Christ's Spirit to live in the light of freedom. So has her friend Beth.
Because I know you're going to ask to see it: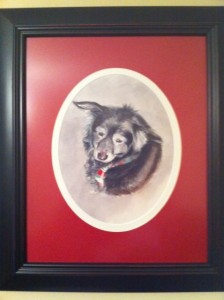 That makes me want to cry. I said good bye to that faithful friend two years ago and then I got my new little buddy, Star, a month later. To brighten the mood again, I'll show you another gift I got recently. It's sitting right by my kitchen sink this very moment. THIS, my dear Siestas, is one reason why you've gotta love women's ministry: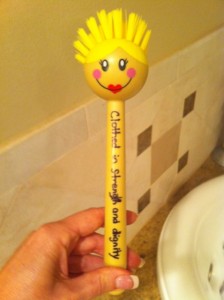 The Scripture written on it is the main verse from "So Long Insecurity." It's Proverbs 31:25 in case you need to remember today that Christ has clothed you in strength and dignity.
Well, that's my Monday morning hello! Good grief! You've made me late for work! I'll leave you with this verse…from Allison…in the King James.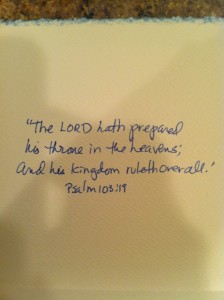 I love all of you dearly.
PS. Melissa, that was a fabulous post on Friday. Absolutely fabulous.